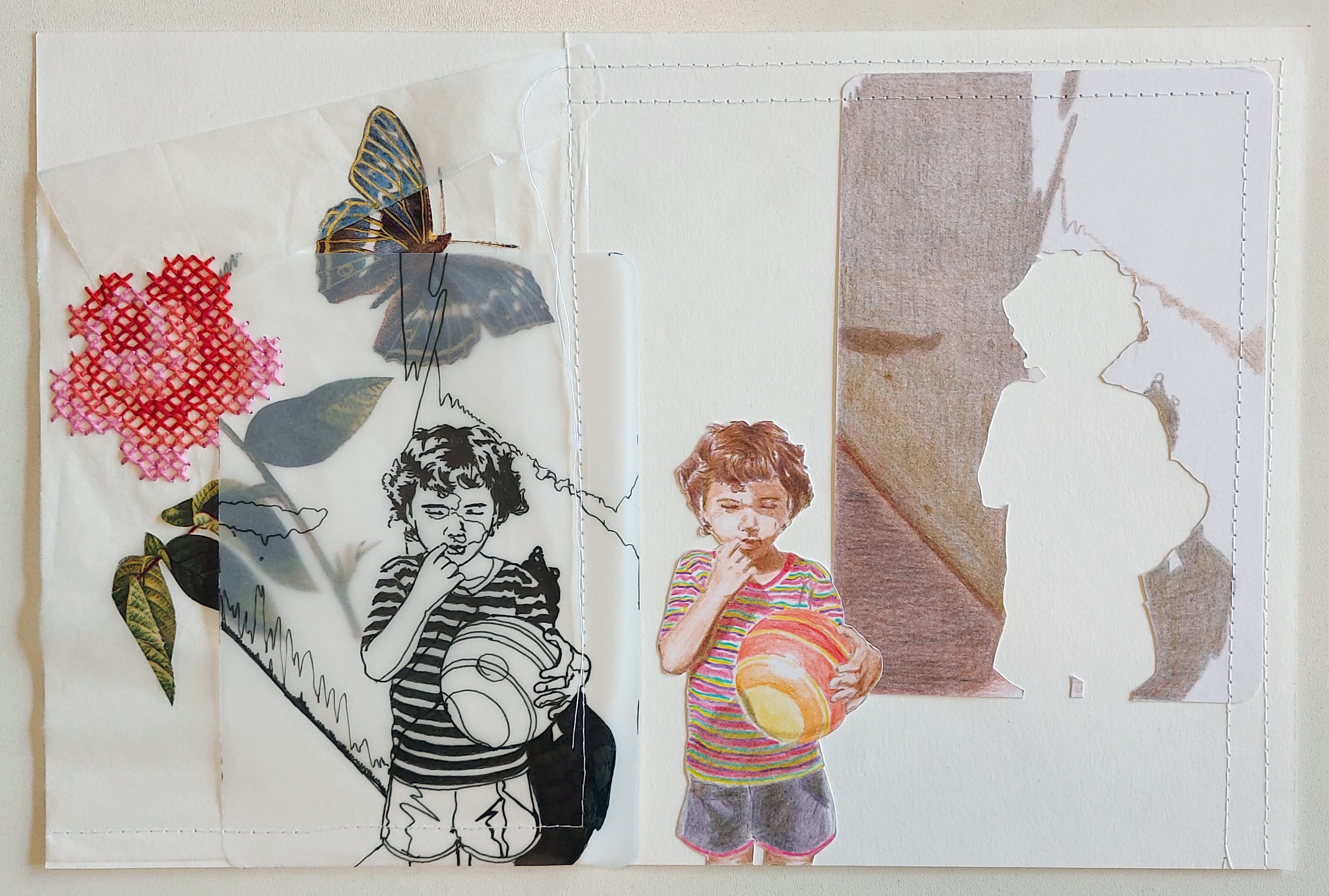 PT
Thais Ribeiro é artista plástica, nascida e criada no subúrbio do Rio de Janeiro. Atualmente vive e trabalha em São Paulo. Formada em Design de Moda (2002) e pós graduada em Artes Visuais com ênfase em Educação (2020), atuou por 12 anos no mercado de estamparia e ilustração de Moda. Desde 2015, pesquisa a arte têxtil e a ressignificação de roupas como veículo de educação e resgate das relações das mulheres com suas histórias. Essa pesquisa acabou levando-a de volta ao seu trabalho de desenho do início dos anos 2000, que sempre teve a observação do transitório no cotidiano de pessoas e lugares como linha narrativa. Trabalha a partir de fotos analógicas de acervos de família, recriando lembranças e memórias perdidas em obras que mesclam desenho, pintura e bordado sobre papel. Atualmente realiza sua pesquisa junto ao Programa ILAP Brasil da Uncool Artist.
EN
Thais Ribeiro is a visual artist, born and raised on Rio de Janeiro's periphery. Nowadays she lives and works in São Paulo. Graduated in Fashion Design (2002) with MBA in Visual Arts for Education (2020), she worked for 12 years in fashion pattern production and illustration for fashion editorials. Since 2015, she's been researching textile art and visible mending as a vehicle for education and reassuring women's relations with their past. This research has led her back to her drawing work from the early 2000's, which has ever relied upon daily observations of people and places as a narrative thread. Her work is based on analogic photos from family collections. She recreates lost memories in works that mix drawing, painting and embroidery on paper. At the moment she develops her research on the International Lab for Art Practices from Uncool Artist.
PT
Os anos trabalhando com as histórias que as roupas contam através da vida das mulheres me levaram a inúmeras experimentações dentro do universo da Arte educação, onde a linha que bordava o remendo era a condutora do processo de ressignificação de memórias. Esse exercício de revisão de histórias alheias e resgate de ancestralidades acabou se tornando um retorno ao meu próprio ofício manual primeiro, o desenho. Retrato o fluir dos movimentos capturados em fotos tremidas e imagens não posadas, momentos que chamo de pequenas impermanências. Vejo nas fotografias imperfeitas e não editadas os retratos de quem realmente somos, onde lugares e pessoas mostram sua verdadeira natureza cíclica e mutável. Partindo desse acervo de fotografias, na maioria fotos analógicas tiradas por mim ou de família, crio desenhos em lápis de cor, grafite e nanquim. No processo, estes por vezes acabam sobrepostos de camadas de novos desenhos em papel vegetal e bordados, que da mesma maneira que os remendos das roupas, refazem nessas imagens algo que já não estava mais lá, que já havia puído, manchado e mudado com o tempo. Como resultado, em obras de técnica mista, a sobreposição de camadas de desenhos e linhas funciona como as inúmeras faces que vestimos e despimos, a transitoriedade e o desvanecer de identidades para o surgimento de outras.
EN
Years working on women's personal life stories as told by their clothing have brought me to countless experiments in Art Education. Threads that sewed patches on old pieces of clothing were a guideline for generating new meanings for personal memories. The constant exercise of reviewing women's histories and ancestry through remaking their clothes has taken me back to my original artistic practice, which is drawing. Today, I am interested in portraying the flow of people in time and space, starting from imagery kept in families photographic archives. They can be my own or others' families. So what I draw is what I came to call 'little impermanences'. In these times of endless digital editing of photography, old imperfect analogic pictures can tell us who we truly are, showing us people and places in their true ever changing nature. Starting from old analogic photography, I create artworks using color pencil, ink and watercolor. At times, the artwork gains successive layers of drawing on opaline paper, collage and embroidery. Like the patches did on clothes, the layers bring back to the images something that is no longer there, that got frayed, stained, changed. The end result is an overlaying of mixed media drawing and lines that function as the countless faces we can wear through life, the transitory and fraying images that give place for new ones to surge.