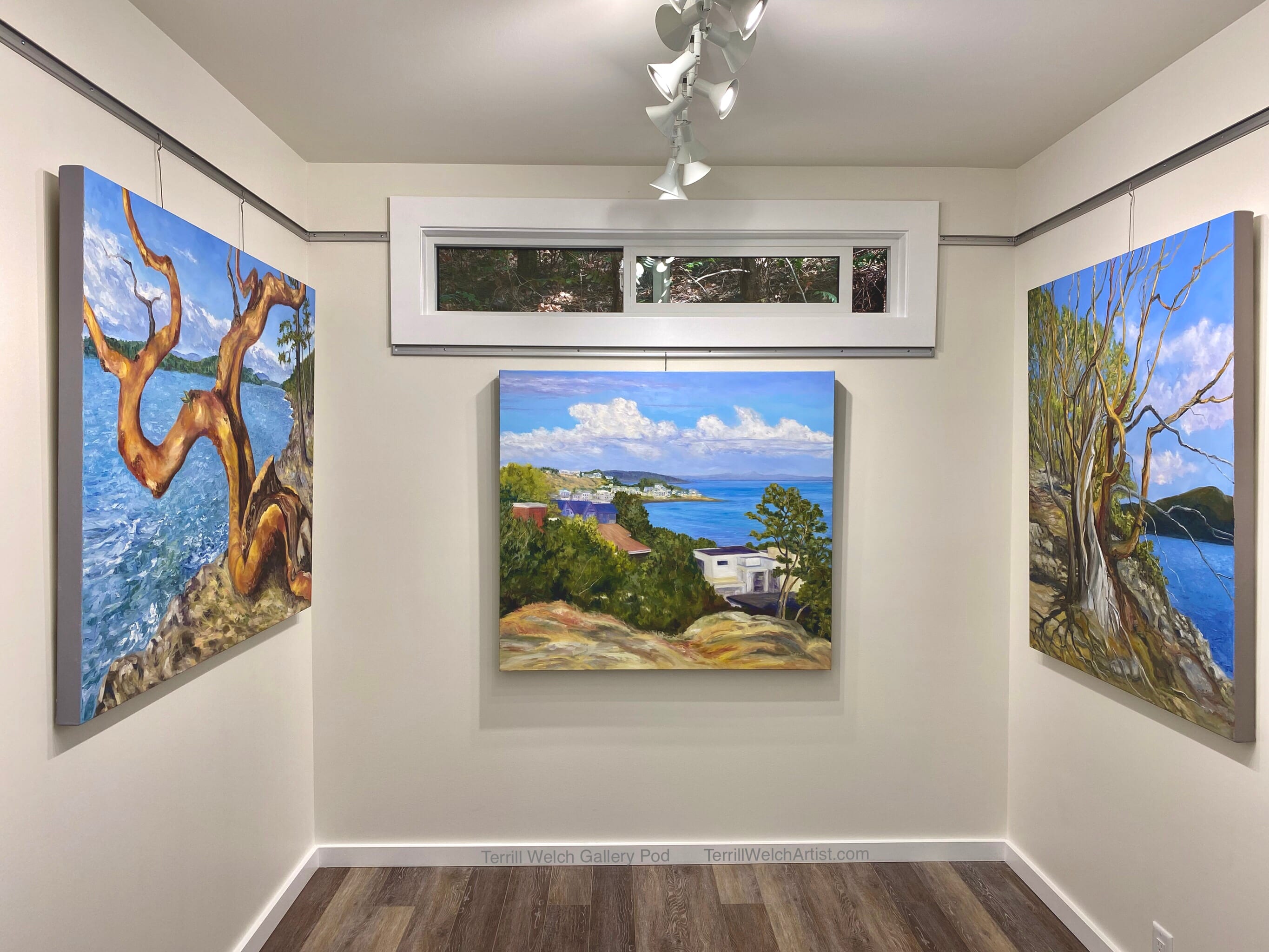 Terrill Welch's paintings are internationally collected. Her oil paintings and acrylic painting sketches have been shown in public and commercial spaces since the late 1990's.
Terrill Welch has lived on Mayne Island in British Columbia, Canada since 2007 and her work is in private collections that also include such renowned Canadian landscape painters as Emily Carr, A.Y. Jackson and Lawren Harris.
Born in the village of Vanderhoof in north-central British Columbia, Terrill Welch was invited into an adult painting class when she was fourteen years old. Terrill Welch has taken many college-level courses in drawing and painting. For several years, she taught the art of oil painting from life in natural light, using water mixable or walnut oil paints. Today, she is focused on her studio painting practice and curating two small gallery spaces on Mayne Island.
I am a landscape painter exposing life's mystery in an ordinary day. 
Stripping away the human illusion of our separation from nature is at the core of my work. I have a driving need to succeed in creating bridges with my art between humanity and nature, before it is too late. These oil on canvas and acrylic studies on gessobord paintings reflect my surrounding landscapes. The brushstrokes render the light, shadow, movement, smells, sounds and emotions I am experiencing in our natural world. My process is to take in the spirit of a place through observation, plein air and photographic studies. This is followed by developing paintings that incorporate my imagination along with these observations on larger canvases in the studio. I most often paint wet into wet until the work is completed in layers over several immersive days in a row. 
These paintings are an invitation to join me in exploring this relationship between the innate elements of our environment and ourselves. My intention is for viewers to find themselves within these landscapes as I have - filled with curiosity, wonder, discovery and a desire to survive. It is a tall order for a painter with a brush and a canvas. Yet, I must try. I must keep painting until we pause before the work and weep in our knowing - without our natural world, we will no longer exist. It is my sacred practice as a landscape painter to ensure that this message reaches into the hearts of humanity. This is my mission - my in-progress life's work.