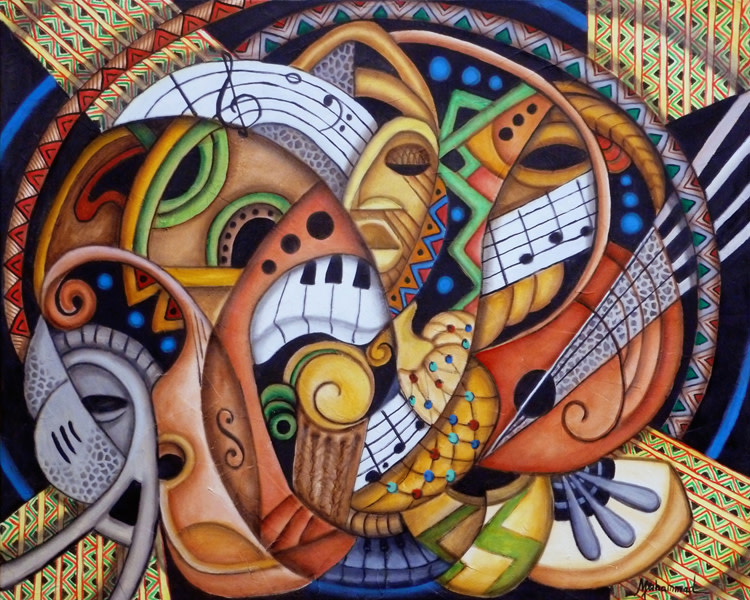 Marcella Hayes Muhammad, whose career in fine art stretches from the 1960's to current times, is always testing the bounds of her talents. She is constantly exploring the medium of oils allowing her experiences and research to guide her work. She is known for her attention to detail and vibrant colors. Marcella has developed a technique of using a unique blending of multi dominant elements and rhythmic colors harmonized in as many as four or more colors in action at a time. Marcella's style of abstraction is inspired by the cubist style of Pablo Picasso, who in turn was inspired by Georges Braque and painted in a style later described by a critic as being made of "little cubes" thus leading to the term cubism. Marcella paints in a style described by a critic as a flow of forms using light and color leading to the term "Plasticism" or Plastic Space. Her main inspirations developed at a young age through her exposure to galleries and art museums around the world as a military dependent. Her art reflects current events, her environment, culture, research and an interest in science and history.
Marcella attended the College of Arts and Crafts in Oakland California and earned her BFA degree with honors from the University of California at San Bernardino. She extended her education by earning her teaching credentials for elementary and early childhood. As a single parent, she began her teaching career in Palm Springs, California. She continued her love of painting between her work schedule taking part in exhibitions with galleries and various art venues until her second marriage and retirement. Marcella relocated to Decatur, Georgia in 1995 and began her second career in fine art establishing Maruva Studio from her home. In 2000, her sister joined her and together they formed their corporation, Maruva DQ, Inc. featuring fine art, licensing, custom handmade jewelry and original designs for textile and print on demand garments.
Marcella Muhammad's work has received awards and been exhibited across the United States in Oakland, Berkeley, Sacramento, Palm Springs, Los Angeles, Beverly Hills, Atlanta, Miami, Las Vegas, Montgomery, Birmingham, Colorado, Washington DC, New Jersey and New York. Internationally, she has exhibited her work in London, Spain, Germany, India, and Australia. Her fine artwork can be found in private collections, museum collections and institutions including The Apex Museum in Atlanta, The Birmingham Civil Rights Museum, and The National Center for the Study of Civil Rights and African-American Culture at Alabama State University.
As a narrative artist, my work explores the relationship between critical theory and emotional relationships. My work achieves an impact on the viewer using color and movement in my compositions. My favorite medium is oils on canvas and my technique is often to use cloth, brushes and my fingers to move the oils around for the effects that I want to achieve. I use a prepared canvas with texture and other times I use a smooth canvas depending on the subject. I keep a focus on world events, research and the environment to explore ideas and produce statements in my art. What shows up in my work is a deep reflection of the rhythm of color and motion in compositions. I make it a point to incorporate cultural images within my compositions to add another intellectual level to the narrative. Working in a series keeps me focused while working on more than one canvas at a time.