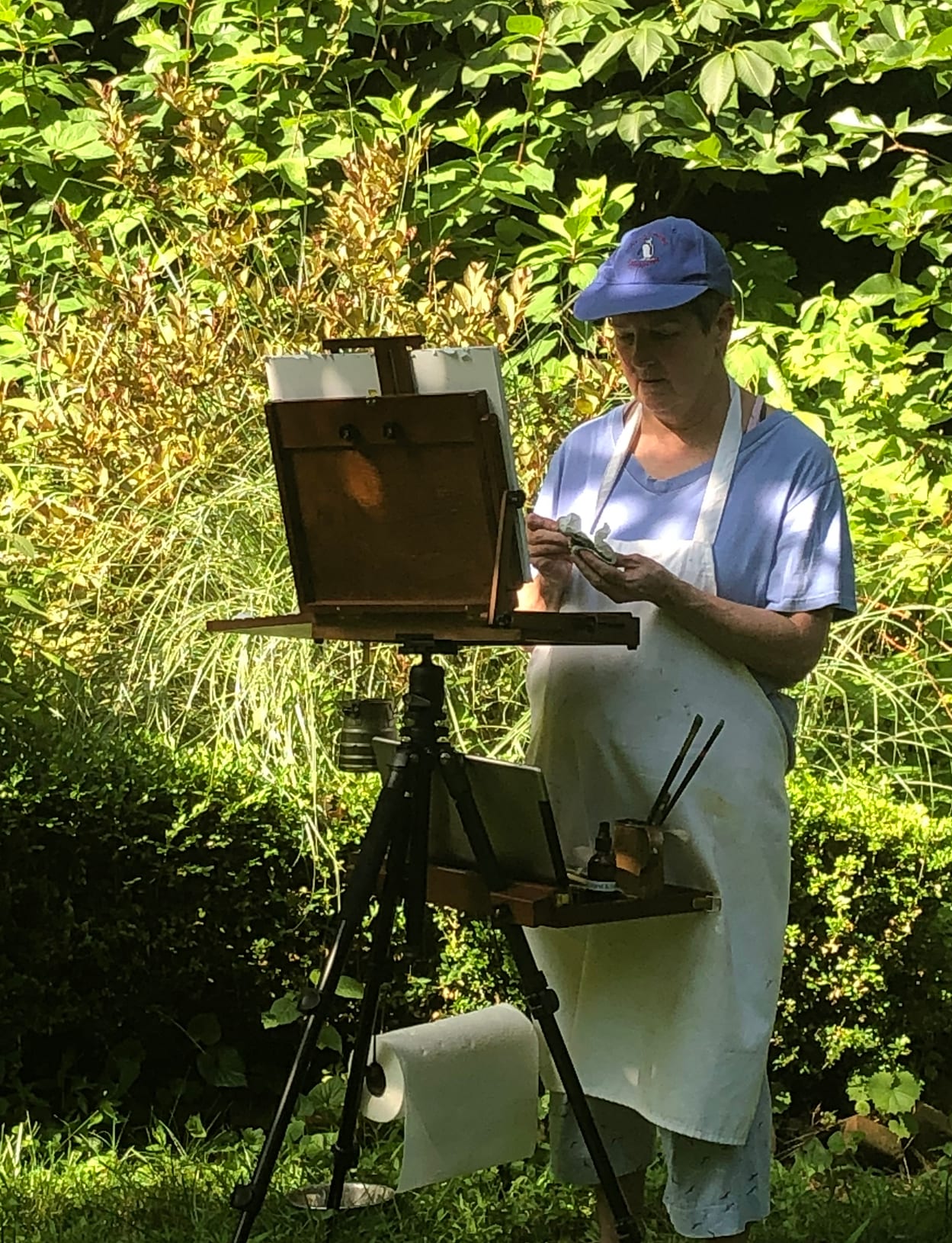 I've been painting now for over 30 years and keep falling in love with different aspects of the relationship⁠—color, light, story, the journey, the craft, the community... and, like any love affair, the deeper I go the more I find!
I came to painting relatively late in the game. I attribute this to growing up with my mother, who was a social worker and saw only with her heart, and my father, who was a scientist and saw everything through the lens of physics and function. The physical world around us seemed hardly to exist. So, it wasn't until I began gardening in my 30s that my eyes were opened to the world of color and composition.
When my husband Steve and I built our home in the Farmington Valley, I spent endless hours happily composing beautiful gardens on paper, only to discover that nature intervened to wreak havoc with my plans. I grew frustrated with the ephemerality of it all: The garden might be perfect one day, only to be destroyed overnight by a storm, deer, or disease. In contrast, I discovered with painting that once you're done, it's complete. I tried oil, and it was love at first brushstroke, so I surrendered the garden to Steve and began painting in earnest. It's been an extraordinarily surprising, challenging and rewarding exploration since then.
As my mother's daughter, I am drawn to the heart of things. Beauty, courage, compassion are all subjects for me, and the challenge is transforming an emotion into a visual image. I am moved by champions of the heart who find their strength in love and use their power to lift others up. Whether working abstractly or representationally, my search is always for this emotional resonance.
My father has continued to influence me, as I try to unravel the rules and science of color and composition. As founder of the Farmington Land Trust, he also believed in the power and importance of open land, and I am moved by landscapes and feel their emotional pull, as well. I love the heart connection many of us have for the land and the tales these scenes have to tell us: stories of a history much longer than ours and a future much more patient. I find peace in vistas of earth, sky and sea, existing in perfect equilibrium without our interference or with us but connected and communal.
These days, I also find myself drawn to light effects and how they so beautifully manifest the strength and glory of nature, as well as the beauty and the bravery of love and simple goodness.
I feel blessed to be able to devote full time to my art now and to have my studio attached to the house, so I can pop into the kitchen for a tea break with Steve and back out to where my art and the dogs lie patiently waiting....