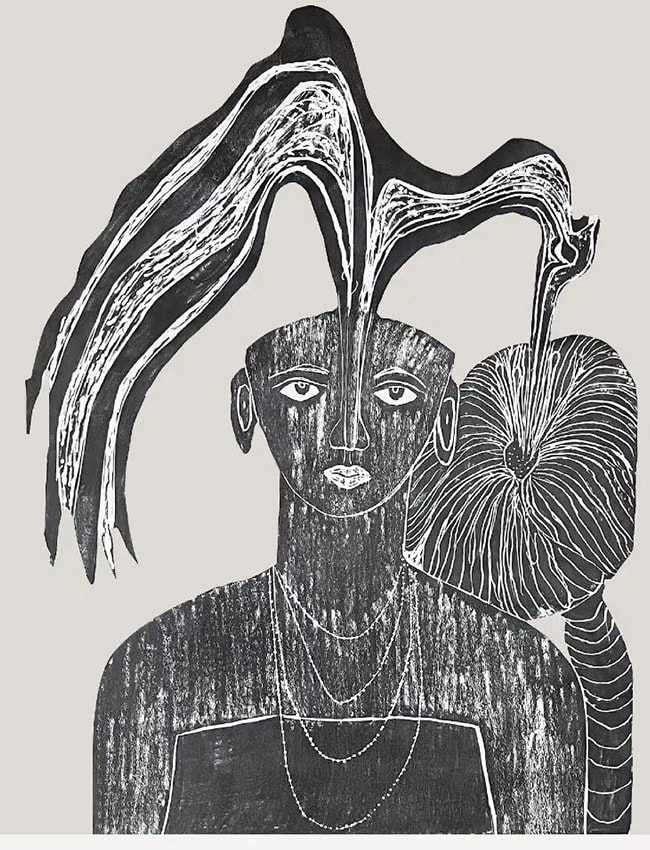 Imna Arroyo was born in the town of Guayama, bordering the Caribbean coast of Puerto Rico, in 1951. The artist is of Taino, African and Spanish lineage, a descendent of strong women, landowners who were teachers and accomplished seamstresses. The threads of that history and cultural heritage are woven throughout all of her experiences.
Arroyo's foundational training in art making began in high school, the start of a continuum that later directed her to the Escuela de Artes Plásticas del Instituto de Cultura in San Juan. Moving to New York gave her the opportunity to earn a Bachelor of Fine Arts degree at Pratt Institute in Brooklyn in 1977 and culminated with her studies at Yale University in New Haven, from which she earned a Master of Fine Arts degree in 1979.
Throughout the 1980s and 90s Arroyo established her studio practice along with a university career as an educator. Her yearning for knowledge and search for identity were to become the predominant theme. In 1992 she solidified her professorial career upon being appointed educator and Chairperson of the Visual Arts Department at Eastern Connecticut State University. A life-long learner, Arroyo is continually expanding her knowledge of traditional as well as experimental printmaking techniques, and these decades are also marked by her research and professional travel to China, Mexico and Ghana. The beginning of the 21st Century is punctuated by multiple journeys to Cuba to conduct ethnographic studies into the field of Yoruba African spirituality, an endeavor that also leads her to Brazil and Nigeria. 
Upon completing her Sankofa installation (1999), now an established artist and educator in the new millennium, Arroyo creates major bodies of multimedia installation work, Legacy (2001), Yemaya (2000-2001), Ancestors of the Passage (2004), Iroko (2017) and Èṣù Elegbá (2022).
These works, incorporating a variety of mediums, involving multimedia installations, are inspired and informed by her research and experiences. They are inspired by spirituality and the experience of her African ancestors, the middle passage of the Trans-Atlantic slave trade and her ecological veneration.
I am, first and foremost, a product of the Puerto Rican printmaking tradition, and connected to the medium's symbiotic relationship with populist social justice movements. As a printmaker, as well as papermaker, bookmaker, sculptor and video producer, who incorporates these into multi media installations, I believe that materials are infused with their own inherent energy that meld with my own energy, or Ashé, to create works that not only elicit aesthetic, intellectual or emotional responses but also ecological and spiritual responses as well.
I seek to reach a place where all things intersect - thought, feeling and action weaving themselves into the fabric of time and place. In Ghana, where the concept of seeing material as a healing conduit began, I developed a visual lexicon while working with textiles. Coming from a family of seamstresses, for me it was second nature.
Nature informs my experience and search for identity, the goal of which is the reclaiming of my spiritual and cultural heritage. In my installations I endeavor to honor ancestors and to acknowledge the indelible mark that they have made on the lives of their descendants as well as the broader cultural landscape. My work explores the different manifestations of nature, the spirit and beliefs of the African ancestors; it gives voice to their stories, activating both physical and spiritual spaces.