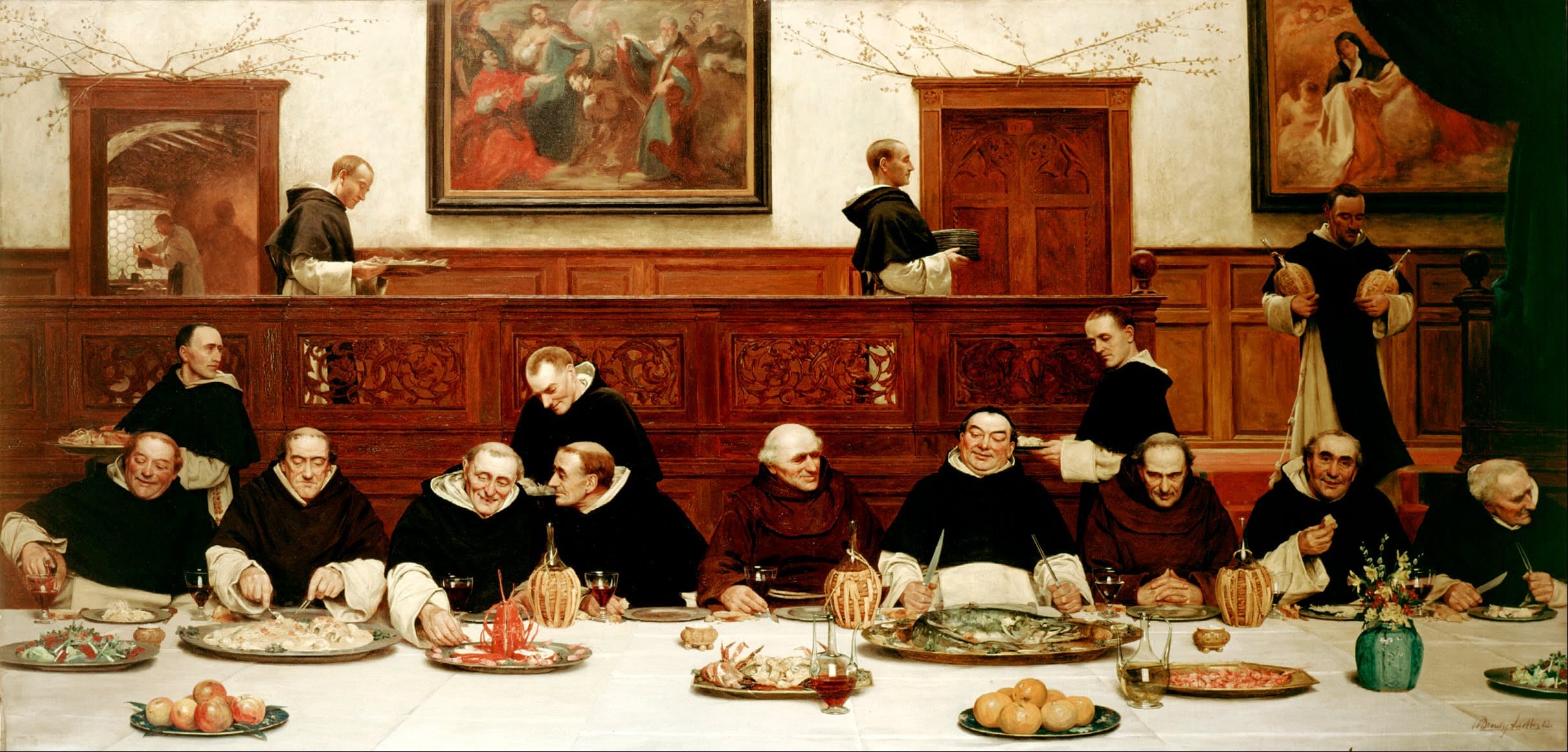 Welcome to the DSPT Blackfriars Art Catalog!
The image above, entitled "Friday" (oil on canvas, 1882), was painted by Walter Dendy Sadler (1854-1923). Intended to accompany the painting, "Thursday," Sadler playfully, if not a bit satirically, depicts Dominican friars entertaining a pair of Franciscan friars for the Friday conventual meal, the fish they caught on their Thursday outing.
Blackfriars Gallery is an educational resource to encourage the exploration of the relationship between religion and the arts, and in particular between sacred art and culture. With an emphasis on Catholic art and culture, exhibitions provide students at DSPT and GTU with the opportunity to engage art with their research topics, thesis and dissertation work. Regular lectures and exhibition catalogs provide the public with historical features of the art and their relevance to concerns of contemporary society.
Blackfriars Library hosts a collection of nearly 5000 volumes and archival material related to religion and the arts, philosophical and theological aesthetics, along with several specialized collections: St. Dominic's Press Collection, William Blase Schauer, OP Collection, and the Biblical Movie Poster Collection (described at this art catalog website). The goal of the library is to provide research material related to artwork in the Gallery holdings. After identifying a particular piece of art here, researchers can then explore the online book catalog for related reference materials.
As you will see, little is known about many of the art objects presented here. Viewers are encouraged to share these images with colleagues who might be able to assist and guide members of the DSPT community in ongoing efforts to improve the knowledge-base of this collection. Please feel free to contact the Gallery Director with any information.