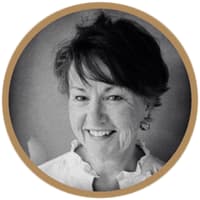 Louisiana native Lue Svendson is a painter and a landscape architect. Lue's work in paint and nature exist worldwide in Dubai, Costa Rica, and the United States.
Born in 1952, Lue was influenced to think creatively from a young age. Since she was a young girl, she has had a natural ability in drawing using pencil, charcoal, and watercolor. Pushed along by her parents in this direction and artistic heritage. Later she moved towards her professional choice to combine her love of art and nature to become a landscape architect. Her education and work in landscape architecture put solidly in focus, by intensive exercise and discipline, design principles relating to shape, space, line, scale, color, and texture. Lue enjoys working in varied styles with different materials thus keeping both she and her art fresh.
While she and her husband raised three children, Lue worked as a landscape architect and has remained active in the community and church. In an average year, she donates many paintings to charitable organizations, schools, churches and social organizations. With oil paints her selected medium Lue paints as often as can creating many scenes from the local area. She paints what she knows best; the woods and the prairies of South Louisiana.
Lue's experience as a professional designer brings an intellectual maturity to her work. The work produced since 2002 has created more than 20 shows for galleries and art events in the Lafayette and Baton Rouge, Louisiana area.
Lue influenced techniques of Sergei Bongart, George Inness and her teacher Pat Bourque of Lafayette, Louisiana. Other than her degree in landscape architecture from LSU, her art education has consisted of individual art classes and seminars. She is a member of the Lafayette Art Association.
Cookies help us deliver our services. By using our services, you agree to our use of cookies.
Cookie Policy