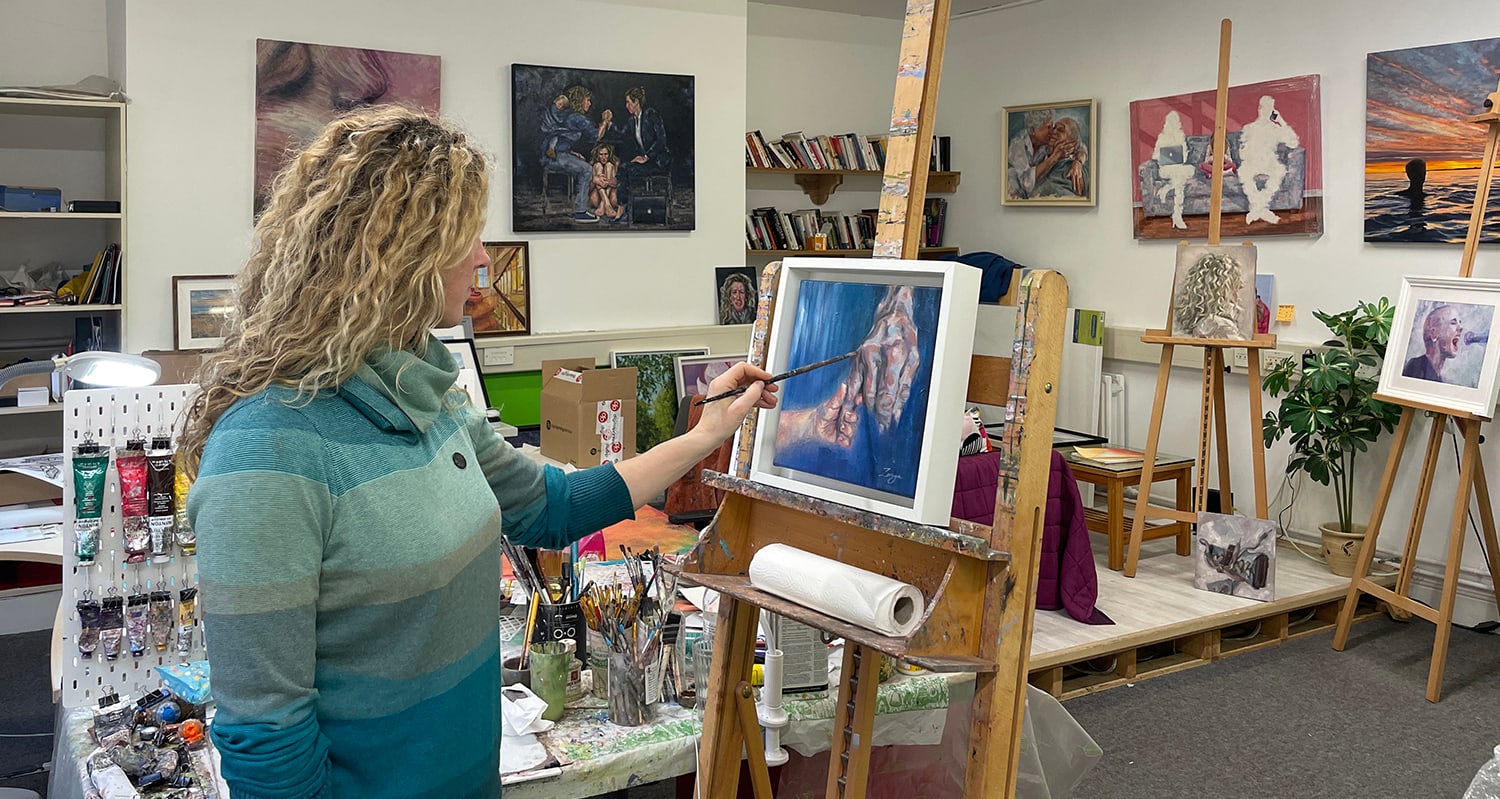 Born and raised in Dublin, Zanya spent 17 years as a founder and director of a successful branding and design agency before deciding to pursue her lifelong passion for painting. At the end of 2019, she became a full-time professional artist. 
Working primarily with oils on canvas, Zanya paints daily in her Merrion Square studio, where she works on new pieces and also private commissions. 
Zanya exhibited her work for the first time at Artsource in the RDS, Dublin, in 2021, and was thrilled to be shortlisted for the RHA 191st and 193rd annual exhibition. Her paintings encompass the full spectrum of life and are inspired by moments that resonate with her emotionally. This could be in the form of self-portraiture, where she documents a stage in her own personal evolution, or using visual narrative to highlight a social issue that is close to her heart. Zanya is also interested in capturing moments of connection, whether it be between people or with the natural world around us.
As a figurative painter, Zanya's work is deeply emotive, and she uses her talent to convey the complexity of the human experience. Her paintings often explore themes of identity, relationships, and the fragility of the human condition. Zanya is constantly pushing herself to grow and evolve as an artist, experimenting with different techniques and styles to create a unique and authentic voice.
Her work has been described as raw, honest, and emotional, reflecting the depth of her passion and a deep connection to the world around her.
When she's not painting, Zanya spends time with her partner and their two daughters in Dublin, finding inspiration in the everyday moments of family life. Her work is a reflection of how she experiences the world.
If you are interested discussing a commission, just send an email to [email protected]
My focus as an artist is on the theme of connection, exploring both its absence and its discovery. I am fascinated by the ways in which we connect with each other, our environment, and, most importantly, ourselves. Through my work, I seek to draw attention to the truth of who we are, highlighting aspects of ourselves and our environment that we often overlook or don't take the time to consider.
As an artist, I feel a deep responsibility to bring as much authenticity to my work as possible. I believe that the more personal, present, and intentional I am, the more clearly I can communicate my internal, felt experience into a visual output that can be understood and felt by the viewer.
My process typically begins with photos I have taken or sourced online. I use Photoshop to merge elements from different images, creating a composition that conveys the vision or message I want to express. My digital expertise allows me to create multiple versions of an idea quickly, but I rely on my gut feeling or an emotional jolt to guide my choice of the final composition. This image then becomes my reference when painting.
When it comes to painting, I let my choice of paints, brushes, and marks emerge organically during the process. My instincts and the sentiment I wish to convey guide my choices. I believe that this approach allows me to create work that feels authentic and emotive.
Ultimately, my work is an exploration of the human experience. I believe that by highlighting the importance of connection, both to ourselves and to the world around us, my art can help foster a greater sense of empathy, understanding, and compassion.