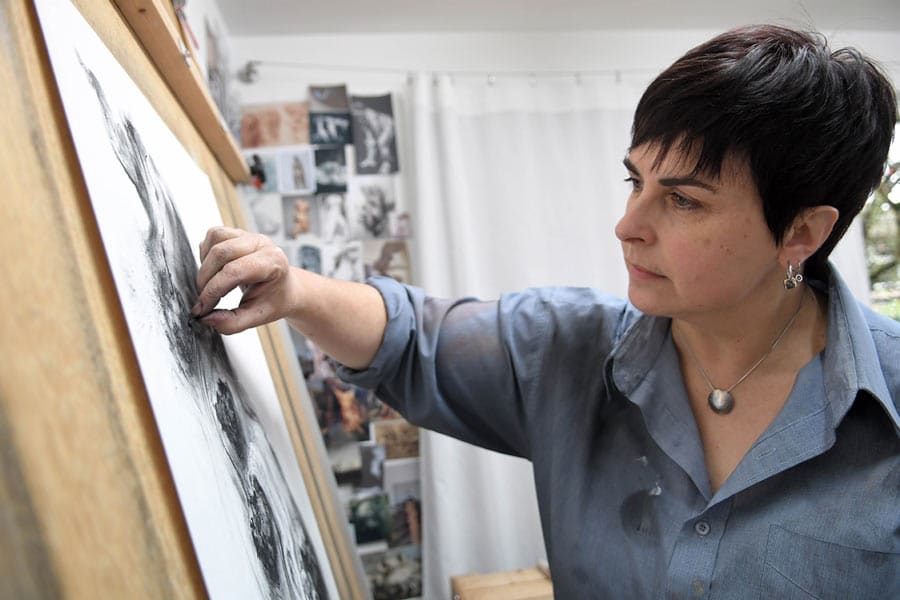 Tansy Lee Moir is an artist inspired by the forms and stories of old trees. Her art encourages us to look at trees in new ways and to think about our ancient, layered relationships with them as living organisms. She works in charcoal, pastel and oil and teaches drawing online and in person.
Originally from Matlock in Derbyshire, she gained a BA(Hons) in Three-Dimensional Design from Manchester Metropolitan University. Following three years working as a puppet maker and performer, she moved to Edinburgh to practice as a Community Artist and studied Community Education at Post Graduate level.
For 25 years Tansy used art and creativity as a medium to support marginalised communities in community development projects throughout Central Scotland. In 2008 she set up her studio to focus more fully on her drawing and in 2017 she moved to her purpose-built garden studio in South Queensferry, just outside Edinburgh, where she now works full-time as an artist and educator.
Her work is in private collections around the UK, Europe and the USA.
My work aims to capture the essence and energy of trees, transmitting their life force through the artwork. An ancient oak may have lived five centuries before the moment I draw it and continue another five centuries after I leave. 'Tree-time' is very different to our own.
My drawings explore the sensual, expressive qualities of the trees I find, but are still very much grounded in close observation. The dramatic charcoals play with ambiguity, blurring the boundaries between tree, figure and bodies of water, allowing the viewer to make their own meanings. My oil and pastel paintings celebrate the resilience of trees and their sculptural responses to adversity.
I am passionate about drawing as a way of seeing and understanding the world. In my drawing courses and workshops I help others to discover the joy of drawing too.