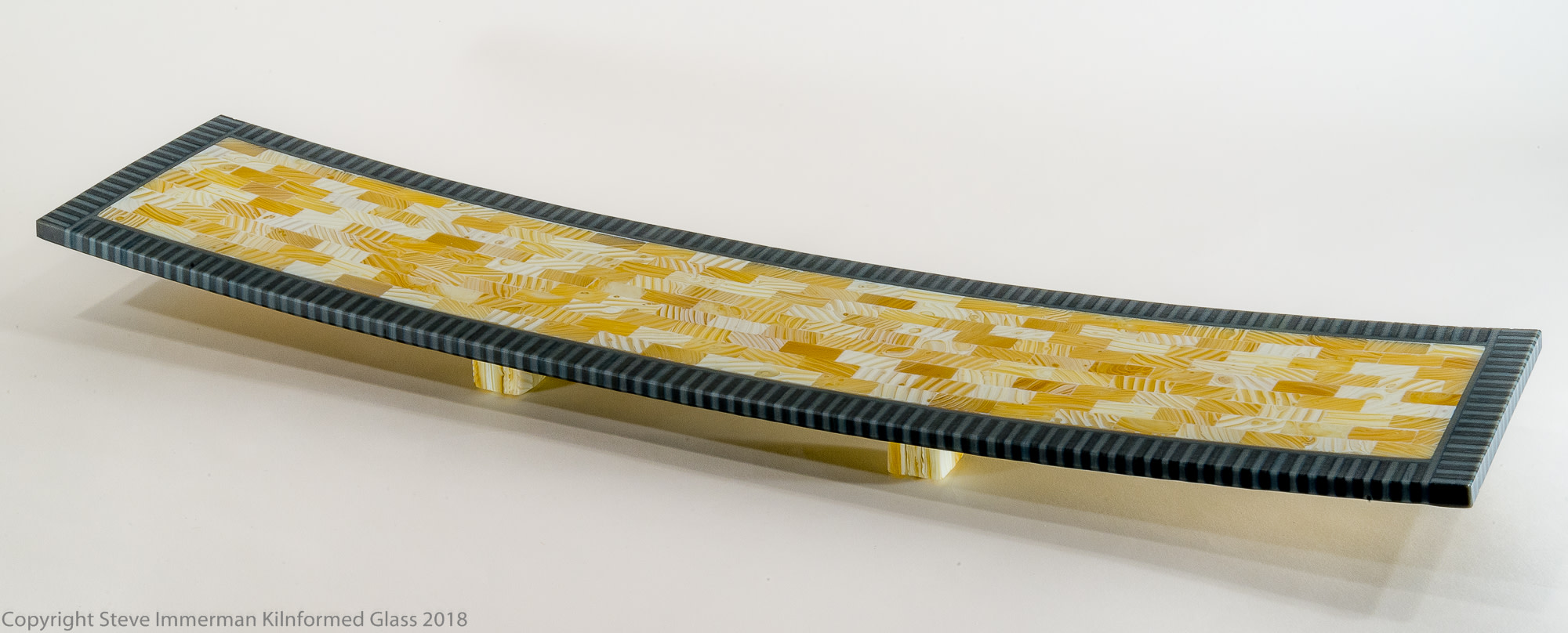 Although a native New Yorker, Steve Immerman has lived in the Midwest for over 40 years. Immerman has been working in glass for 40 years, and over the last 25 years exclusively with kilnformed glass. Immerman uses glass art as a respite from his more left brain and stressful career as a general surgeon.
He recognizes many parallels between kilnformed glass and surgery.
"They each involve technical skill and precise planning in preparation for the portion of the process where the elements are left alone to heal (in the case of surgery) or fuse (with kilnformed glass). Both processes require intense knowledge of what is expected to happen, and neither allow much margin for error. Both combine science and art."
His journey in glass has included classes throughout the United States with recognized kinformed glass artists, as well as extensive personal study and experimentation. He has been a finalist in the ArtsWest Wisconsin show on six occasions, and has been a finalist in the Bullseye Glass Company's eMerge (competition for emerging glass artists) in 2002, 2004 and 2008. His work has been featured on the cover of Glass Craftsman Magazine, and he has authored multiple articles for that publication. In 2005 he was chosen by the Wisconsin Arts to be the commissioned artist to supply original art awards for their annual "Governor's Award in Support of the Arts". In 2018 he was excited to have a piece in the new Pablo Center at the Confluence in Eau Claire's inaugural art show "Confluence of Art", and has had pieces in that exhibit in 2019 and 2021 as well.
Depending on the particular piece, the glass Immerman uses may be transparent or opalescent; textured or smooth; glossy or satiny. A common theme in Immerman's art is his use of geometric shapes, and, as one juror described his work, his "…clean form and patterning." He successfully juxtaposes wild, chaotic design elements with serene backgrounds and geometric regularity.
Says Immerman,
"When people look at my work I want them to be at the edge of recognizing something beyond the glass itself; I want the glass to draw them to a memory of an emotion, feeling, or place at a subliminal level."
Immerman does this with repetitions of textures, patterns, colors and shapes, in the form of vessels or sculptures.
The items shown on the Artwork Archive Public Page which are indicated as "available" can be purchased either through one of the galleries representing Steve Immerman Kilnformed Glass, or directly through the artist. Feel free to contact the artist for more information. If you click on the individual pieces it will indicate where they currently are being shown.