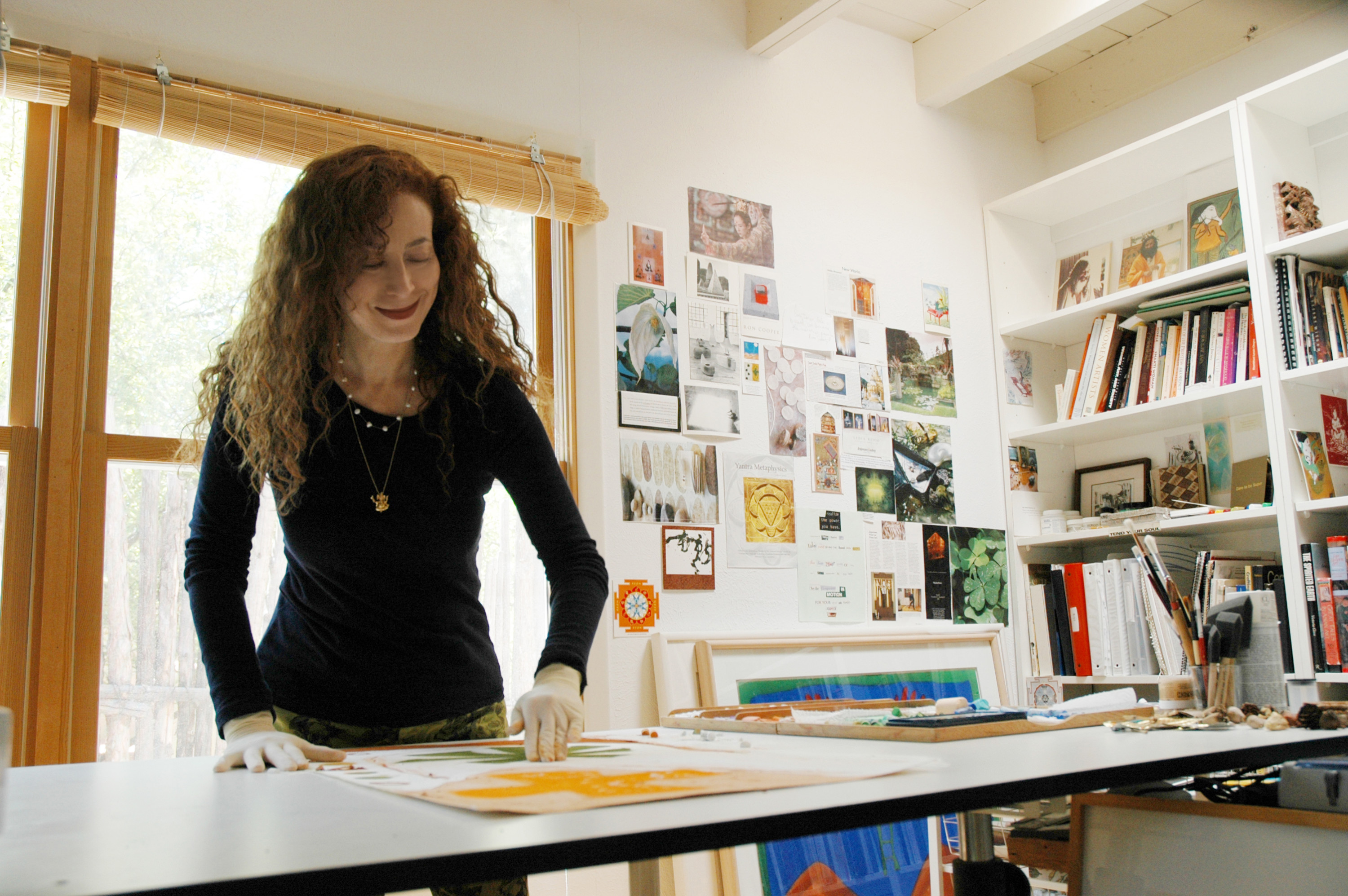 Artist Sherri Silverman was Artist in Residence at the Boulder Museum of Contemporary Art in 2001, creating and displaying art. She was awarded a Cambridge Oakland Artist Program Residency for 2017-2018. Her artwork is in the book 100 Artists of the Southwest; in private, public, and corporate collections nationwide, including the New Mexico Capitol Art Collection; and three museum group shows. 
After thirty years in Santa Fe, NM, Sherri lives and works in Lagunitas, CA in west Marin County. She loves both places because they are serene and surrounded by nature. Learn more at https://sherrisilverman.com
My personal forms of expression convey my response to the essence of nature and consciousness through my paintings. There is a long tradition of this approach to art-making in Asia, both in India and China. This shows up in how I draw flowers, mountains, and other natural forms and in how my brush moves, including in my non-representational work. Energy, essence, emotion translate my inner experience. 
When it comes to recognizable imagery, flowers and plants seem to be my thing. I'm painting them a lot, and their ideograms are my favorite Chinese calligraphy exercises. I love that sculptor/architect Ganapati Sthapati says that Indian aesthetics advocates capturing "intangible qualities and significance…the essence of the forms rather than direct copies of their natural shapes…observed, understood, well-savoured, and the response of the artist." How very Taoist! And very Sherri!
My real artist statement is the artwork itself and my own life. More reveals itself to me daily in the studio as paintings in gouache, pastels, and mineral pigment; mixed media art; collage; photography; and whatever artforms emerge, frequently as a surprise.
Art is a doorway, the freshness of the fountain within.
Forms and subtle levels of the mechanics of creation spontaneously dance across these pieces of paper. My art is an exploration of inner images and the images I see in the world around me in nature, books, and art. My inspiration comes from quiet interior states, meditation experiences, and contemplative creative time. My artistic goals include creating work that expands and enlivens consciousness --- that nourishes the soul, heals, and evokes happiness and wholeness in the world. I want to make a lasting contribution by delving into the mystery of creating something from nothing.