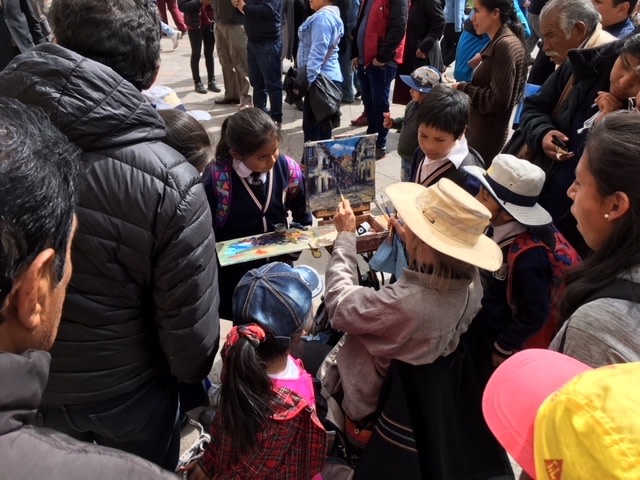 Sharon Rusch Shaver, a resident of middle Tennessee, has been painting professionally since the 1970's, and continues to receive top awards and recognition in her field. In 2008 the artist was awarded an Artist in Residence at Glen Arbor Art Association in Glen Arbor, MI. Columbia State University in Tennessee has purchased one of the artist's paintings for the creation of a permanent collection of Tennessee Artists in 2008. Southern Living Magazine did a feature article on the artist in 2005.
Awards include the Tennessee Allstate Purchase Award, Best in Show at the Central South Awards Show, Nashville, TN, and the Juror's Award for Excellence in painting at the new Renaissance Regional Art Exhibition in 2000. Award for Excellence in Painting at the Steamboat Art Museum Exhibition 2018
Museum Exhibitions include: Cheekwood Museum of Fine Art, Nashville, TN; The Parthenon Fine Art Gallery, Nashville, TN; The Frist Center for the Arts, Nashville, TN; The Clarksville Customs House Museum of Fine Art, Clarksville, TN
The artist completed over 30 paintings for the Alabama Sports Hall of Fame in Birmingham, and a 100 square foot mural for the United States Postal Service downtown office at the new Frist Center for the Arts in Nashville, TN.
Sharon Rusch Shaver was commissioned to do a painting for the White House in Washington, D.C. in 1999, which is a part of their permanent collection. Major corporations such as Brown-Forman in Louisville, KY; Wal-Mart in Bentonville, AR; Blue Cross and Blue Shield, just to name a few, as well as private collections throughout the country also include this artist's work.
The Artist teaches intensive workshops in oil painting for artists several times a year most recently to Europe, and works with various grant programs through organizations in her home state, to teach the basics of oil painting to beginning students.
Publications include: The World Who's Who of Women; Marquis Who's Who in America; and the Dictionary of International Biography, London, England. Marquis Lifetime Achievement Award 2019
Artist Statement:
"Abstractions are inherent in three-dimensional reality and I work with those abstractions with oil paint on linen within the boundary of a two-dimensional, created world.
In that world, the abstractions I am working with may be represented by me in an impressionistic or realistic way.
My subjects vary greatly because I am in awe of this life. I am drawn to all that is beautiful, all that is good, and in those things, I find a living, vibrant, and ever-changing truth that I am honored to share through my work.