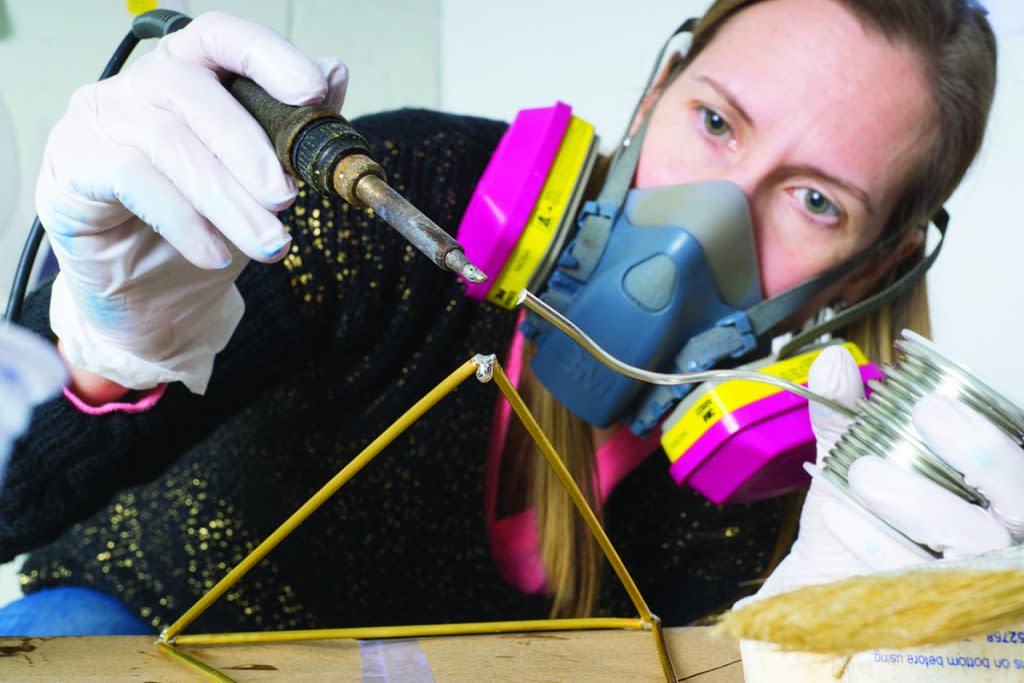 Sawyer Rose, FRSA, MRSS is a sculptor, installation and social practice artist. Throughout her career, Rose has used her artwork to shine a spotlight on contemporary social and ecological issues. Her work on The Carrying Stones Project addresses women's work inequity and has been featured by The New York Times, Ms. Magazine, and Bust Magazine. Rose's work has been exhibited widely across the US.
Rose has been a resident artist at Massachusetts Museum of Contemporary Art, Virginia Center for the Creative Arts (VCCA), Vermont Studio Center, Ragdale Foundation, The Tyrone Guthrie Centre in Ireland, and Fort Mason Center for Arts & Culture in San Francisco. She has been awarded grants from The Ruth and Harold Chenven Foundation, The Creative Capacity Fund, The Awesome Foundation, and ArtistGrant.org.
Rose is a Fellow of the Royal Society for Arts (London), and a member of the Royal Society of Sculptors (London), and the Sculptors Guild (New York). She is President of the Northern California Women's Caucus for Art (San Francisco).
Born and raised in North Carolina and a graduate of Williams College in Massachusetts, she currently lives and works in the San Francisco Bay Area.
The Carrying Stones Project combines art and data visualization to jump-start public conversation about women's work inequity. The works encourage viewers to confront issues of equity, labor, and community by pairing human faces and stories with the numbers behind them.
My large-scale data sculptures, accompanied by poignant photographic portraits of the women whose stories they tell, communicate the diverse and distressing truths about American women's unpaid/underpaid and unseen labor. Cooking, cleaning, childcare, eldercare, and community volunteerism statistically still default to women, which keeps them from advancing at work and in society. These sculptures document the physical, emotional, and practical effects of these imbalanced burdens.
My works on panel and paper shine a light on the thorny data issues of the gender pay gap, unequal representation of women in higher-paying industries, women in leadership positions, and representation of women in the media — as well as the ways in which women of color and low-wage workers are disproportionately affected.
The artworks from The Carrying Stones Project profile female-identifying people of different ages, races, sexual orientations, occupations, and socio-economic statuses — building a broad yet touchingly intimate picture of the labor that underpins the complex fabric of our society. I choose the women I depict both for their compelling personal work stories and for the larger issues their stories bring up.
It is critical that, as a society, we come to a deeper understanding of the pervasive effects of gendered labor inequity. A gender balanced workforce is better for productivity, innovation, worker happiness, and the economy as a whole, while a gender balanced workload in the home leads to healthier partner and parent-child relationships.