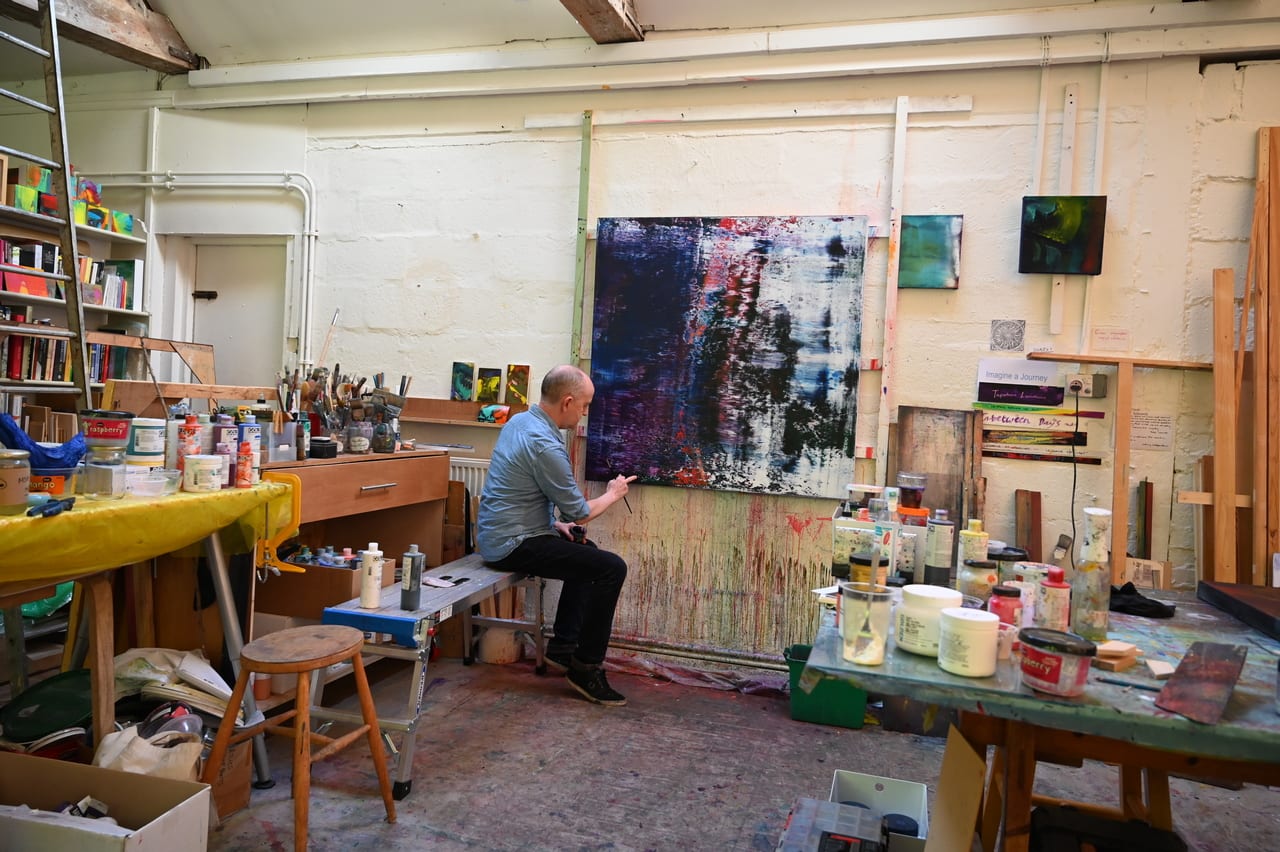 Richard Heys studied Fine Art at Backhouse College of Art in Sunderland. Receiving a BA (Hons) in 1986 he then travelled widely and worked as, among many things, a social worker. In 1998 he retrained and received a diploma in sculpture from Emerson College, East Sussex. In 2007 having been made redundant from a teaching post at an Art Therapy college, Richard set out to reclaim painting for himself, teaching peripatetically and painting at every opportunity. He now realises the greatest joy in living and creating steadily and his work continues to evolve. He rents a large studio at Emerson College, overlooking Ashdown Forest. In 2015, 2016 & 2021 Richard had a number of paintings selected for the prestigious ING Discerning Eye Exhibition. In 2017 his work was selected for the Creekside Open and the National Open Art Exhibition. He exhibits his work regularly in galleries and art fairs in the United Kingdom and his work has been exhibited in Germany and Switzerland in recent years. The galleries he works with are Adam's Gallery, Reigate; AKA Fine Art, Cambridge; Clifton Fine Art, Bristol; Folkestone Art Gallery, Folkestone; and Linley, London.
Richard Heys grew up in West Yorkshire at the foot of the Pennines. Since 2012 he has worked in a light-filled studio in Sussex in England, an acorn's throw from Ashdown Forest. He strives to bring presence into painting, to open up a soul space allowing the viewer to breath with the artwork. For Richard, a painting must have countenance – a spiritual presence – so that the artwork continues to live on in the mind of the viewer. Aiming for mystery in this world of the known, he creates standing before the unknown.
 What set him on this journey was discovering Ian McKeever's Temple Paintings at the Royal Academy of Art in London in 2007. He couldn't understand how the piece seemed to come off the wall to greet him. Richard has, since that moment, wrestled with the issue of how to create a painting with presence. These days he has a deep appreciation of how pure colour can project and recede from the picture plane and this is informed by the 'frontality' of the icon tradition, brought into the Abstract Sublime by Mark Rothko.
Richard paints with print-making tools, brushes and bespoke squeegees. He aims to create, to borrow a phrase, "the painting as a doorway".