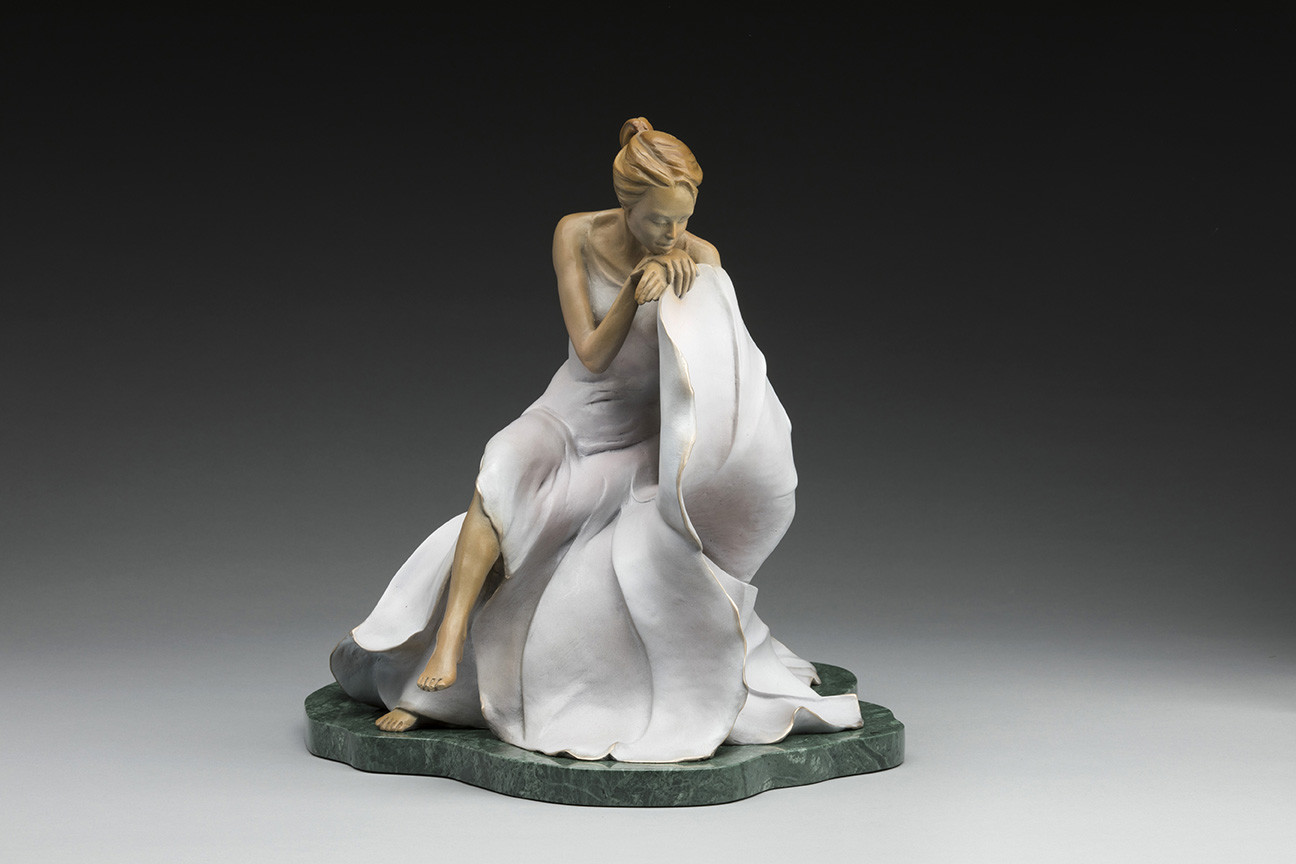 Phyllis Mantik deQuevedo makes her home in Oklahoma City, OK. A native of Canada and a graduate of the Alberta College of Art in Calgary, Phyllis moved to the United States in 1981.
She believes that her introduction to sculpture was by design. From early experiences of seeing an image take shape from a lump of clay, she has delighted in creating. Out of this personal joy she realizes a responsibility; to create work that adds value to our existence, to evoke a smile; to touch someone's heart and for a moment to capture an emotion. She sees the transforming experiences in life such as ten­derness, intimacy and spirituality as that which enables artistic growth and provides inspiration for her sculpture.
To her, the most powerful art involves the human figure. The inspiration for her new figurative series is flora and focuses on representing botanical forms through metaphors as they relate to human forms and human experiences.
Phyllis works in a design and marketing career along with her sculpture studies. She has been exhibiting and sell­ing her artwork since 1991. Her sculptures are held in corporate and private collections throughout the United States and Canada.
I have always been fascinated with the inner being and the hidden forces that propel us through life. There is a story there and I am drawn to create art to tell that story.
We are so much more than just skin and bones and our mirrored image; we are complex organisms full of emotion and intellect. We move, breathe, grow and change with time and in relation to our environment. In the scope of time, our presence is fleeting but each of us leaves an imprint of having been. It is this understanding that inspires me to sculpt human and botanical forms. Both subjects contribute a color and vibrancy and I am moved to capture and share those brief moments while I may.
I'm often asked about the process of creating a sculpture. Every sculpture goes through an awkward stage. There is an excitement and energy as I begin and a restlessness as it nears completion. But somewhere in the middle, I wrestle with an armature that isn't working, anatomy that doesn't feel natural or a composition that doesn't flow. Experience tells me I must be brutal enough to fix it or honest enough to set it aside. Then there are those times when I am rewarded in a breakthrough moment in which a sculpture becomes more than I ever anticipated. This is what excites me to continue to hone my skills and push my personal boundaries.
My current work explores storytelling through metaphor. Instead of trying to sculpt figures and petals -- whether realistic or abstract, I strive to sculpt what it feels like to be human and to convey the unspoken. The reward is in knowing that others can relate to them from their own human experiences.