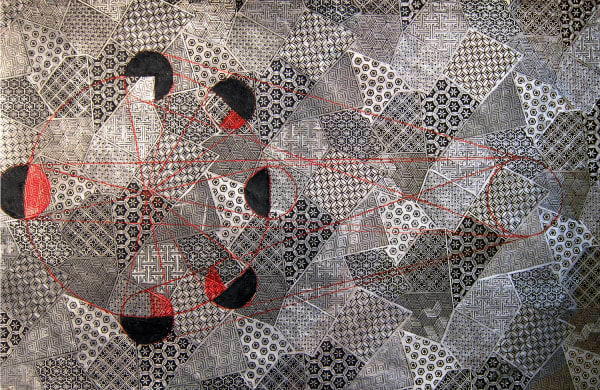 Nsenga Knight was born in 1981 in Brooklyn, New York. She currently lives and works in Cairo, Egypt and New York. She has exhibited work at the New Museum for Contemporary Art, New York, NY; PS1 MoMA; the Drawing Center, New York, NY; Contemporary Arts Museum, Houston; Museum of Contemporary African Diasporan Art, Brooklyn, NY; BRIC Arts; AIR Gallery; Berman Museum of Art at Ursinus College, Pennsylvania; Arthur Ross Gallery at the University of Pennsylvania, Philadelphia, PA; Project Rowhouses, Houston, TX; Smack Mellon, Brooklyn, NY; among others.
Knight has been awarded with a Pollock-Krasner Foundation Grant, a Foundation for Contemporary Arts grant, a Southern Constellations Fellowship, the Leeway Foundation Art and Change Grant, and Brooklyn Arts Council grants. She has held artist residencies at BRICworkspace in Brooklyn, NY, the Drawing Center in New York, Elsewhere Museum in Greensboro, North Carolina, the Galveston Artist Residency in Galveston, Texas, Brandywine Workshop in Philadelphia, Film/Video Arts Center in New York, and was a BCAT/ Rotunda Gallery Multimedia Artist in Resident in Brooklyn, NY. 
Knight earned a Masters of Fine Arts degree at the University of Pennsylvania, a Bachelor of Arts in Film Production at Howard University.
My creative practice is situated at the intersection of Islamic art, Western abstraction, and Black aesthetics. I was born in Brooklyn, NY to parents who immigrated to the US from the Caribbean and South America in the 70's as teenagers and converted from Christianity to Islam as young adults, raising me within their new faith and country. Their fluid and willful transitions between place, philosophies, and histories, in contrast with the jarring and forced dislocations of our African ancestors throughout the Americas, have developed my understanding of the visual world—its nuances and boundaries, and the need to resist, reevaluate, and push beyond its limits. My upbringing as a first-generation Black American Muslim informs my work in many respects and I seek to make critical contributions to conversations on the status of Black America, American society, politics, culture, and Islam in the 21st century. 
My process is grounded in research and experimentation with form, drawing on historical archives, memoirs, rituals, and documentary photographs. I work in serial projects that often utilize repetition. Across paintings, drawings, prints, and social practice projects, each body of work reflects a subjective and permutational response to history and place, navigating connections across time, geography, and cultures.
Through my research, community collaborations, creative investigations and rigorous experimentation I gain a greater understanding of the universe that we exist in, and mark my place in the world as an African American Muslim woman artist. My approach to working with materials and ideas is part of a larger theoretical project that poses critical questions about process, power, representation and the construction of communal narratives. Through the experience of looking at/ participating in my work, I am inviting my audiences to challenge traditional boundaries of race, nationhood, and religion and create wholly new constructions that broaden our collective imaginations.