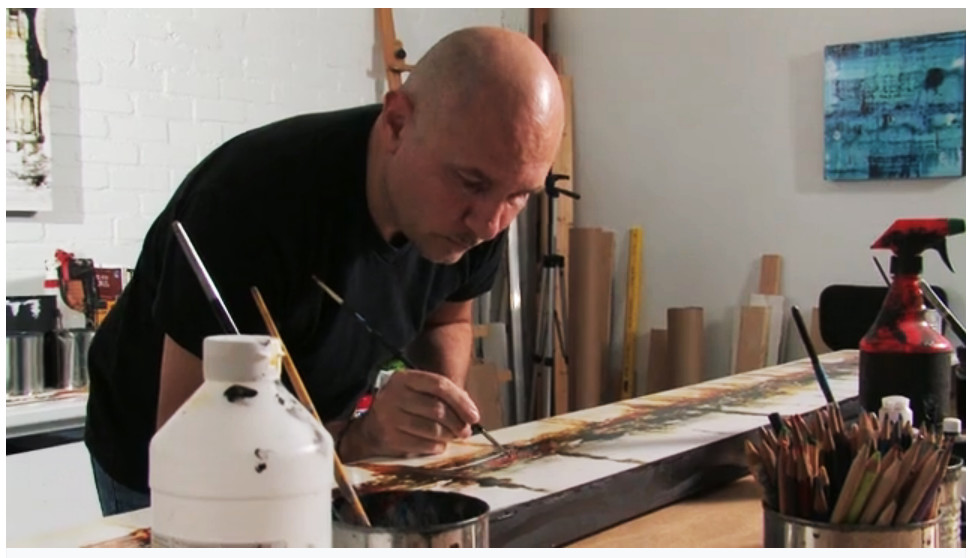 A Houston resident since 1988, Italian American artist Nicola Parente currently lives and works in Near Northside, adjacent to downtown. He obtained a Bachelors from King's College (PA) and a Masters degree from the University of St. Thomas. Nicola's studio practice includes painting, installations, photography, sculpture, set design, and textile design. Nicola explores the ever changing impact to our landscape and communities. Inspired by changes in the evolution of metropolitan cities, he is interested in defining the intersection of daily life. He is intrigued by the interplay of the fluid and static elements of the urban matrix.
According to Parente "deconstruction, construction, and reconstruction along with the vast diversity of the ever-changing neighborhoods play a large influence in the creation of my artworks. My work is an ongoing investigation in timelines, movement and the role of light".
We live in a fast moving world. We are unable to capture the changes around us. We feel trapped in a fast moving highway of transformation. I sit. I breathe. I inhale the thoughts, the ideas, the movements that are overwhelming, intense, rigid yet fluid, beautiful yet disturbing, moving and captivating. I digest the moment, this particular moment. I allow myself to bask in it. My work struggles to define the intersection that is present in daily urban life. I am intrigued by the interplay between the fluid and the static elements present in today's urban tapestry. My work investigates untangling the chaos, the brilliance of technology, human development, nature's vibrancy and ultimate demise. I document it in the best way I know how, art, my only voice.