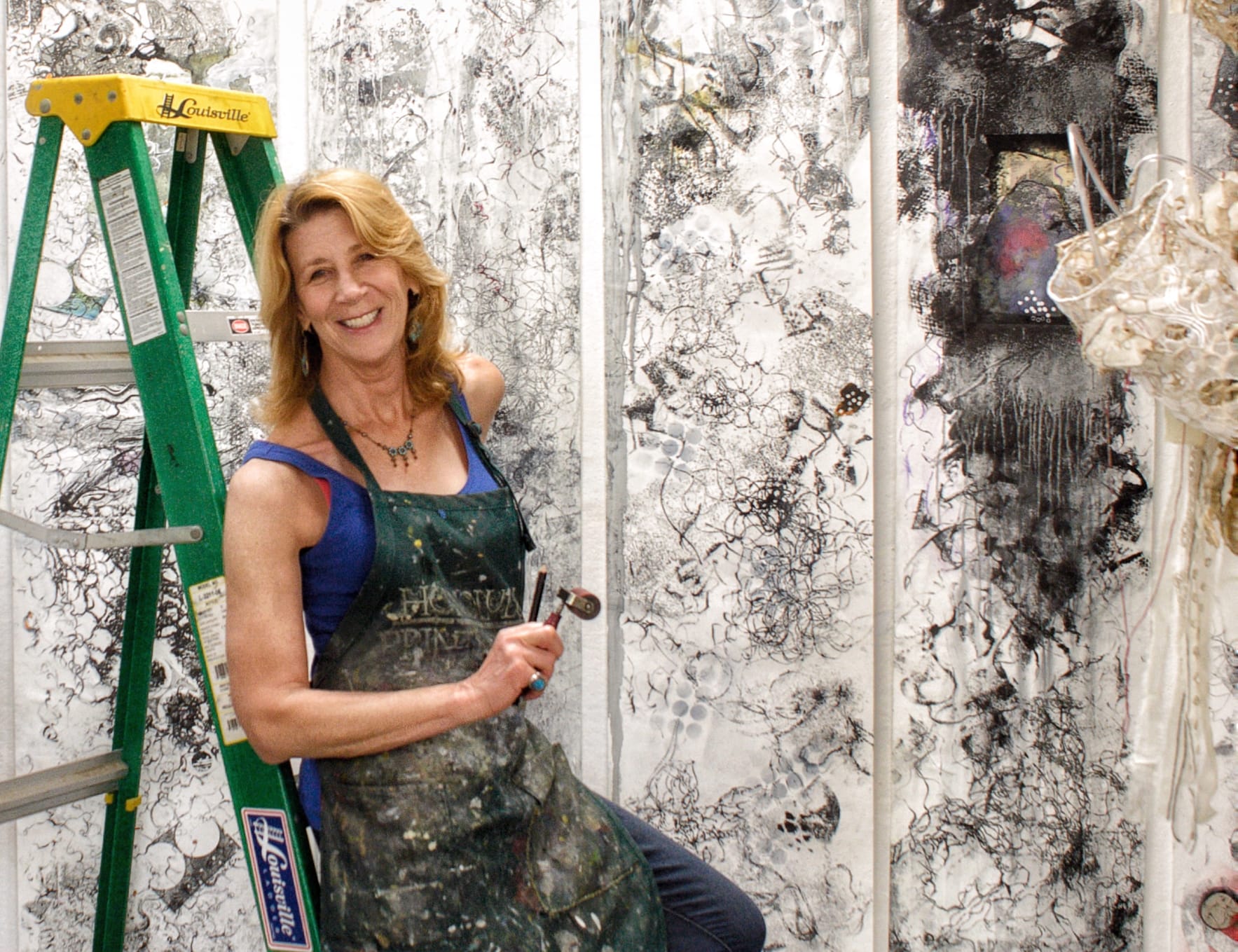 Nanci Hersh is a mixed-media artist whose work is informed by the experiences, relationships and places in her life. Her two-dimensional work, as well as her sculptures and installations are symbolic explorations of the grace, beauty and fragility of our lives.
Nanci is also an educator, arts advocate and administrator as Executive Director of the Delaware Institute for the Arts in Education. Her work has been exhibited throughout the United States including "Riverfront 20/20" and Farthest from the Ordinary" at The Delaware Contemporary, "50 States/200 Artists" at the Museum of Encaustic Art in Santa Fe, NM, "Eons Beyond the Rib" at Seraphin Gallery in Philadelphia, PA, "Paper Work" at the Trenton City Museum at Ellarslie and "The Demoiselles Revisited" at Francis M. Naumann Fine Art, NYC, along with solo exhibitions in PA, NJ, DE, and HI. Nanci has received numerous honors including three purchase awards from the State Foundation of Culture and the Arts, Hawai'i, and three Leeway Foundation Art & Change Grants. Her work is included in the Public Collections of Museum of Encaustic Art, Johnson & Johnson, Leland Portland Cement, and OSI Pharmaceuticals to name a few.
With her cousin and author, Ellen McVicker, Nanci illustrated and co-created the children's book Butterfly Kisses and Wishes on Wings: When someone you love has cancer… a hopeful, helpful book for kids. Now in its 8th printing, the book is a resource and comfort to children and their families around the world.
I am interested in the transformative power of the creative process. The overarching theme of my work is a narrative drawn from personal history, my meditation and spiritual practice, community engagement and interest in the mysteries of the Universe. 
Passages
Dini, my beloved black lab is my centering mantra, my guide and muse. She stands in/or swims, as me; navigating uncertain waters as a woman, mother, daughter, and citizen who is deeply concerned about our fragile world in turmoil. Children leaving the nest, aging; our own and our parents, the death of a family member be they on two or four legs, mark the passage of time and inevitable change.
Snapshots from our walks together at nearby White Clay Creek Park are opportunities to embrace small moments and reflect on bigger questions around love, loss, joy, fear, longing and are the inspiration for these mixed media paintings.
Unmasked: Portraits from the Zoom Room
In March 2020, life changed. Regulations went up, and venues shut down. The greatest hardship—most would agree—was being separated from loved ones, friends, and colleagues. We all scrambled to adjust to our new circumstances. 
I remember first "meeting" with my staff in March using a video conferencing app called Zoom. I never suspected that Zoom would become an integral part of my life, and really, everyone's lives. We were now seeing each other within the borders of a solid black frame. The experience was detached, yet intimate. It was strange and funny how people presented themselves, their expressions, and settings—what was on their walls and who else was in the room (knowingly and unknowingly). Admittedly, I enjoyed being a voyeur.
And that was it. The idea popped into my head to take screenshots and do paintings from these virtual moments. I was working through my own complicated feelings about what was happening in the world, and I began to feel excited to tell a story—my story and other people's stories.