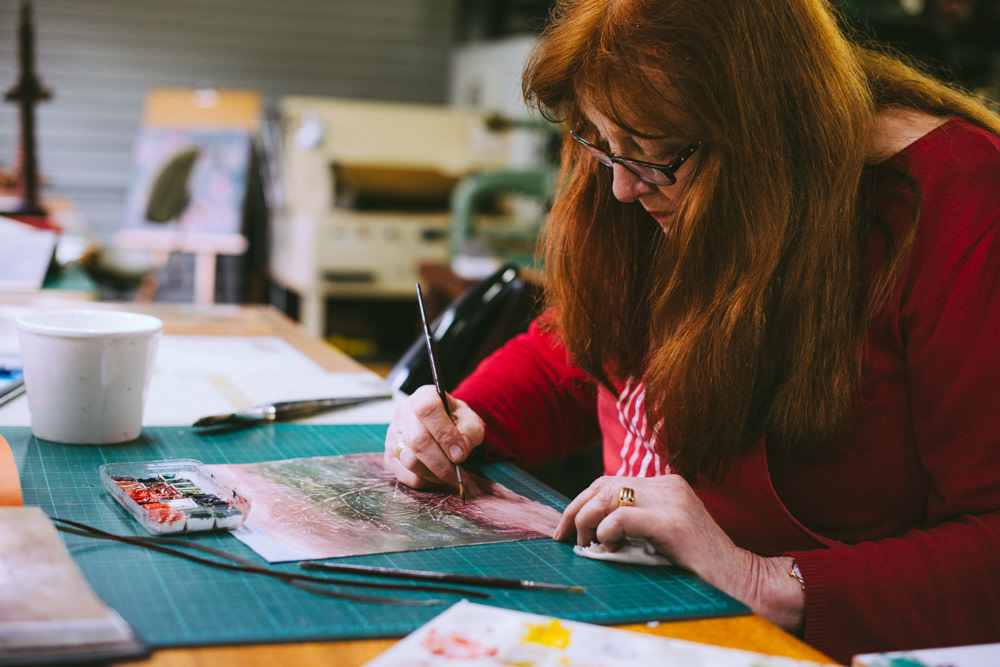 🦋After more than two decades of working and teaching in the visual arts disciplines, including - painting, airbrushing, typography, design and visual merchandising, studying bookbinding in 2000 was a much needed creative revival. The following 15 years spent restoring beautiful old books connected me to the Artisans of the past, developed and honed my skills and perception.
Moving to the Shire of Augusta Margaret River in 2013, establishing a new studio/workshop and selling my binding business in 2015 has allowed me the time and space to concentrate on painting again (mixed media and watercolours) and to study printmaking, developing a Portfolio of block, intaglio and monotype prints.
I have also applied my book making skills into the creation of individual and limited edition artist books, now combining mixed media and print-making within the book structure thus extending my capacity to frame and develop concepts and images.
Recent collaborations to produce limited edition artist books include:
'Loneliness to Solitude' with photographer/textile artist Unhi Mook.
'Overprint' with artist/printmaker Leon Pericles.
'Handscapes' (winner of the 'City of Busselton Art Award 2016') with letterpress historian/printer Dr Claire Bolton.
Collections include:
National Library of Australia
State Library of Western Australia
State Library of Queensland
City of Busselton Art Collection
Numerous private collectors