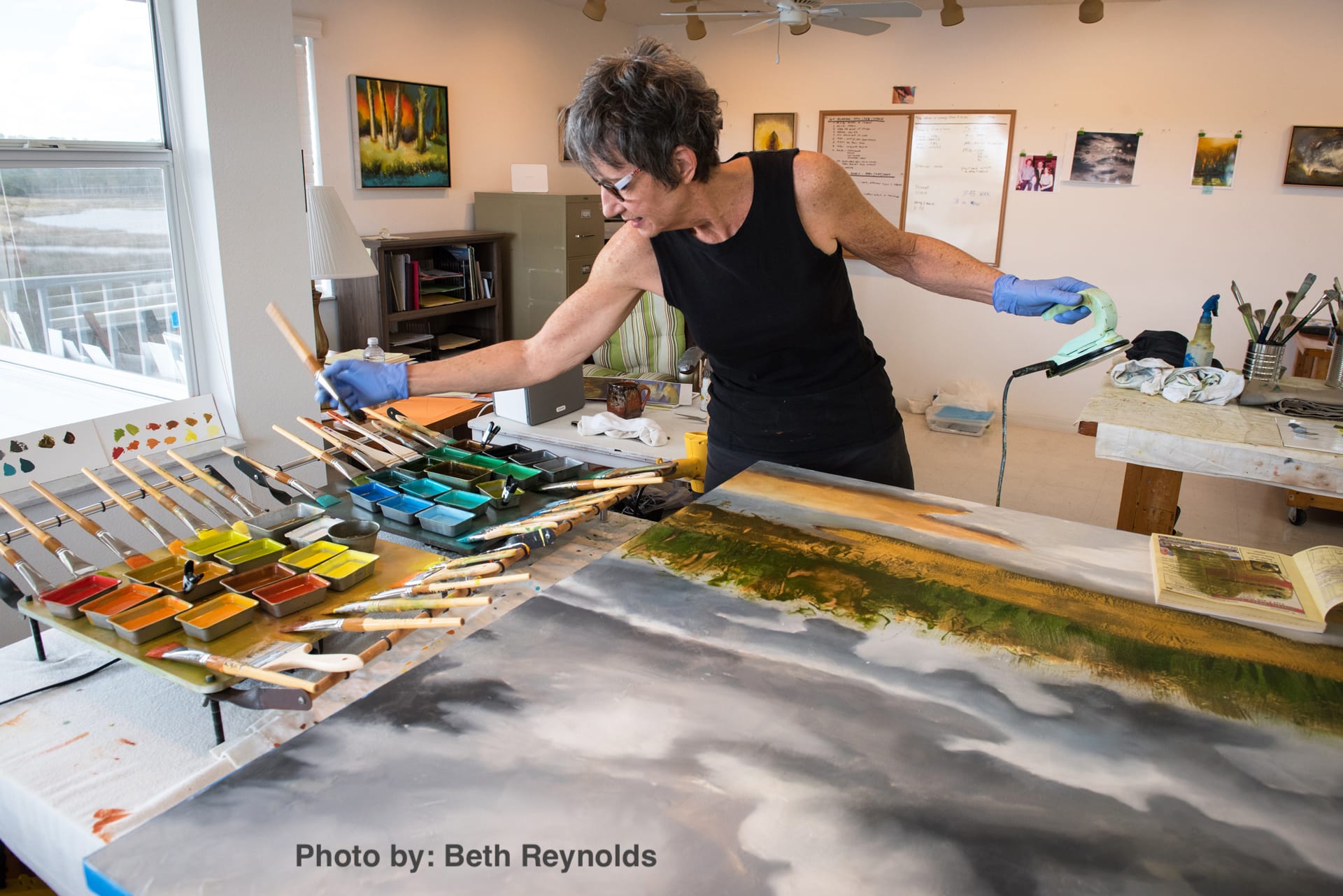 Leslie Neumann Biography
In 1990, I moved from New York City, population 8 million, to Aripeka, Florida, a small fishing village on the Gulf of Mexico with 397 people. My home and studio are surrounded by more than 14,000 acres of coastal wetlands.  All of this beauty has inspired and influenced me as an artist.  Every day I'm engaged by its raw, primitive energy.
I'm also a citizen activist, focused on land conservation along the coast in west central Florida. Thirty years ago, I helped create a land trust that protects environmentally sensitive land by placing it into public ownership.  Our notable record of success is visible from Google Earth photos just north of the Tampa Bay area.
I earned a Bachelor of Fine Arts Degree from the California College of Arts in Oakland, California, and a Master's Degree in painting from New York University in Manhattan. I have also received prestigious grants and fellowships, including from New York State Foundation for the Arts, and the State of Florida Individual Artist Fellowship. You can find my work in over 70 corporate and museum collections throughout the USA, including Nissan Motor Corporation, ADT Securities, Marriott hotels, Baylor College of Medicine, National Space Biomedical Research Institute, 42 Firebirds Restaurants in 15 states nationwide, Polk Museum of Art, Tampa Museum of Art, Leepa Rattner Museum of Art, as well as the City of Tampa and the City of Orlando's Public Art Collections.
Leslie Neumann Artist's Statement
I'm a landscape painter, but what I end up with is hardly any commonplace landscape.  Joanne Milani of the Sarasota Herald said, "Aripeka resident Leslie Neumann is dedicated to preserving Florida's wetlands, but the wetlands are scarcely recognizable in her color-infused paintings. Instead, they become places inhabited by sorcerers, where swamp grass erupts in flames that appear to have been started by supernatural forces."
 My Wetlands Series is full of close-up views of lush tropical environments, my Transitions Series accentuates the enormity of the sky, filled with massive clouds, and in my Cosmic Series, the journey is deep into the cosmos where's there's no attachment to land, and we find ourselves floating in space, free from time and gravity.
 I paint with encaustic, which is hot beeswax, and it produces beautiful, rich surfaces.  As you view my work from across the room, the illusion of deep space transports you into my paintings. But what appears as a realistic scene when viewed from afar quickly dissolves into abstraction as you approach the painting.  The viewer experiences both the dreamy quality of an imaginary scene from one vantage point, and the pure pleasure of color and texture from another vantage point.