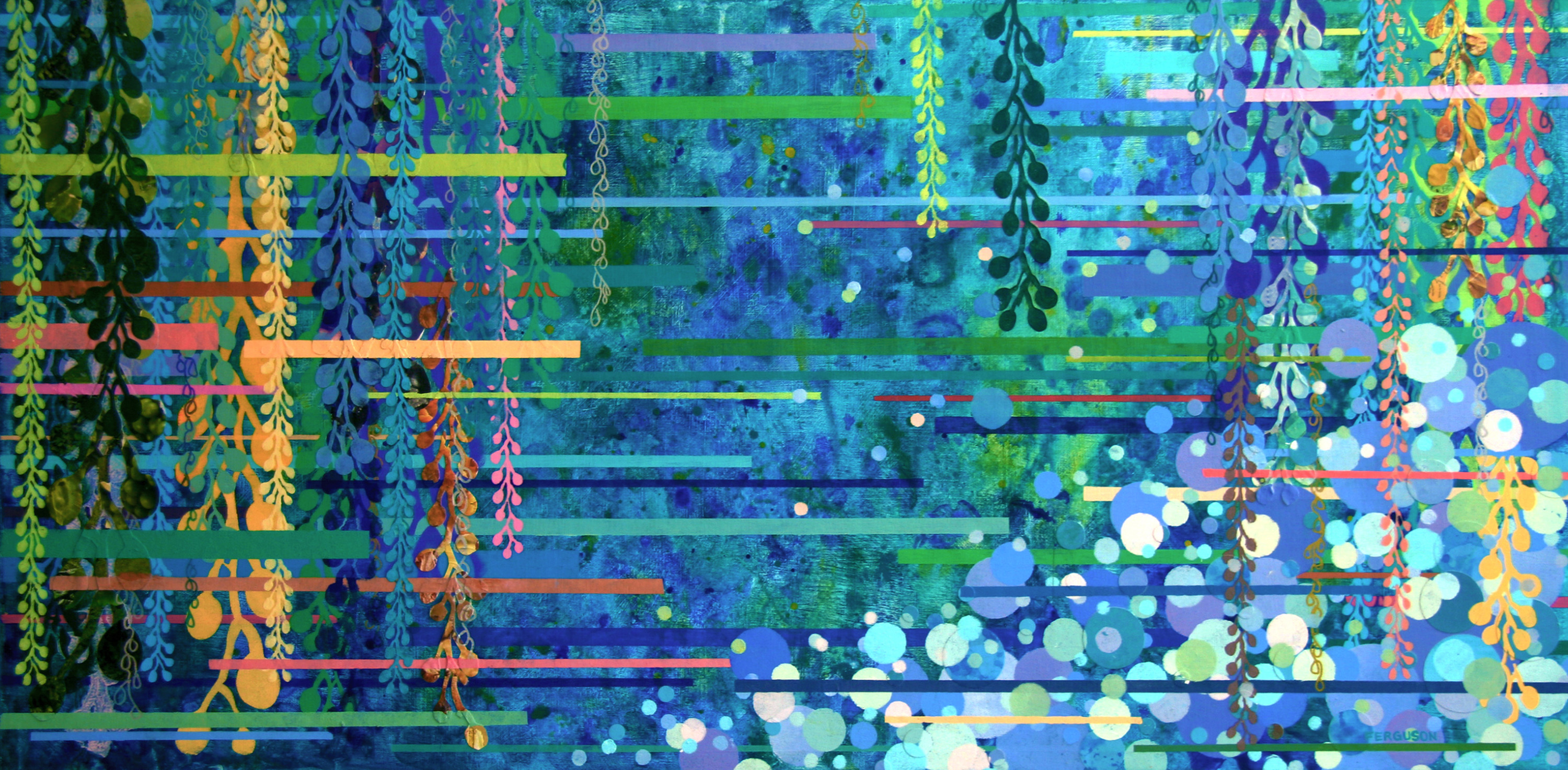 Kathy Ferguson, a mixed media artist, paints colorful abstract settings that are whimsical, richly layered, and complex. Using combinations of geometric and organic shapes, she creates imaginary worlds using paint, collage paper and ink. Her colors are often bold and saturated alluding to worlds that are more illusionary than authentic, places more commonly found in dreams than in reality.
When Kathy took her first formal art class at seventeen, she knew she had found a piece of her soul. She won first place in a state art competition that year and with it, scholarship funds for college. Raised in a practical family, she chose to major in engineering and business instead of fine art. Still, the desire to create art lived within her and when she left the workforce to raise her three children, she once again took up painting and followed her dream. These days she builds new worlds using paint and paper instead of concrete and rebar.
Her paintings have been exhibited in galleries coast to coast, including the National Association of Women Artists Gallery in New York. Her work is held in many collections including the Plaza Hotel in New York, the Four Seasons Hotel in Houston, and the Belmond Grand Hotel Europe in St. Petersburg, Russia.
Kathy received her MFA from the Academy of Art University in San Francisco.
I grew up in a family that values both the arts and sciences. My father is a physicist who loves woodworking and tending his garden. My mother is a microbiologist and a master quilter. With such an upbringing, it seemed natural to me to attend college on an art scholarship but major in civil engineering. Art and science aren't opposites to me, but two sides of the same coin. My artwork reflects this synergy as I blend the two disciplines into bold, lively artwork.
As a former engineer, the precision of science lets me feel in control. But as an artist, I'm also drawn to the diversity of the natural world. I create artwork that blends this duality, finding examples of their union all around me. I see beauty in parallel railway tracks overgrown with tangled weeds. Or the ordered lines of a musical staff sprinkled with random notes. I merge logical patterns with organic elements creating narratives for my colorful, abstract paintings.
Each painting starts with a story. I begin with a structured framework, and then overrun it with a flow of shapes to support the narrative. My first layer might be a grid that will support a tumble of cascading vines. Or a wall of columns overrun by an army of circles. I artfully meld science and nature in my work to show the beauty of these two opposites and their symbiotic balance as they harmoniously blend to tell a story.