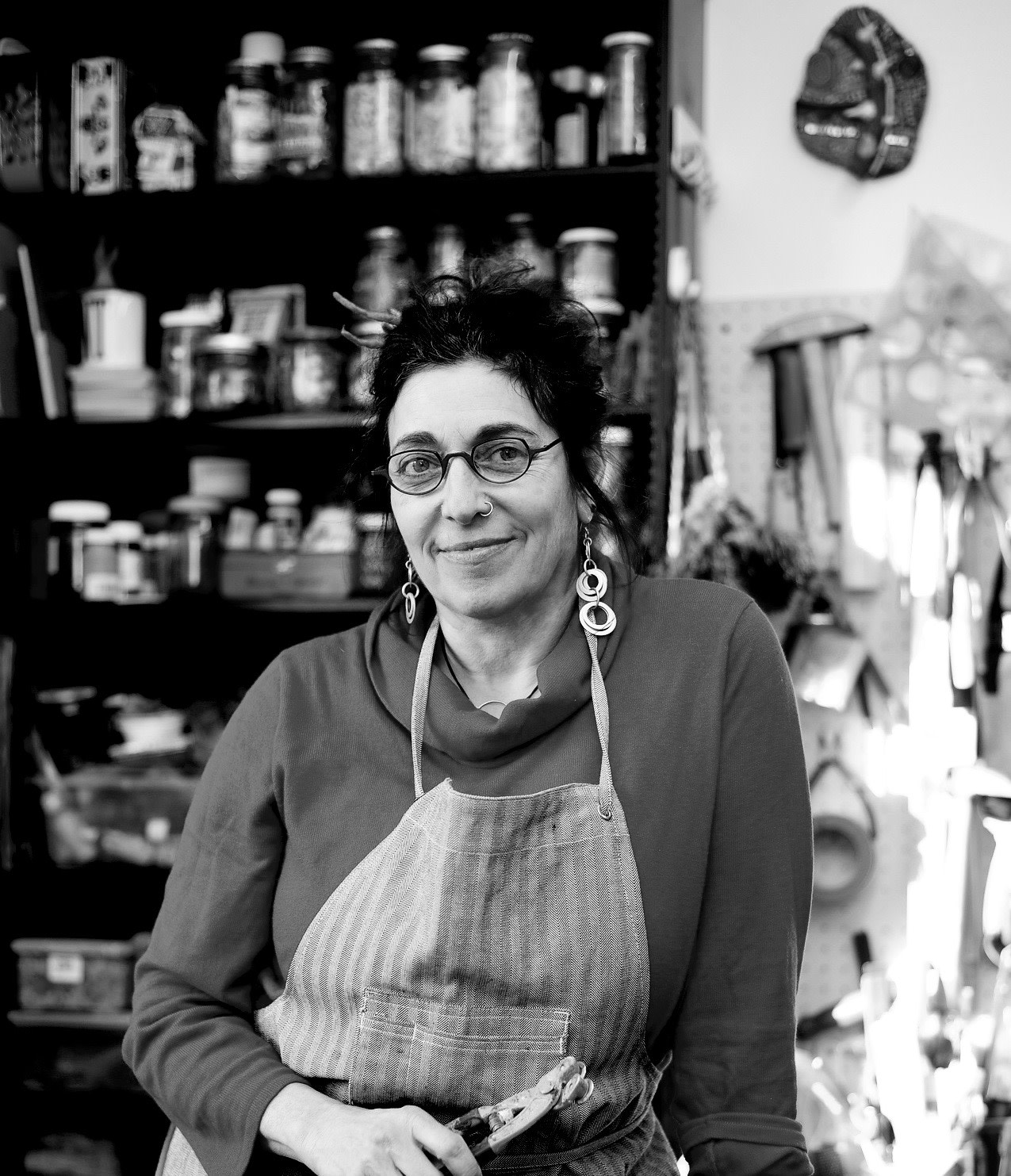 Karen Ami was born in Chicago, raised in Indiana and Illinois. She attended The Boston Museum School, Tufts University (BFA, 1986) and The School of the Art Institute of Chicago (MFA, 1995) majoring in ceramics and sculpture. In 2005, she founded The Chicago Mosaic School the first and only Not-For-Profit school for Mosaic Arts Education outside of Europe. She is President Emeritus of The Society of American Mosaic Artists, teaches and lectures internationally and is a sought after curator of contemporary mosaic exhibitions. She exhibits her own artwork in venues both here and abroad. She was awarded first prize in the Prix Picassiette International Exhibition in 2014. In 2015, her work "TEN" was acquired by The Museum of Bibical Art, Dallas Texas for their permanent collection. Her work can be seen in public and private collections around the world.
Karen Ami's works are a continuing inquiry of about love, life, family and eternity. Her graphic compositions combine rich surfaces and bio-morphic forms, exposing complex and primitive stories of transformation and regeneration. The destruction and repair in Ami's unique process is a metaphor for the life cycle and how to create wholeness is a broken world. Ami has developed a narrative language that uniquely combines a fascination with drawing, mosaic, writing, ceramic and carving. Her black and white mosaics merge references to written stories and artifacts that reveal layers of memory and experience.
 Ami draws inspiration from Pre-Columbian and Mesoamerican sculpture, underground comic books, African and oceanic masks, and Chicago Imagist painters. She creates unique drawings and writings in clay and breaks them apart- reconstructing and reassembling pieces to create a new story and composition. This is a process of deconstruction and the rebuilding is part of her additive method of mosaic. The resulting works are an outcome of a continual journey of exploration and investigation.