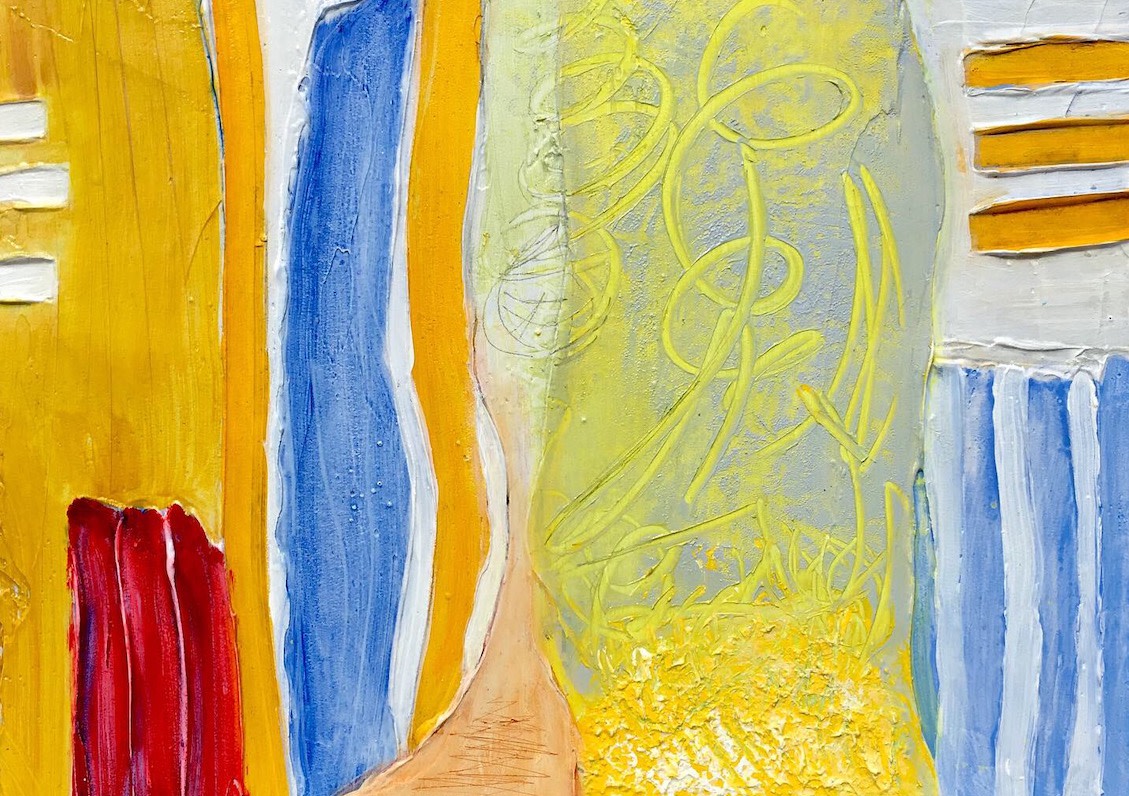 Artistic expression has always been a part of Julea Boswell's life. Drawing, painting, dance, music, figure skating, and textile arts have all played a part in her multifaceted creative endeavours. "I thank my parents for providing the kind of childhood experiences that set the stage for the artist in me to flourish," says Julea. She adds, "The discipline of having trained as a dancer and skater at a young age has carried over into everything I do—it has allowed me to accomplish a lot.". 
Before working solely as a visual artist, Julea enjoyed a career that began as a dance artist-educator and studio owner, moved into becoming a strategist with the City of Ottawa's Cultural Services team, and then general manager with award-winning Propeller Dance Company. Meanwhile, her artistry continued to expand. Among other things, Julea became a highly skilled and creative modern quilt designer-maker, with her work being recognized at the national level. "I'm a multidisciplinary artist at heart. While studying and working in dance, I also worked on costume designs, continued to sketch and paint and started making functional quilts. As other things in life took over, I set aside my painting but knew I would eventually come back to it."  
Julea is a Ryerson Theatre School grad (dance major), holds an MBA from the University of Ottawa, and is now working part-time towards a BFA in Visual Art from Thompson Rivers University. She has studied with exceptional professional artists such as Hilda Woolnough, Leya Evelyn, Sandi Komst, Blair Paul, Mirana Zuger, and Robert Burridge. Her art is in private collections in Canada, Germany, Myanmar, and the US, has been in juried group and solo shows, and is for sale at The Dunes Gallery in Prince Edward Island, Bistro Le Chat Bleu in New Brunswick, and through her studio and website. 
"I was lucky to grow up on beautiful Prince Edward Island and now split my time between two homes both with inspirational water views—one on the Hillsborough River in Frenchfort, PEI and the other near the Ottawa River in Ottawa, Ontario."
I create joy-filled art that is full of colour, imagination, and a sense of movement. Abstract and abstracted in style, the creative concepts that shape my work are sparked by a mix of memories and metaphor. It fascinates me how they pop up in everyday reminders—a certain colour, place, activity, or simple turn of phrase. Each creation is a process of discovery. My work comes together through both deliberate and improvisational decisions—one thing leads to another and so the composition unfolds.
A favourite springboard for creation is the amazing natural beauty that surrounds me. Having grown up on beautiful Prince Edward Island, the look and feel of my art is often awash with expressions of weather and water. I have also lived in Ottawa, Berlin, Edmonton, Toronto, the Saguenay, and Utah. Such varied cultural and physical landscapes fill my memory bank with persistent references to sense of place and identity. What interests me is how they all blend together in my art in intangible and unpredictable ways.
I invite viewers to feel the joy and energy infused in my art, be relaxed by its fresh and contemporary style. I hope they experience it as an uplifting diversion from the ongoing stresses in our current world and day-to-day lives.
"Wow! Such colour and freedom. I love your expression of movement." - Solo show visitor
"Love all your artwork - so happy and full of light and energy and beauty! You are such a good artist. The world needs that vision." - Facebook follower 
"There is so much sun and cheer and positive energy in what you do; love it!" - Website visitor
Subscribe to Julea's Art News