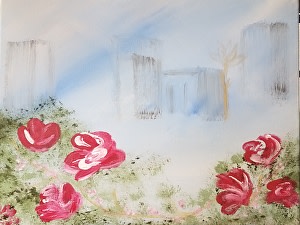 Growing up in SF I was fortunate to have been mentored by Cynthia Tom, Surreal Artist and creative goddess. We explored and created Creative Arts and Fashion enjoying a successful studio collaboration...Teacher and student. As the years passed, I found that I really enjoyed creating jewelry, painting and redesigning clothes and furniture. Of course, just in my spare time as I had gotten married and was raising a family. I never stopped painting and creating my Art, Even opening Recycled Soul for a small period back in the early 90's offering Patchwork Quilted baby throws, Herbal Remedy sachets and Hand Painted Greeting cards to local boutiques, family & friends. Always utilizing Recycled, Vintage and mixed media materials as they have always been part of my upbringing and art esthetics then and now.
Taking a clue from the world around me I love to utilize my world, architecture, flowers, color and form. From the beginning drawings and photographs to acrylics on canvas or board, X's and swirls, blues, pinks and golds are a common thread. Black abstract and Whimsical hilly landscapes of my imagination have been my current obsession.
You will notice I paint, sew and photography creating my signature vibe in various enjoyable ways. I love to find a way to incorporate something unique into each art piece that I create, so make sure to take a closer look at the piece that grabs you, you may just find a bit of magic.