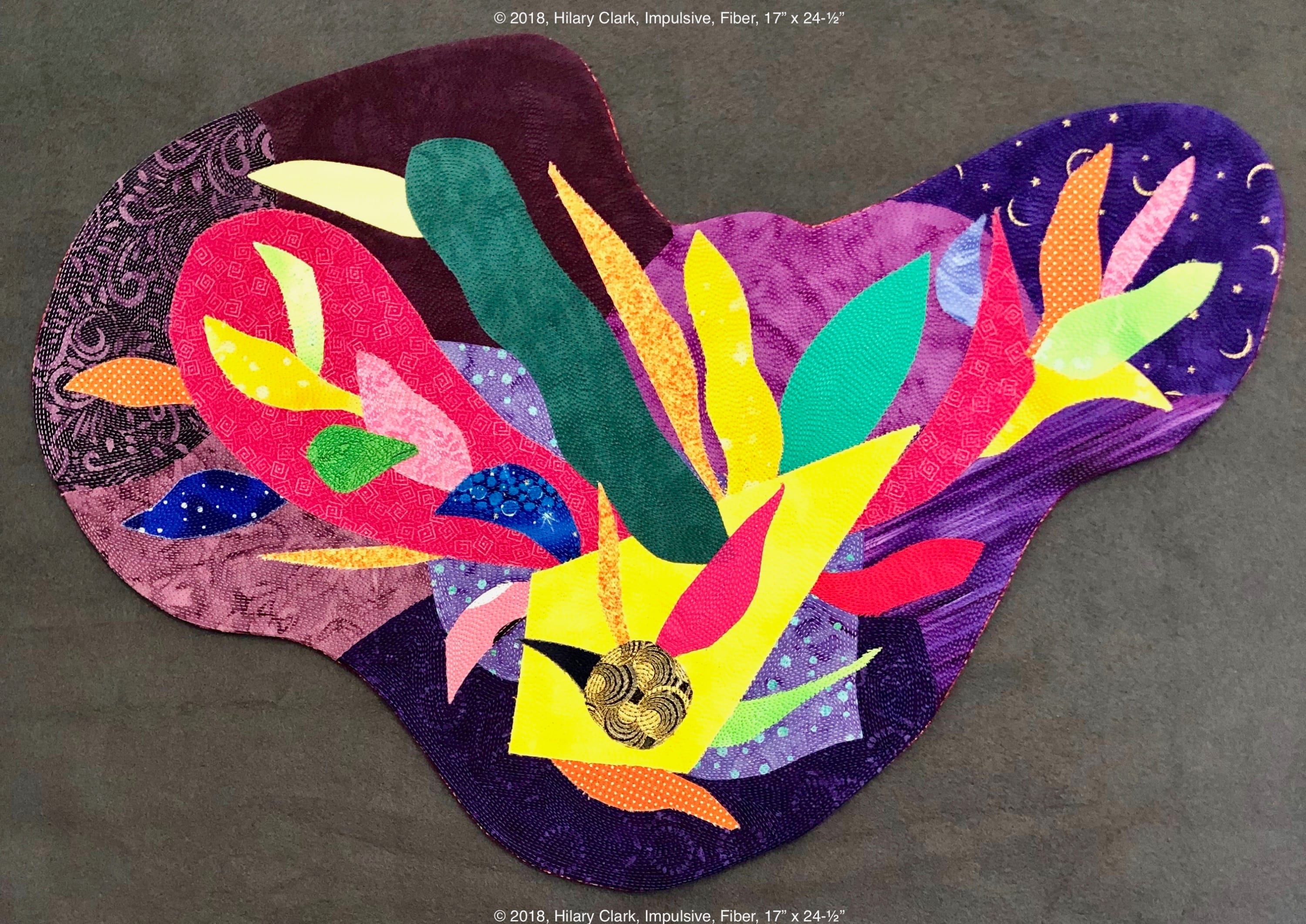 I am a self-taught fiber artist. I began making my art in 1998 when my father-in-law was diagnosed with terminal pancreatic cancer. I started with a quick lap quilt to keep him warm, and quickly moved on to other work, primarily representational pieces to honor memories, organizations, or dreams. In 2014, I narrowed my focus and began to create work as a series. This series work - primarily crosses and lips - led me to my Feelings series, which rebels against square. Since 2017, I've been creating feelings out of fiber, abstract representations of what I believe a feeling would look like if made visible and tangible.
As an artist, trainer, poet, and writer, I help others reconnect to the imaginative, intuitive, playful part of themselves. I've been a trainer since 2017 and a poet and writer since 1977.
As a child, I suspect you created all the time and didn't care if it was good. The act of creating was enough and your creations were beautiful to you. There was a freedom in those childhood creations. A freedom you're missing now.
The journey to adulthood suppresses that creative freedom. You feel like the fire of ideas went out and you'll never get it back. But what if you could?
I believe the fire of creative freedom remains alive in all of us, regardless of age. To get yours to grow bright again, you just need someone to believe in you. And I already do.
If the words "creativity" or "creative practice" wig you out - maybe you don't consider yourself creative - let me clarify something:
Creativity doesn't only include things classified as art. Being creative includes whatever you want it to include, which means building spreadsheets, planting gardens, forming groups, hosting events, running non-profits, or any other thing you enjoy (or might enjoy) can be a form of creative expression. Turning it into something you do regularly is where I can help.
I create textured fiber paintings, primarily focused on the creation of feelings in fabric. All of my work is intuitively based and created. Beginning with an abstract outline shape, I tap into my intuition to find the feeling that best resonates. Once defined, I select colors and cut free-form shapes. The shapes are fused in place to symbolize the sensations the feeling invokes within and are used to convey the tone of the emotion, either positive or negative. My work is densely stitched, offering visual texture to correspond with the textural experience of what it means to feel.
My work also inspires my poetry, which I use to tell the story of the feeling. The poems are published on their own site, www.piningforpoetry.com, and are also printed on fabric, then fused to the back of the textured fiber painting as the label. Additionally, an anthology of my poetry, titled "It All Started With a Haiku" is available for Kindle or in paperback.
I believe art and poetry express emotion. Both represent the feelings experienced as we journey through life. When I write the poem, I see it, not just in the words on the page, but as the textured fiber painting. The combination of the art and the poetry brings the feeling to visual life.
In addition, making my art and writing my poetry take me back to basics, easing me out of a world inundated with technology and a near constant barrage of information to movement at a slower pace. And it's fun – both are like putting a puzzle together.
It's my hope the viewer gives him or herself permission to feel all the feelings with complete freedom, a lack of shame, and gratitude for the blessing of being an imperfectly glorious, living, breathing human.
Life is made richer when we allow ourselves to feel it.