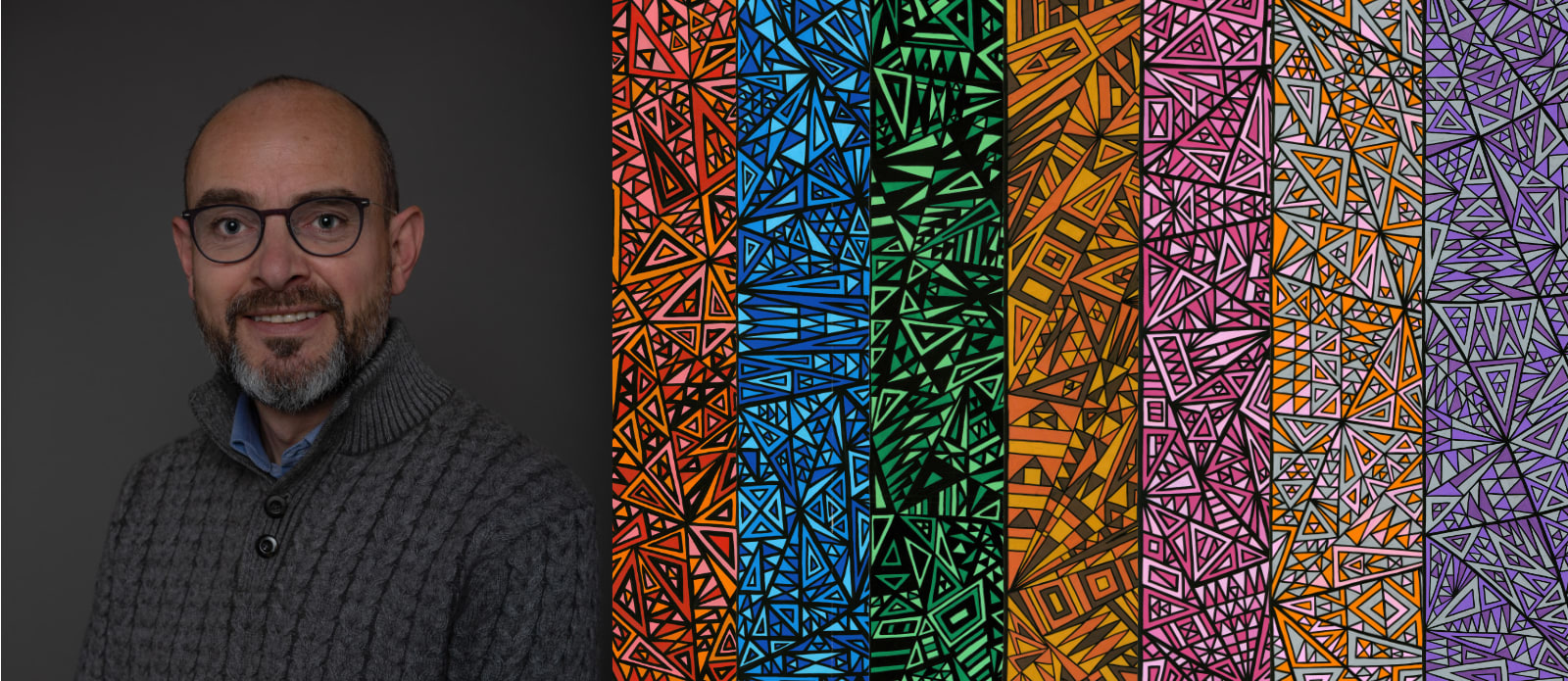 Gregory Dubus is a French artist living in the Netherlands whose artworks are displaying originality, uniqueness, remarkable aesthetic and higher technical and creative standard.
His structural compositions are a praise to geometric Abstraction and most particularly to the triangle shape inviting the viewer to experience a reflective and emotional peacefulness mindset.
His art is colorful and exigent because it requires lot of patience, rigor and precision. It also represents his personality which contains a duality of concepts that he is trying to make coexisting in harmony:  Feelings vs Thinking; Simplicity vs complexity; Monotony vs diversity; Facility vs difficulty; Planning vs spontaneity; Visible vs invisible; Conscious vs unconscious; Effort vs ease……
Since 1992, his structural drawing compositions made on folders -until 2018- are a praise to Geometric Abstraction and most particularly a praise to the triangle structures and composition called 'TRIANGULISM' Art which his inviting the viewer to experience a meditation bringing an emotional peacefulness mindsetsimilar to what experienced the artist when making these Artworks.
Since 2018, his structural painting compositions are now made on paper and are a praise to the renewal of Artworks called 'EVOLUTIONISM' Art inviting the viewer to experience a reflection over the 'recycling' (modification) and metaphosphoric of Artworks -in his case the use, for instance, of previous drawings made on folders- to make totally new Artworks.
Following his graduation from Lille Business School (SKEMA) in 1998, Gregory Dubus has been working for major international companies across the globe (Europe/America/Asia) and continues to produce Artworks during his free time. But it is only since 2018 that he decided to start sharing his artworks to the public.
That year, he became a member of the 'Art & Jazz' Art association, he became finalist of the 'Artist of the year 2018 Award' from an International Circle Foundation for the Arts who recognized his artworks for displaying originality, uniqueness, remarkable aesthetic and higher technical and creative standard. He also become became a permanent member of 'Bos Fine Art' being a major gallery in Europe specialized in Geometric Abstraction, where he regularly exhibits his artworks.
One of his artworks can be seen in the permanent exhibition of the Geometric and MADI Art museum in Dallas (USA) and his artworks can be visible sometimes in Newspapers and Art catalogs and magazines (Ex:'Art International Contemporary Magazine')
He recently got awarded the prestigious 'David Miguelangelo International prize' for his artistic merit and an exhibition will celebrate in October/November 2021 his 30 years artist history in the Hague -Netherlands-. End of 2021, he will participate to the Art Biennale in Florence (Italy) and, in 2022, he will organize solo Art exhibitions in partnership with Art galleries in Europe. The first one being in Lisbon (Portugal).
French art critic and expository commissioner, Sarah Heussaff, says about him:
'Gregory Dubus' artworks scan be seen as a choreography in which the lines and colors come, in harmony, to match each other. The space is little by little invaded by the movement of forms that leave no frame, no immaculate space, or even silence in support of this ballet. The predominant lines are made freehand according to the artist's intuition. In a maze of corridors, of strong lines and colors, each structure deploys its own entity. Every work produced retains its uniqueness, just like the momentum that dictates the course that the work will take at the beginning of its conception.
Hypnotic, these plastic productions take in some points the form of an automatic writing that the artist lets instinctively unfold under our eyes. Then, stands a topography, like a collection of geometric shapes which would join the codification attempts, color-form correspondences and letters of the abstract painter Auguste Herbin and his attempts to transcend pictorial forms.
The thoroughness and concentration required by this process immerses the latter and anyone who observes the drawing in progress, or completed, in a form of unconscious or can be, on the contrary, in a form of mindfulness. In this, his technique could be akin to a meditative, solitary act, which can be like the one induced by the realization of mandala but can especially be heard and understood as a form of language, a bridge of communication between him and those who watch.
His technique requires consistency and precision and requires, for this autodidact, sometimes up to hundred hours of production for a piece. This endurance perceptible when reading these micro-architectures is therefore achieved in patience and in apparent effort, in fact delectable for the artist. It is a kind of bodily or spiritual elevation whose self-denial would be the watchword.
The artist perceives in the stability of the triangular shape and its multiple representations the parental basis and transmission. With at its peak the fruit of opposing characters of which it is the heritage. This symbolized duality becomes only one -complementary and essential- at it submit. This symbolic force attributed to his work decides the artist to evoke, today, the term self-portrait to speak of some of his pieces. The triangle has heavy and lighter meanings, in one of its most positive aspect it is regularly attributed to determination. A resolution like Gregory Dubus's creative act that build line after line the foundations of these colorful architectures.'