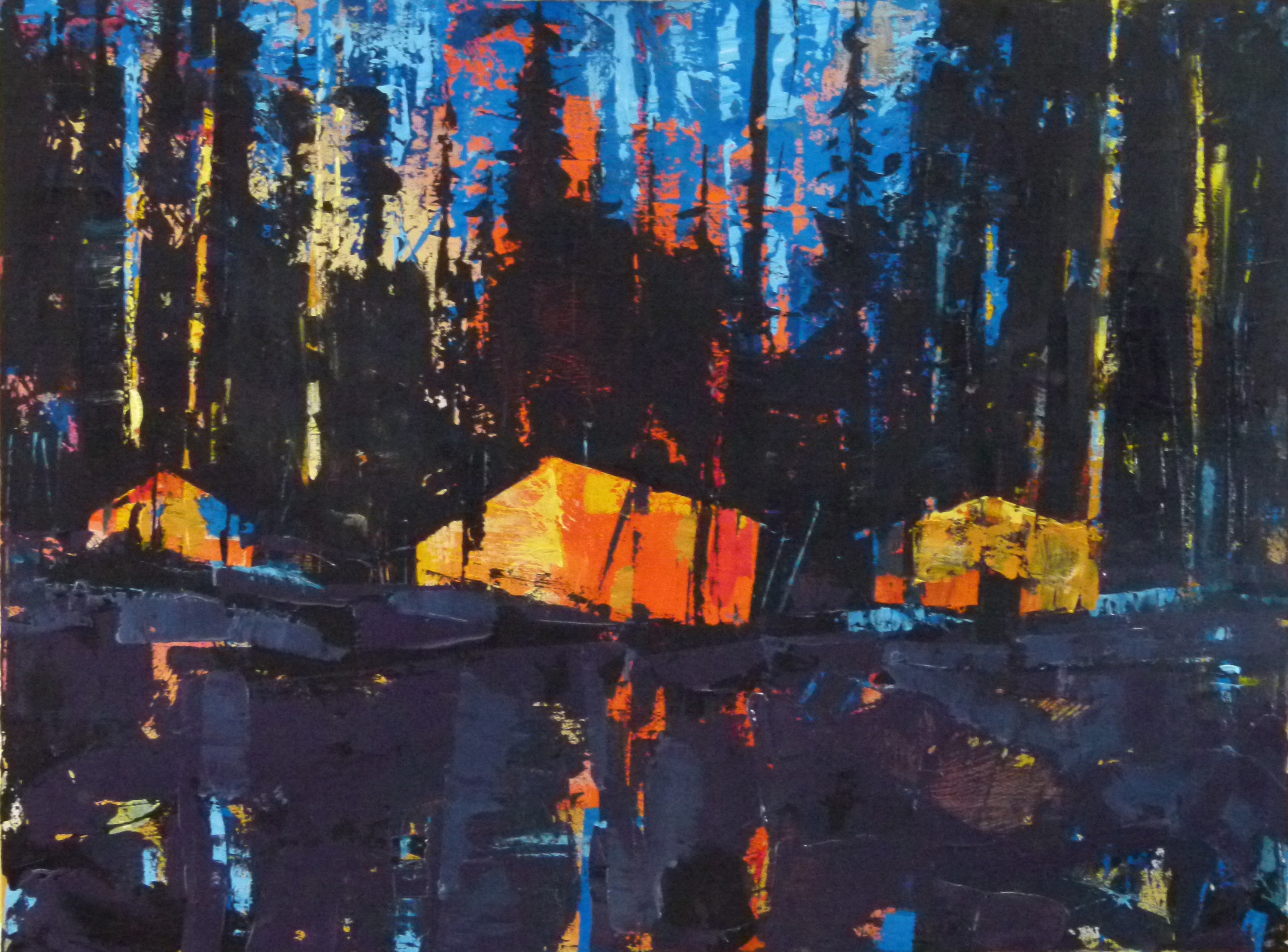 In painterly manners, she translates in images, the omnipresent powers that imprint and shape the world of human experience in the heart of the Northern territories. Since 2008, she has visited, lived and built strong ties with the Cree people of James Bay. The sum of these precious encounters and the teachings she has thus received constitute an everlasting reservoir of powerful inspiration for her creation. Enriched by her own experience amongst the Cree communities and her own life awareness revelations, she becomes a witness to the entwined harmony of all our relations, a spokeswoman bearing a camera, armed with a brush, painting, documenting video. A mystic universe is born on canvas, revealing the fascination she feels for the land and the territories that posses her. Magic works both ways! Dominique stands out for her strong visually evocative works, her holistic and sensitive vision of the worlds around her.
Dominique's work has been showcased in many solo and group exhibitions such as Dieppe International Kite Festival in Normandy, Ashukan cultural center, Galerie Richelieu in Montréal, Saint Adolphe's Manifest'Art in the Laurentians, Montmagny's Rendez-Vous Ononthio, Broadway Gallery in New York, Westin Hotel in Los Angeles, Soutana Galerie and Jardin d'Hiver in Mont Tremblant, art galleries in Montebello, St-Jovite, Saint Sauveur, Piedmont, Horse Show Classique de Blainville and many more...
Dominique met en image, les forces omniprésentes qui marquent et façonnent la vie de l'humain au coeur du territoire nordique. Depuis 2008, elle entretient des liens privilégiés avec le peuple Cri de la Baie James. La somme de ces précieuses rencontres et les enseignements qu'ils révèlent constituent un réservoir d'inspiration au potentiel de création riche et inépuisable. S'inspirant de sa propre expérience au sein des communautés et ses prises de conscience sur la vie, elle témoigne en peinture et documentaires, des liens essentiels qui unifient toutes nos relations. Un univers parfois mystique qui met en lumière la fascination qu'elle éprouve pour la nature qui l'habite et l'envoute. Dominique se démarque principalement par sa vision et la compréhension holistique de son environnement et la manifestation sensible et émotive de son oeuvre en mouvance.
Thirteen years since i traded my Stylus for a brush. Seventeen years in graphic design for film and television have colored my work in paint. Following this transition to a freer life, i have criss-crossed villages and paths, multiplying exquisite encounters. My adventures have been taking me in deeper and wilder lands, pushing me further to the North of Québec.
Fascinated by Cree culture, for 10 years now, three months a year, I am in full immersion at the heart of its traditions. I take part in daily activities such as tool making, tanning hides, embroidery, sewing, cooking... In Québec North, hunting and fishing are a constant conversation and I keep on learning. Since 2008, I have been filming and painting the native culture, spaces and wildlife of the vast James Bays' native communities. I have since then been invited to direct several documentaries, for social development. culture or Youth Council departments, to collect important traditional knowledge for youth and community members.
My visceral interest for the wisdom and ways of the native people is impregnated in my work like the scent of smoke on freshly tanned moose hide. The learning of traditional activities gives birth to new innovative ideas and awakens the hunger for new mediums, such as clay, wood, bistre and sewing on canvas and hides. The fertile blend of techniques, travels and the power of message taught in the previous years in communication feed my thirst for renewal and challenges.