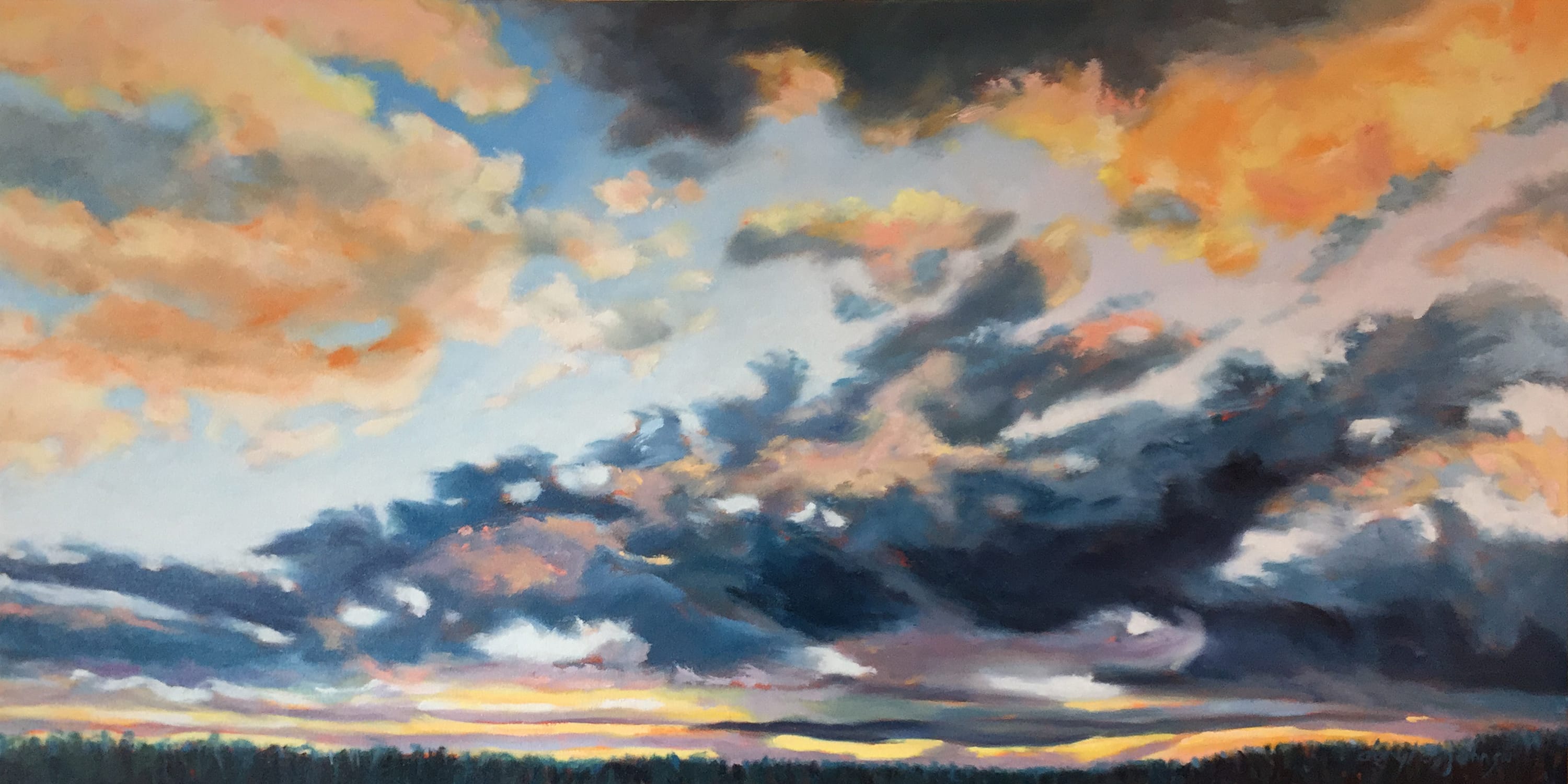 Described by Art New England magazine as "…gestural realist landscapes with the overall effect of speeding through layers of lighted space," Daryl's oil paintings are a colorful tribute to the back roads and vistas of New England from which she gets inspiration while motorcycling.
Born in Manhattan, Daryl's parents moved with her two older sisters to the suburbs when she was two. Armonk, NY provided lots of opportunities to play in wild forests, ice skate on large lakes, visit NYC Museums often, and to attend the annual summer outdoor Art Show. She loved annual Girl Scout camp in upstate New York. Her High School art teacher, Gerry Rinaldi, prompted all his students to observe, stretch and practice art. She starred in many musicals, singing and dancing under the direction of Gene Bissell. She was the first girl to take Mechanical Drawing in her high school, having to plead with the guidance counselor for permission to do so. She likes to tell the story of her first day in class when Mr. Ruthizer took out a drawing implement: "This is a pencil. I am going to show you how to sharpen it". She knew immediately she was in the right class. She graduated with her still best friend, Redenta Soprano, a botanical illustrator.
After graduating Hope College in Holland, MI with a degree in fine arts and a minor in Ancient Civilization, Daryl toured the country doing outdoor art shows and selling her work through galleries in the Northeast US. She also freelanced as a graphic designer.
She married Corky Benson, a software engineer in 1982 and moved to New Haven, CT where she maintained a loft studio in the Marlin Building. In 1988 they moved to Candia, NH and started a family.
Today she lives with her husband in Amherst, NH.
BFA, Hope College, 1975
Postgrad., University Cincinnati, 1976
Postgrad., Art Student's League, New York City, 1978
Postgrad., Vermont Studio Center, Johnson, VT 1988
My oil paintings are inspired by the energy in nature expressed by shifting water patterns and rising transient clouds. These are familiar views, but the subject is the underlying chi, the energy in the landscape. The earth "breathes" in and out with compositions of heaving shapes. Skies are majestic in wide-angle vision. Light dances from mountain top to cloud droplets to oceans to beach.
Practicing Ai Chi (Tai Chi in a pool) helps me sense the flowing chi. The works express a calm, an anticipation, an uplifting or an ominous feeling. The skies resonate with pulsing, sweeping clouds. Lofty, powerful patterns produce a rhythm of color. A celebration of the vibration of the planet.
My favorite artist is British oil painter J.W.W. Turner whose paintings I have traveled the world to see, including numerous trips to England to visit Tate Britain's Turner Collection. The first time I entered a black taxi in London and said "Take me to the Tate, please" was one of the most thrilling moments of my live. Truly moving land and seascapes with luminous skies.