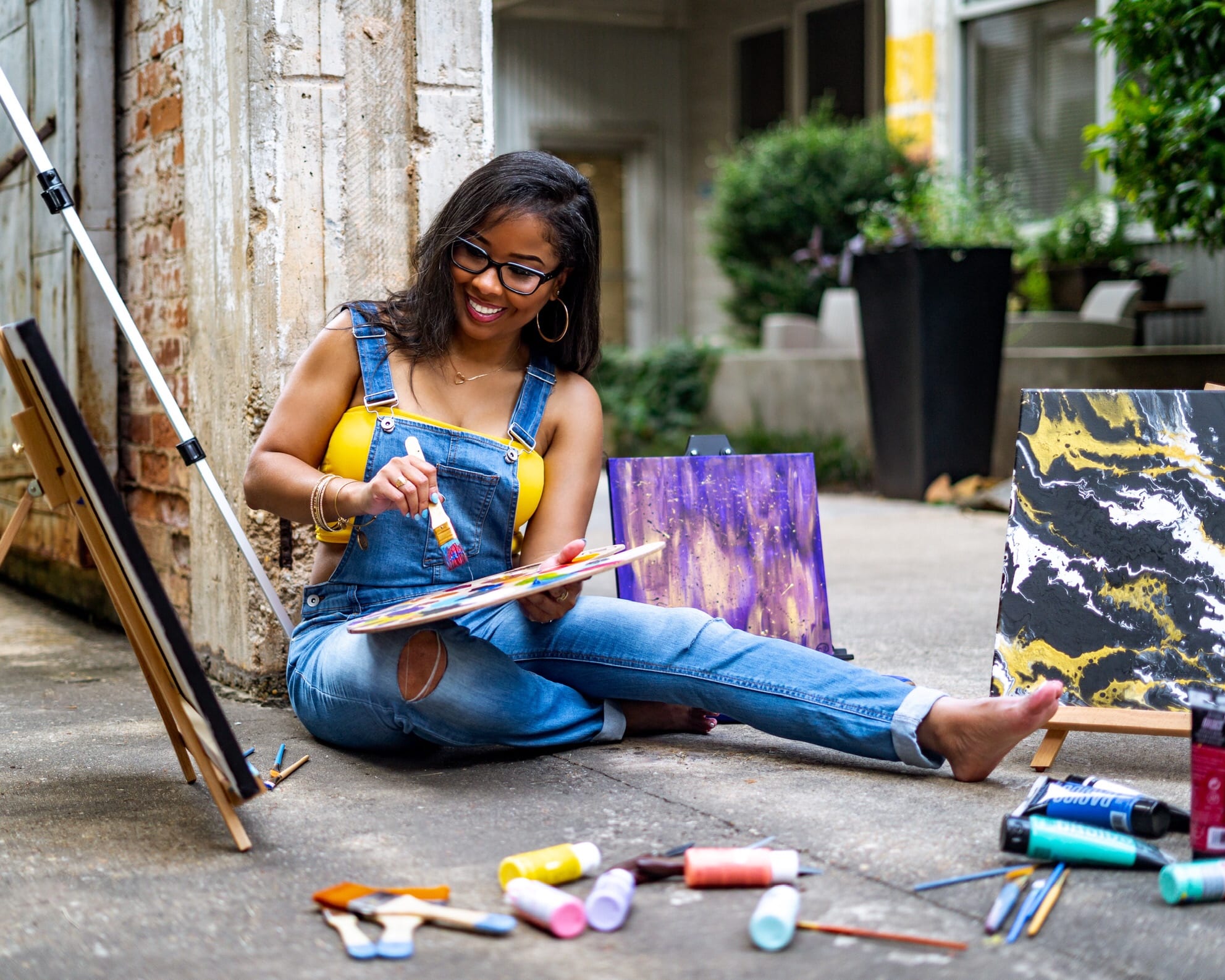 Chantrice Rachelle is a self-taught visual artist from Atlanta, GA who explores abstract and pop art styles. She has been creating art since she was a child, when she'd frequently draw pictures of her favorite cartoon characters. Throughout life, she continued to use cartoons as inspiration to leisurely create. In 2020 Chantrice began to explore, and fell in love with, abstract art as a way to express things she experienced during recent years. Since then her practice has focused more on telling her stories through abstract art; however, her pop art roots are never too far away. The themes of her work are heavily inspired by life experiences and nostalgia. 
My paintings allow me to speak out loud without even opening my mouth. Through my art, I tell stories of life experiences and thoughts of nostalgia. Over time I discovered that the only way for me to truly get lost in my art was to paint with personal meaning vs painting things that I have no connection to at all. My mission as an artist is to create art that is expressively freeing and healing for me while evoking emotion and inspiring connection for viewers.
At the age of 8, I sold my first piece of art, and later, in Elementary School, I had one of my drawings selected to be displayed at Atlanta's Fort McPherson Army Base. Those very things instilled in me, at a young age, that I had an amazing gift that was desired by others. Although I did not choose to go the route of obtaining a formal art education, I continued to explore my love of art leisurely. 2020 was life-changing for me as an artist, as this was the year that I decided art was no longer going to be just a hobby and I began to publicly share and sell my works.
My body of work focuses on abstract and pop art, separately and together. I mainly use acrylic on canvas and from time to time create works digitally. While those are my main styles and mediums, I continue to commit myself to growth by occasionally experimenting with a variety of mediums and techniques.