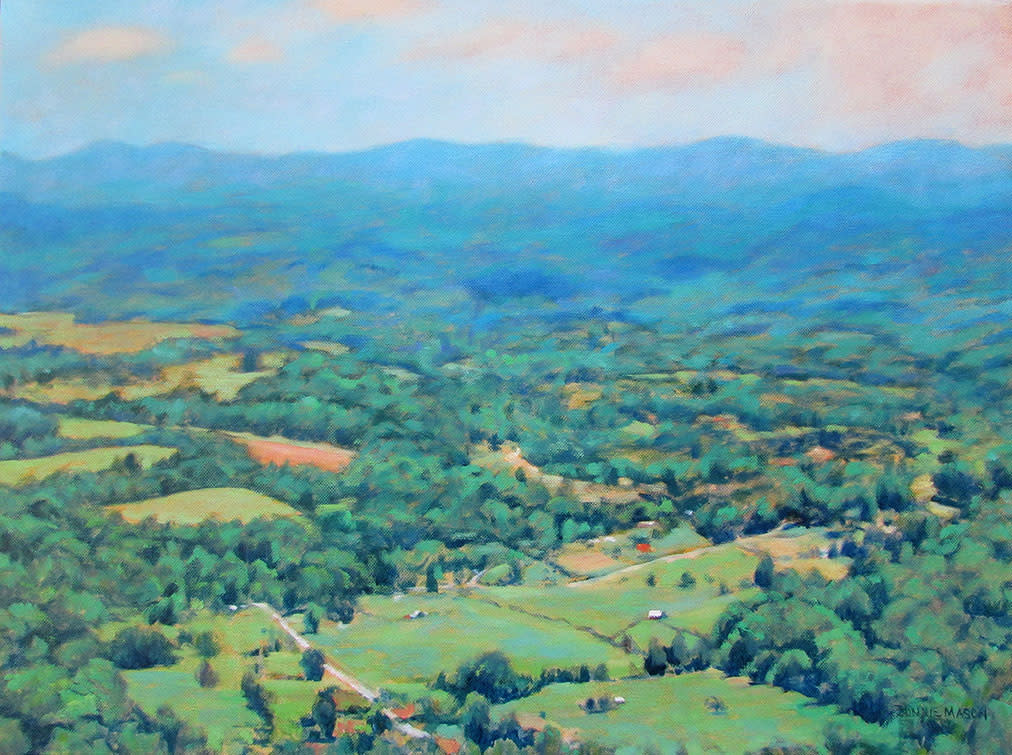 Bonnie Mason grew up exploring the outdoors in the mountains of Virginia. Her family would often go for long drives and end up hiking in the woods where her parents would identify plants and trees and point out animal tracks as they taught the family to appreciate the awesomeness of God's creation. Those adventures with her family still inspire her landscape paintings today.
She loved to draw and paint from an early age and was blessed with parents and teachers who encouraged her interest in art. After high school art classes Bonnie went on to earn a bachelor of arts degree in fine art and since 2008 she's been able to spend most of her days painting.
She says "I paint the things I love. The mountains in autumn, sunlight streaming through a window, old barns and home places, things that touch my heart. Oil paints are my favorite medium. Their unmatched color capabilities and rich beauty make them my "go to" choice for expression. My still life paintings are always done from life and being a member of an active plein air group has helped me learn to paint landscapes from life."
She loves a challenge and this T. S. Eliot quote hangs on her studio wall "Only those who risk going too far can possibly find out how far they can really go."
Bonnie Mason's oil paintings are in private and corporate collections across the United States and Canada. You'll find her work at Cabell Gallery in Lexington, Alleghany Highlands Arts and Crafts Center in Clifton Forge, The Little Gallery, 2nd Helpings and Simply Framing by Kristi in Roanoke, Virginia.
See more of her work, awards, events and gallery information on her website https://www.bmasonart.com