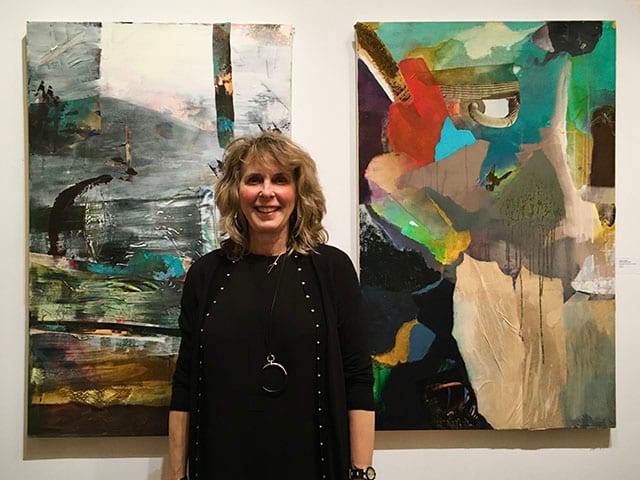 Bonnie Levinson is a multidisciplinary artist, working in mixed media, photography and paint. In addition as a playwright/performer and collaborator, her attention is in the intersection of diverse yet complementary forms, and their influence upon each other. Much of her work deals with memory and the tension between the specificity and universality of place and experiences. 
Her career spans three decades working in the arts with cultural institutions. She served as Deputy Director for External Affairs at the San Francisco Museum of Modern Art, Vice President for Development for the New York Public Library, Associate Director of The Hudson River Museum and Assistant Curator of Education at the Delaware Art Museum.
Her company BLAM! (Bonnie Levinson Arts Management) consults with individuals bringing art into their lives through active looking, aesthetic education and the joy of collecting. She works with cultural institutions creating public arts programming. She is the Cultural Consultant for the Visual Arts at Federal Hall in New York City and directs and curates an Arts Education and residency program at Making Waves Academy in Richmond CA resulting in permanent sculptures for the expanded charter school campus.
After receiving a BA Cum Laude from Kenyon College, she received a Thomas J. Watson Foundation Fellowship, an independent year abroad studying pottery as an expressive form reflecting national character. That year prepared her for a career in museums. She continued her education receiving a Master of Arts in Teaching Museum Education at George Washington University. Classes and workshops at the San Francisco Art Institute, Anderson Ranch Art Center, City College of San Francisco and Colorado Mountain College have enhanced her art making studies. She served as a founding board member of the Oxbow School, the Kenyon Review, Trustee of the San Francisco Art Institute, the Gund Gallery of Kenyon College, and the Artemis Rising Foundation.