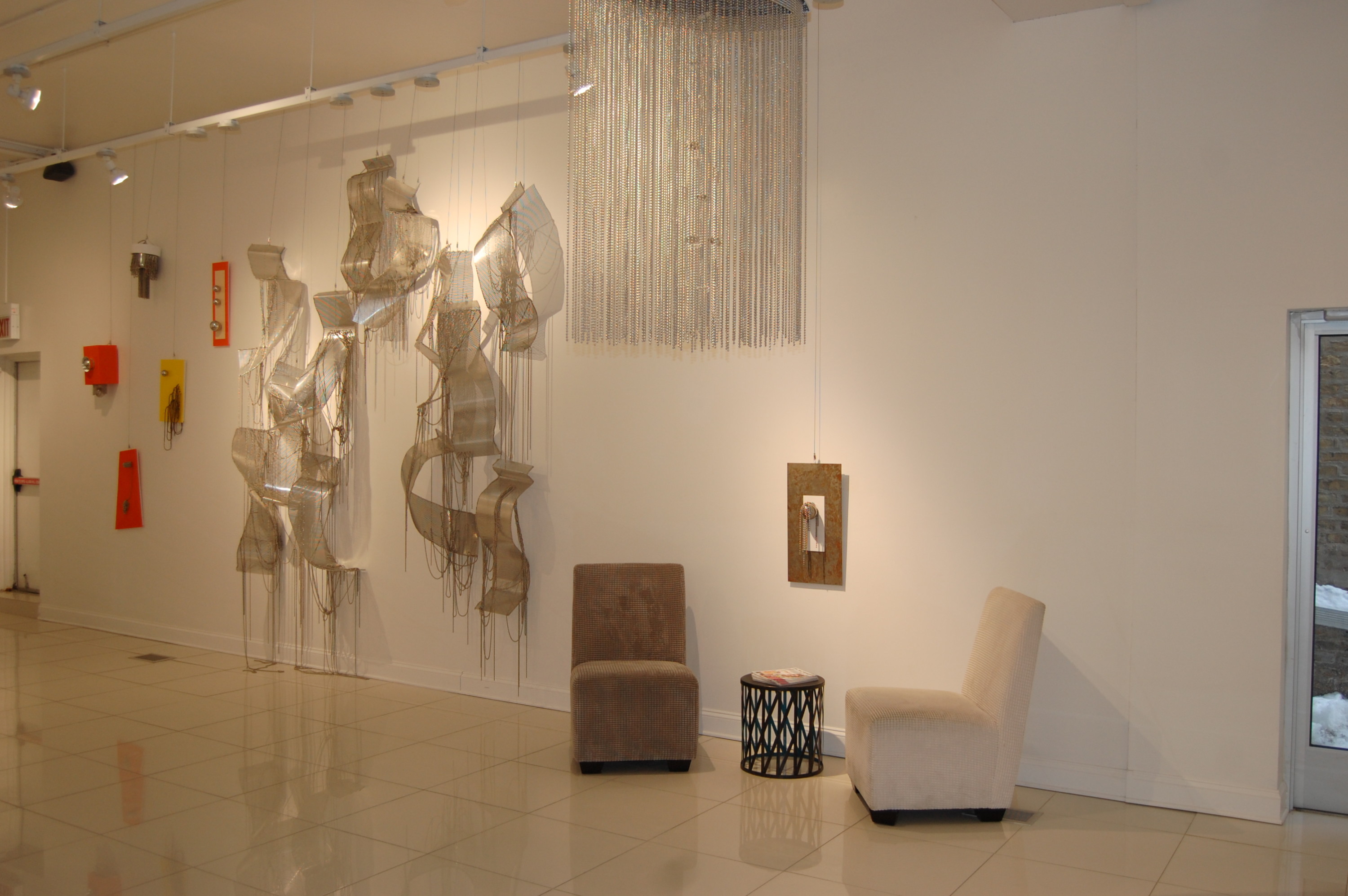 Chicago based Sculptor Beth Kamhi fabricates Artwork and Installations based on the over-lapping disciplines, material and history of fiber arts, fashion and interior design.
The foundation of her practice is balancing the physical weight, playfulness and sinuous elegance of material. The intent is to enthrall.
Though the steel ball chain beads may reflect an industrial elegance; the ornamental fluidity of the forms comes from weaving and draping the steel material, giving the illusion of silk threads.
Connected and independent, their static yet kinetic energy reflect her perspective on life.
"My creation happens when I problem solve and rely on my intuition. I fall into a stream of consciousness; trusting my inner voice, my hands tend to the details".
Bio:
Beth Kamhi (Born: NY 1956), is a Chicago Artist with a studio located in the Cornelia Arts Building in Chicago's Roscoe Village. Currently Beth's practice focuses on Site Specific, Collaboration and Commissioned Projects. She has a Textile, Fashion and Interior Design background from the Fashion Institute of Design.
Beth's work has been described as "Delicate, industrial and a sensual tapestries of woven steel beads," "Inspiring works of sculpture to achieve a dynamic sense of tension through their provocative juxtaposition of style, content and form." Her work has been exhibited in Museums, Galleries, Art Centers, Colleges, Public settings, Executive offices and Commercial spaces throughout the US.
Actively participating in a collaborative art community; Beth is a co-founder of The Margin Gallery Collective (2006-2012) and 3D 12 Sculptors Group (2010 -present) both with extensive exhibitions in the Mid-West region.
Ten years ago my discovery of industrial ball chain created the balance, tactile and scale prevalent in my practice.
Today I continue to stretch the conventional and decorative application of this sinuous material.
As I break its dimensional, intellectual and material boundaries - I hope to engage the viewer in an experience at the intersection of Art, Fashion, Interior Design and Textiles.