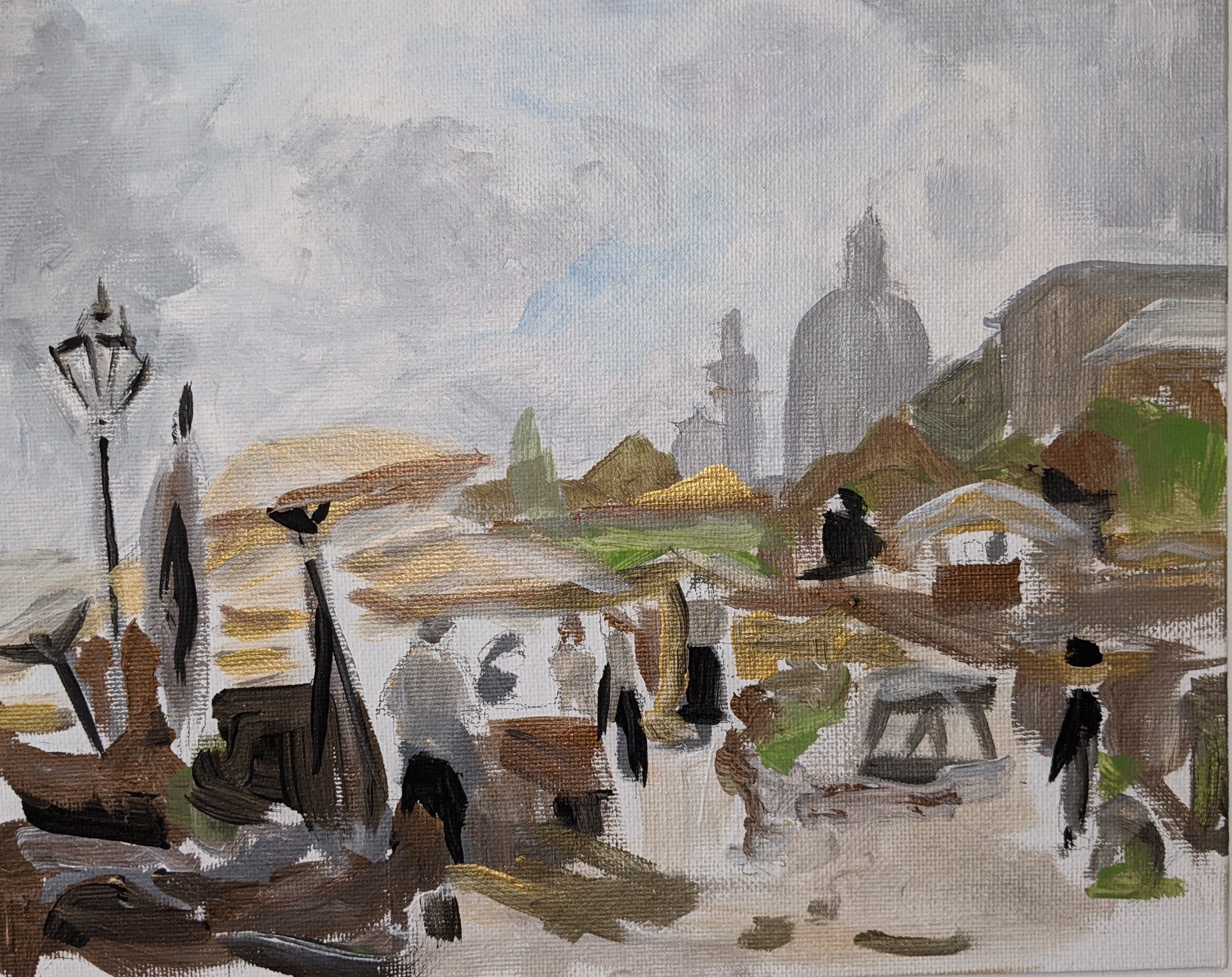 Maria Kelebeev is a Moscow born Toronto-based artist and a community art facilitator. Maria creates landscapes, still lives, and portraiture in a loose contemporary impressionistic style. She is very passionate about the benefit of art creation and consumption on mental health and takes every available opportunity to bring art closer to the community.
"From a young age, art has been my meditation and my means of centering. In my adulthood, I have begun turning to art to help myself navigate life by using my work as a processing tool. I focused on the impressionistic style to express my feelings, and future plans. I view art creation and consumption as something very personal to all parties involved and as a major mental health component."
Maria's art education began at the Claude Watson School of the Arts in Toronto for both elementary and high school programs. She continued her education at the Aegean Canter for the Fine Art in Italy and Greece, and with further training received at the Academy of Realist Art in Toronto. Maria also attended the Lauder Business School in Vienna, Austria where she continued her art practice while organizing public art workshops and exhibits.
Maria explores themes of storytelling, memory, and expressing her mood through art. Her work represents an illustration of a daydream filled with beautiful places, eating and drinking luxurious treats, and having life-changing and soul-touching connections and experiences. She calls her style "a stylized painterly journalism" used to capture past and future memories in a soulful way.
As a marketing manager in an IT firm, Maria organized and led company wide art workshops and exhibits. Maria also organized and participated in a serious called ArtHaus live providing the audience with music and art. Maria's works can be found in private collections in North America and Europe. She has been exhibiting her works in Canada as well as in Greece and Austria.
I have been creating art for the last 25 years. I turn to creating when I am looking to articulate or express a certain feeling, experience, or emotion. I am always watching and analyzing what is happening around me with a goal to collect visuals of beautiful nature, ordinary objects, and human interactions and stories associated with those moments. Whether it's a meaningful exchange between a couple, capturing the innocent expression of a child, or looking at color and light in a sunlit landscape – my work is made for the future owner to feel and share the joy of treasuring those stories and collective pleasures.
I work primarily with acrylic, watercolour, and oil, but there could be a presence of anything that was near me to help with the mark making that I am looking for (crayons, pencils, and even coffee). As for my style, I am inspired by vintage photos, social posts, or candid shots, and I use those references to visualize my ideas on a mini canvas. When there is a striking mini work that resonates a lot, it gets blown up.
Due to my curiosity and desire for experimentation, my style has evolved over time. Today, I feel very close to the impressionist with particularly with Monet and Toulouse-Lautrec. Egon Schiele and Gustav Klimt are also my visual references. Contemporary artists such as Carole Marine, Lena Rivo, and Vladimir Volegov all of which I admire for different reasons.
There is so much to every day! Themes of the feminine energy, romance, connection, emotional states, adventure, lushness of lifestyle such as food, travel, and elegance. I find myself in creating mini time capsules of those precious moments that can be collectively enjoyed and identified with in both residential and commercial settings.