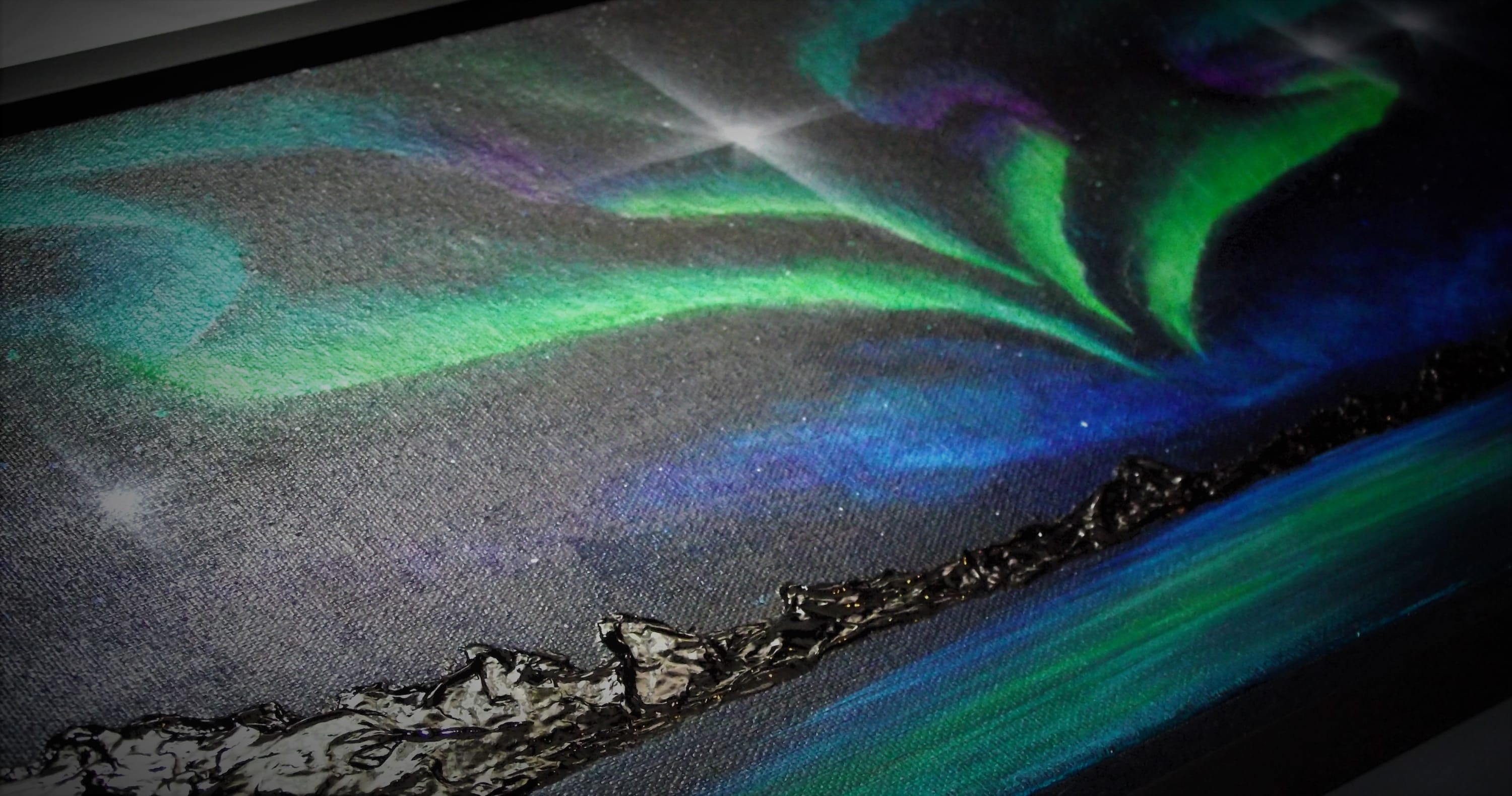 Born in Bissett Manitoba 1988, from the moment she could hold a pencil, Carrie was always attracted to the arts. After relocating with her family several times before graduating high school in Olds Alberta, Carrie slowly explored different mediums during this time, where she became fond of pencil work and discovered a preference for acrylic painting as having access from her mothers folk art paints.
Carrie was lucky enough to have wonderful teachers along the way who presented opportunities to challenge creativity such as sizable murals, and community painting projects. She explored different techniques at Red Deer College in Alberta. This experience allowed her to focus on her creativity. She further broadened her horizons during a production art course in Manitoba. Later experiencing different cultures with a quick trip to Europe through Munich, Florence, Salzburg, and Paris opened a new world of artistic expression.
Carries passion for art was apparent, and was energized when she officially became a "professional" artist by selling her first works of art at age 16 and was reignited when her first gallery display was accepted in 2012 on Vancouver Island.
Her fascination with the tone created by a delicate balance of colour, contrast and movement, has found her interest pulling towards textures and contrast and discovered the true path to her painting style as she continues to grow in her own work.
Among the various places lived, Vancouver Island was an inspirational time of growth, with a release of her artistic awareness Carrie seized the opportunity to delve into finding herself.
After a pause to embrace motherhood, the spark ignites once again. Carrie would like to have her artwork envelop the needs of the viewer; every piece speaks differently to each individual through the tone and aura of a piece, and the nature of that ameliorating affect is what keeps her pursuing her passion for art.
I remember being a child and gazing in wonder at the Aurora Borealis, smelling flowers, and late night drives to catch the sunset, I feel so delighted for the opportunity to recreate and share such memories through my art. Inspiration comes from memories, landscapes and grandmas garden of course! Everywhere and anywhere can trigger my creative ideas, my specific style comes out naturally as I paint.
Time stands still when in creative mode; I paint on hardboard or canvas in acrylic paint and thickening mediums, applying texture using a pallet knife (Impasto). I am fascinated with the feeling of a piece created by delicate balances. I find myself drawn towards texture and contrast, which makes up the majority of my paintings. Liking my art to have movement and ambiance, be fun but intense with emotion, I work quickly and intuitively. The interaction of glossy contrast and depth is what makes my paintings unique.
In the end, it is the viewers connection and their emotional experience with my art that matters, It is the process of creating something with my hands, that someone will find their own fulfillment with which fuels my passion and keeps me doing what I love.