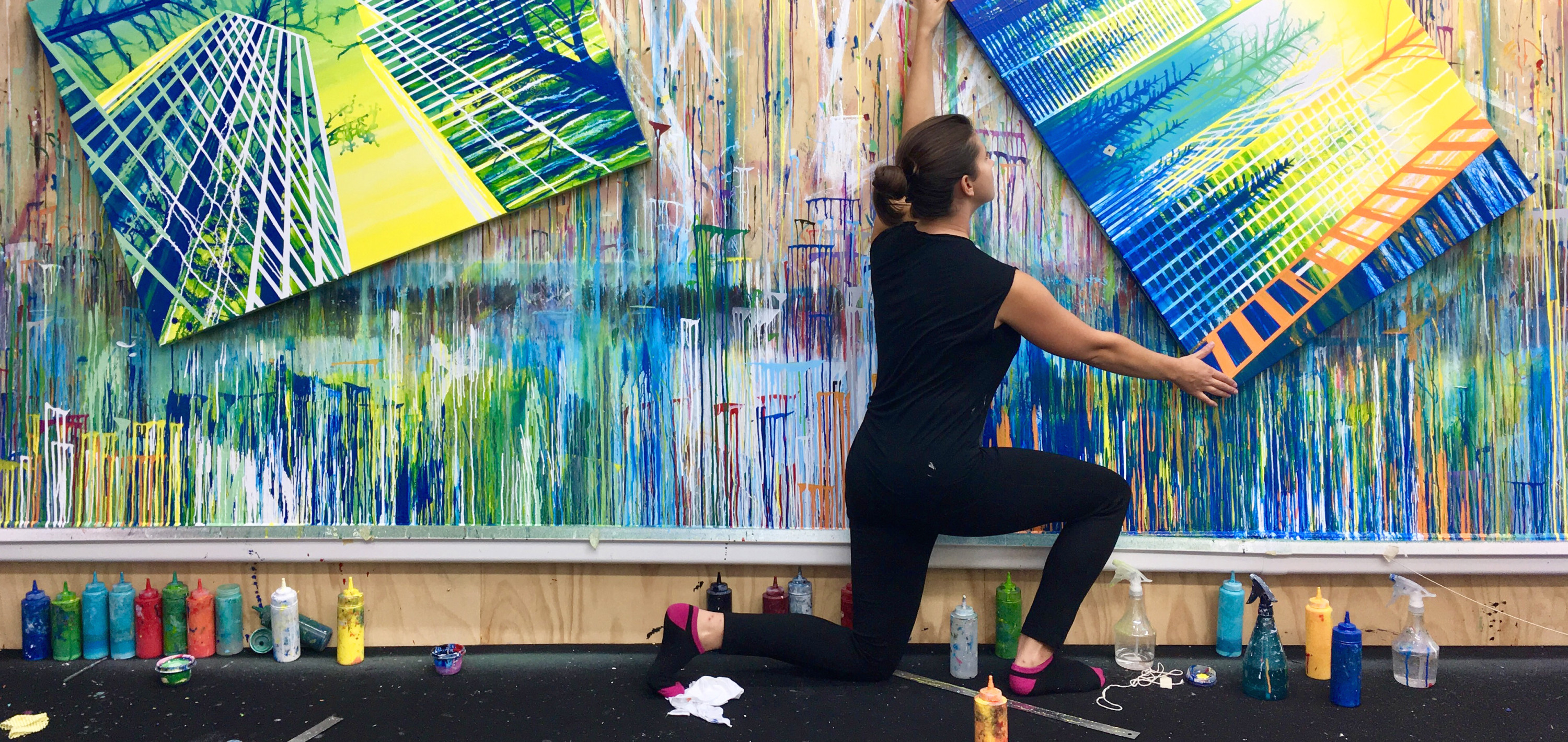 Amy Shackleton is a Canadian artist (b.1986) specializing in painting. She holds a Bachelor of Fine Arts Honours degree from York University (2008). Her paintings adorn hundreds of private and public collections including THEMUSEUM, the Colart Collection, Facebook Canada and the University of Cincinnati. Shackleton has exhibited extensively across Canada and the United States. Her most ambitious painting to date—a 53 foot long panorama of Canada—was featured in a travelling exhibition across Central Canada (2017-18). Shackleton is a member of the Board of Directors at the Visual Arts Centre of Clarington and works from her studio in Oshawa, Ontario.
Shackleton's paintings depict an uncertain future where cities are combined with nature. Taking inspiration from her travels, she explores the conflicting relationships that exist between humanity and the environment. In his catalogue essay about her work, curator Todd Tremeer noted, the absence of human life in her compositions. He writes: "Absence leaves space for projection; space, scale and time is ambiguous, its incongruencies go unnoticed." As the urgency of climate change rises and extreme weather events become more frequent, questions about our future—be they utopian or apocalyptic—are made more urgent.
Shackleton's painting process references opposing forces in her work. In place of conventional brushes, squeeze bottles and gravity create her paintings. Liquid paint is dripped, poured and layered. The canvas is rotated to steer the drip and fall of the paint. Architectural aspects are calculated, measured and controlled. These are the precise marks of reality. Natural elements embody the spontaneous, unpredictable and more liquid impulse.
Prints
Select works are available as reproductions, printed on wood sourced from sustainable forests. Click here to shop prints.