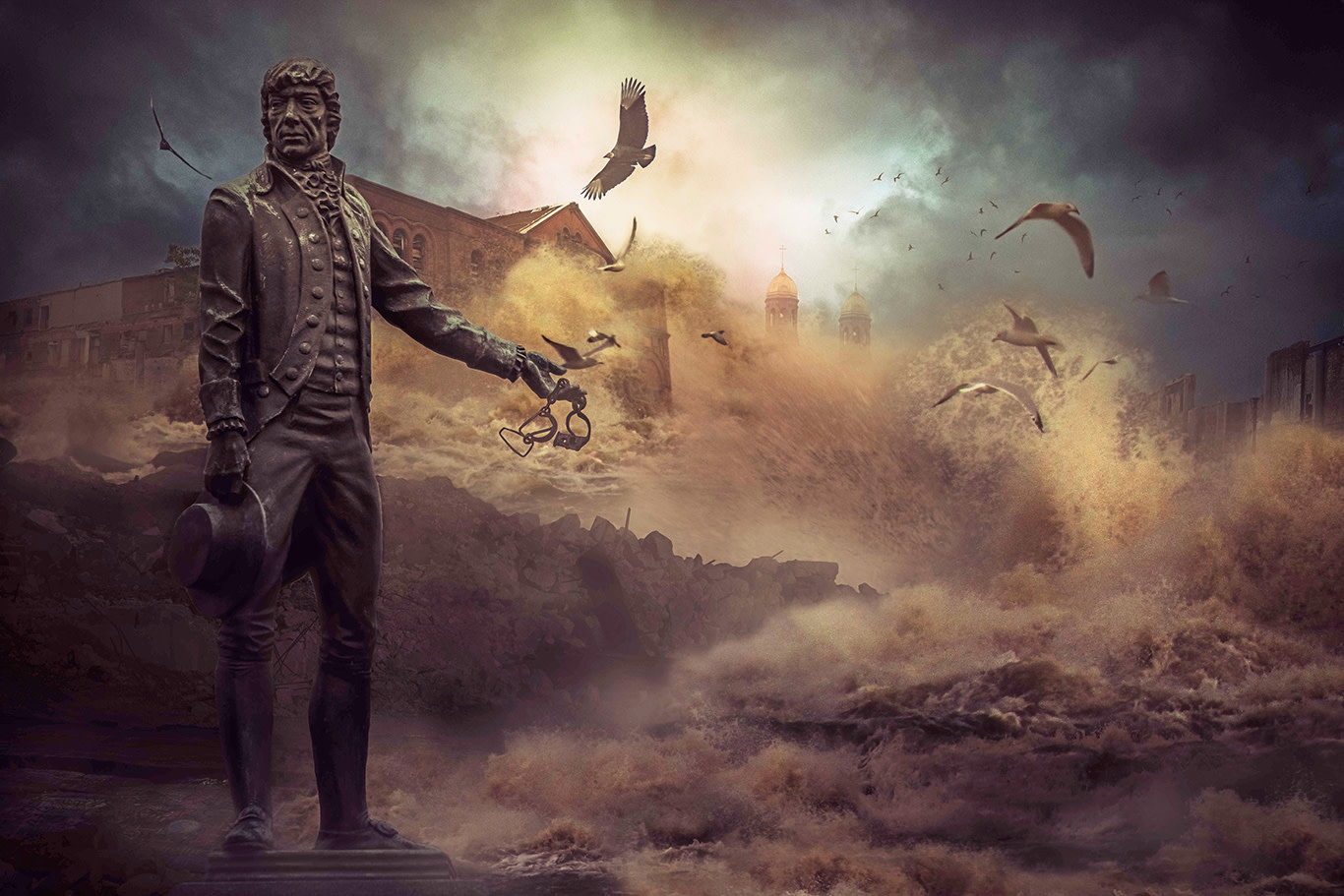 Born in Maryland in 1977, Rose Anderson spent her childhood sequestered in her mother's carefully curated environment of religious indoctrination. When Anderson was 14 years old, her mother joined a cult to keep her children safe from the false doctrines of mainstream society.
      In 1999, trapped in a loveless union within the cult, Anderson gave birth to her third child in as many years. As her husband's efforts to control her escalated, she fled with her children and entered the workforce directly from a place of utter poverty and ignorance.
     Finding herself too easily increasing her power and earnings in a world for which she had never had any preparation, Anderson again went in search of the truth. She attributed her unlikely success to one fact: the cult had trained her to identify with her whiteness in a way that could overcome seemingly impossible odds. She recognized her early life as performance art illustrating the reality of white privilege sustained by white supremacist messaging embedded in our culture from the earliest years of American history.
      Anderson now lives in Baltimore County, her work informed by the ruins of Colonial-era industrial sites and the people once enslaved on this land.
I investigate the material culture and social constructs that mask the pervasive and insidious nature of patriarchy, corporatocracy, white privilege, and institutional racism, juxtaposing the hubris of humanity with the immutable laws of nature. I use my photographs as a foundation for visual communication, recontextualizing and re-examining them in my photography, contemporary printmaking, and interactive digital scrolls.
Printmaking
I developed photo composition as a contemporary printmaking medium using my own photography. I build a massive digital file with dozens of photos and effects layers in Adobe Photoshop in the way that a traditional printmaker might carve a wood block to create a detailed image, or prepare multiple matrices for layers of color in a lithograph. Once I have combined all of the layers digitally, the file can be sent to a pigment inkjet printer that produces the printed work on watercolor rag. This process is a way for me to connect and integrate dozens of separate photographs within one print that recontextualizes and re-examines them. 
In addition to photographing nature as a primary backdrop for my compositions, I also take photos of found objects and abandoned industrial structures. My exploration of unfreedom incorporates classical statuary and architecture to explore how they permeate material culture as symbols of white superiority and socio-economic dominance. Many of my photos are landmarks I have visited or artifacts I have held that are actually linked to chattel slavery.
Scrolls
On their surface, Scrolls are a series of short sentences or paragraphs I have written to tell a complete story on a computer or tablet screen. You can click and scroll with a mouse or interact with a touch screen to reveal more text, which can change the meaning of the story at the Scroll's surface entirely.
When I emerged from the religious cult of my childhood and young adulthood, I had to sift, dig, search, and obsess to uncover the truth as if gradually unrolling an ancient scroll. The interactive Scrolls are a proxy for that first-hand experience as I connect the slavery of the past to current social issues using vignettes of my own captivity.
Historical Scrolls investigate historical figures and landmarks to reveal facts suppressed in the generally accepted narrative.
In this contemporary storytelling medium I often use both my photography and my digital photo compositions to illustrate the pages, as well as other graphic art created expressly for the Scroll. Scrolls are both a deconstruction and an expansion of my printmaking work, contextualizing many of the same component images and concepts.
Photography
In my photographic work I explore the beauty of nature and humanity's grand but ill-fated attempts to transcend its immutable laws at any cost. Whereas my Photo Compositions and Scrolls are are an aggregation of disparate images, my photography is a studied deconstruction of the world around us.
To place my photography alongside my photo compositions, I edit the photos for color and light and print them on the same watercolor rag. While my photo compositions imagine scenes in the style of illustration or lithography, I use my minimally edited photographs to bring realness and immediacy to the subject matter.