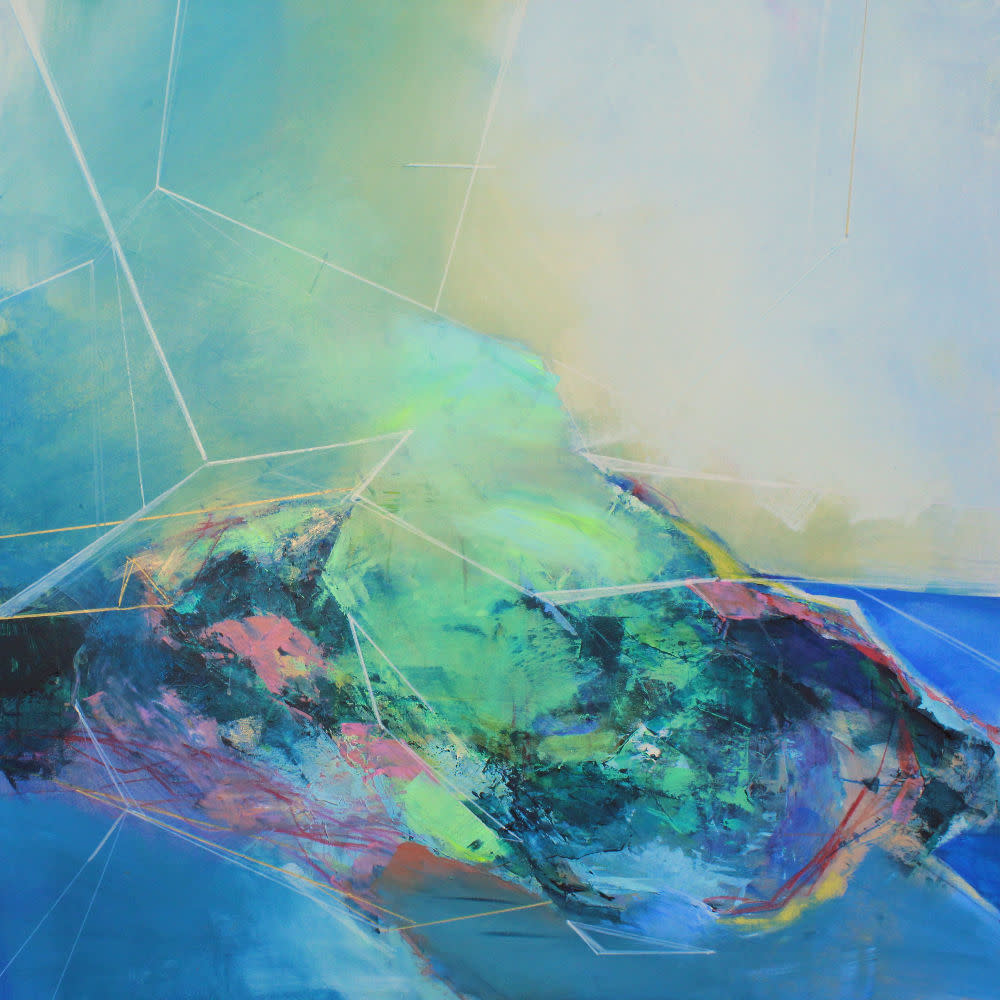 Magdalena has a strong affinity to nature and ecology and loves to explore new ideas and places. This influence can be clearly seen in her abstract land- and waterscapes. Often these are bold, vibrant and direct but many are more complex with a sense of wistfulness woven into the intricate reflections and clouds. She is also interested in the inner workings of the mind which is reflected in her love of abstraction and painting the feminine form; her figurative pieces are not direct self-portraits but as with her landscapes, there is always some aspect of her own internal state of being that is represented.
Born in 1974, Magdalena grew up in the historic university town of Lublin in Poland. After 5 years of art college, she went on to study painting at university for another 5 years, supporting herself and her university fees by working full time at a local art studio, painting flowers and landscapes for the interior decorating industry.
She moved to Cambridge, England in 2005 and whilst the demands of pregnancy and motherhood meant that she was unable to paint as often as she had been used to, she still found various venues in which to display her work and held a large solo exhibition in a converted church in the very heart of the city. In 2008 she received her first offer for permanent gallery representation. During this period she also developed an interest in graphic design and completed various courses in advanced computer art and web design
In 2009 Magdalena moved to a small town just to the north of Zurich. The Swiss sense of luxurious minimalism began to display itself in her more selective palettes and continued trend towards abstraction, culminating in a solo exhibition in the ancient spa town of Baden.
Following her dream of living in Spain, in 2015 Magdalena and her family moved to Aranjuez, near Madrid. Becoming officially self employed in early 2016, she was catapulted full time into the studio and since then has been developing her uniquely beautiful style. 
Magdalena now lives with her family in the picturesque Asturias region in the north of Spain.
I am a mixed media abstract expressionist artist. My art looks at what it means to travel and how it reveals and creates layers of ourselves as the journey continues.
The sense of anticipation, excitement and promise that fuels the drive to explore has a contrasting side and as we explore the facets of our experience we are both cracked and polished by the cultures with which we interact. Threads of separation and loneliness are woven into the fabric of daily life but connections to friends and family are kept alive by technologies not available to the generations before us. Our travels weather and shape us; they change us irrevocably as we search for answers and challenge us to discover who we really are. Over time it all becomes a part of us, our perspectives evolving and we become more than we were.
I normally work in layers of acrylics, watercolours and pastels. Gold leaf also features in much of my art and is a simultaneous reference to both luminosity and internal awakening.