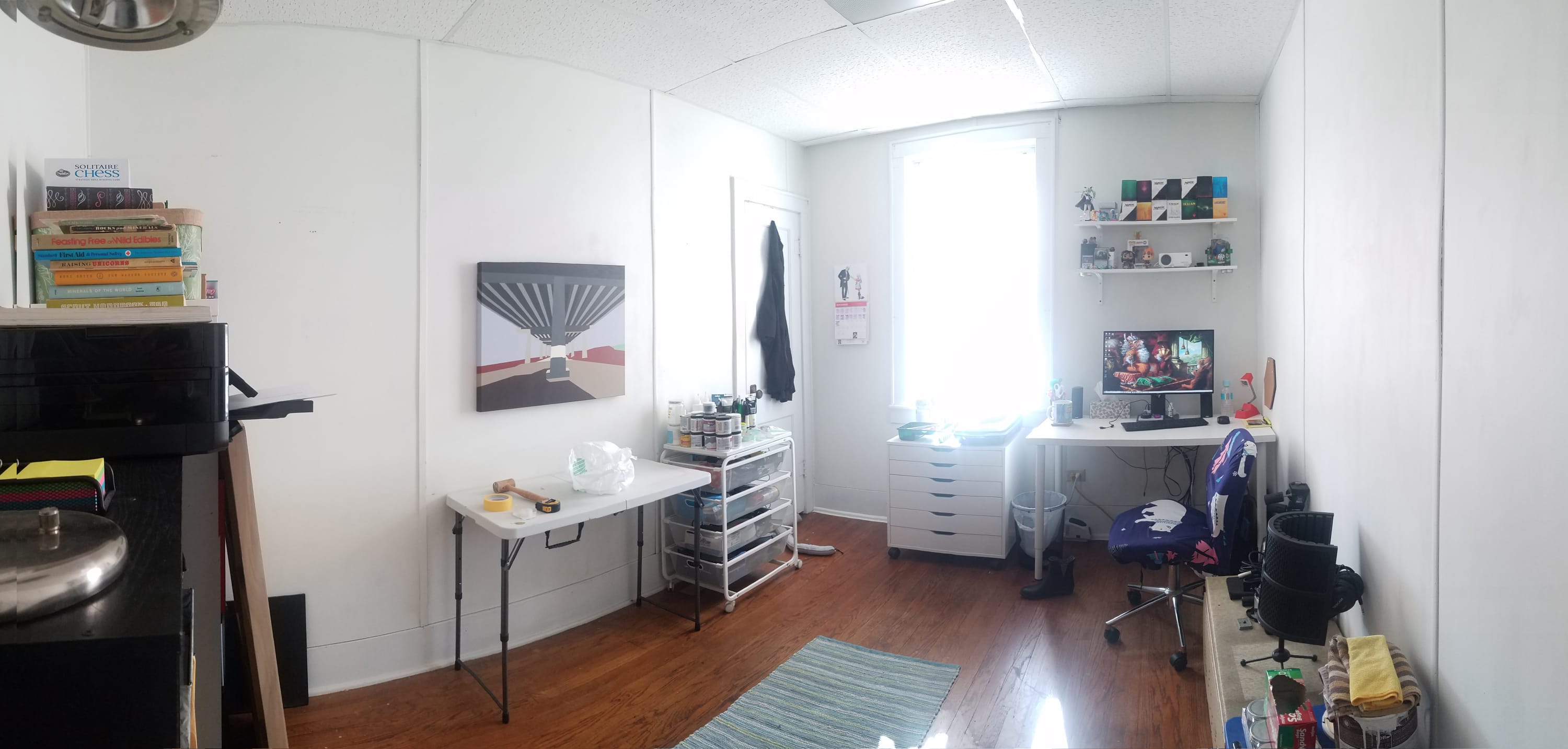 Growing up in an industrial area of Northwest Indiana, to a family of steel workers, it can almost seem like a pre-destiny that I would end up working in the steel mill myself. And while there is nothing wrong with that life, I was much more interested in drawing the steel mills then I was in working at one.
I spent most of my childhood daydreaming and building evergreen sanctuaries in the woods around my home. I liked to draw, write and genuinely let my imagination run away with me. Since there were a lot of train cars in my area, the wild (yet structured) graffiti tags were of particular interest and I started to make marks of my own; though these were mostly repeated patterns instead of the stylized lettering so often used. I would draw patterns and shapes everywhere: scrap paper, the walls of my bedroom closet, even my homework assignments (though, this got me into trouble.) Lines had become a serious obsession, but at the time, it was just something kids did.
This obsession followed me all the way into high school. Though I kept it mostly to myself, I wanted to go to art college after I graduated. Since most of my family and friends weren't very interested in the subject, I felt this was the only way I could evolve. When I revealed this to my senior art teacher, I was met with a startling response, "You'll never be good enough to get into art school, so don't even bother trying." At first I was devastated and then I was (for lack of a better word) pissed! I applied to one academy and was accepted.
I was so excited about this new journey that you can imagine the heartbreak I felt when I realized how much I hated school. I dropped out after a single semester. There was no plan B. So what do I do now?
For a year after, I just worked and thought about what to do with my life. At this point, I figured art was a dead track and that my high school teacher was right. So I decided to attend a local college and get a degree in…something. Still had no idea what, I wasn't interested in anything else, but it was a prerequisite to take a basic photography course. So I did.
The B&W Photography course completely rekindled my love of creating. This class was more about just going out and doing rather then lectures and theory. While the structure was lacking, the freedom was needed. I was back where I belonged.
Since 2003 I have been actively pursuing my career. It wasn't until I became a full-time artist, in 2015, that I dedicated my pursuits towards painting, photography and (now) digital media. In this time I have been featured in numerous exhibitions in the Mid-West and beyond and have work in several Fortune 500 collections and academic institutions including Texas A&M and University of Chicago Medicine.
Line is everything! It is the vital principle behind every work that I create. When I observe the world around me, I am not only looking at my subjects as a whole, but am silently deconstructing them one line at a time and then putting them back together again. This doesn't matter if I am looking at the sharp edges of buildings, the delicate curves of nature or the precision of geometric formations.
Why do I do this?
This practice of elimination and inclusion, allows for me to study and understand connection. How pieces fit, worlds construct and how nature chooses it's path to create strength, beauty and wholeness. This is the essence of connectivity and how line plays the part of adjoining me with the natural and/or man-made worlds.
The starting points of my work are (often) built from instinct; visualizing the end point before a mark is ever made. This accomidates for an organic flow and I accomplish this through the use of long-established methods such as ink, graphite and paint on paper or wood. In the advent of change, new media methods have become prominent in my practice. By using the computer, I take photographic cuts and collage them with deep-rooted drawing/painting techniques. Once finished, I carefully choose my paper type for each exclusive print. By blending the old and the new, I can find a renewed freedom for experimentation and allow viewers to experience growth, independence and mental clarity through simplicity.