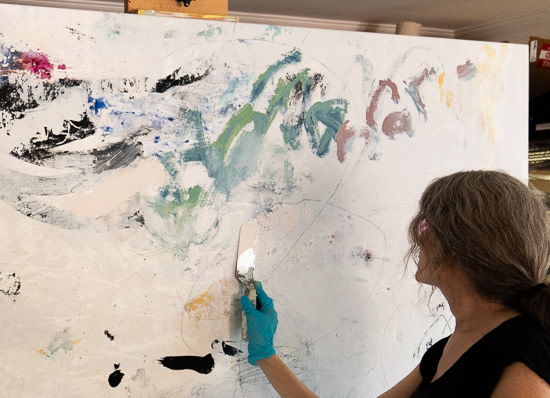 Self-taught, I began making art when I was little. Drawings, cartoons, calligraphy . . . and countless chalk murals . . . were a huge part of my childhood in a small town outside of Chicago. One of the first memories I have of mark making was when I was very little and discovered piles of new white paper and freshly sharpened pencils in my grandparents' attic. I vividly remember drawing a single crisp line across the vast emptiness of the paper, and for whatever reason, I loved everything about that. Still do.
I lived in the city (Chicago) for years, in Wicker Park before major gentrification, and soaked up graffiti almost every day while running and biking long distances. Layers of new vibrant colors over old fading compositions on top of even older brick buildings created a really fantastic visual; the energy and the unknown stories behind that resonated deeply. I biked home from work often between midnight and 2am in the wintertime, when streets were empty and the foundry I always rode by was fired up, throwing its intense glowing heat through the open dock and out into the snowy cold. Something about opposites playing off each other in general was extremely beautiful and inspiring. That imagery fueled the poetry I wrote at the time and I can definitely see its influence in many of the paintings I make now.
Life took different directions, and it was in 2013 that I began painting and selling work online. I've also been fortunate to have been represented by galleries in Houston and Los Angeles.
I create large contemporary abstract paintings from my home studio in Los Angeles. I also collaborate with Skid Row based mosaic arts nonprofit Piece by Piece to produce large combination painting/mosaic artworks.
What interests me is ongoing connection with the creative energy that informs all inspired human activity, whatever that activity may be. The way I feel while painting is very similar to the Zen-like state I used to experience as a distance runner — no thinking and time flying. It's a very magical and hopeful place to create from and I like to think that people feel that energy in the paintings.
View commercial and residential installations here.