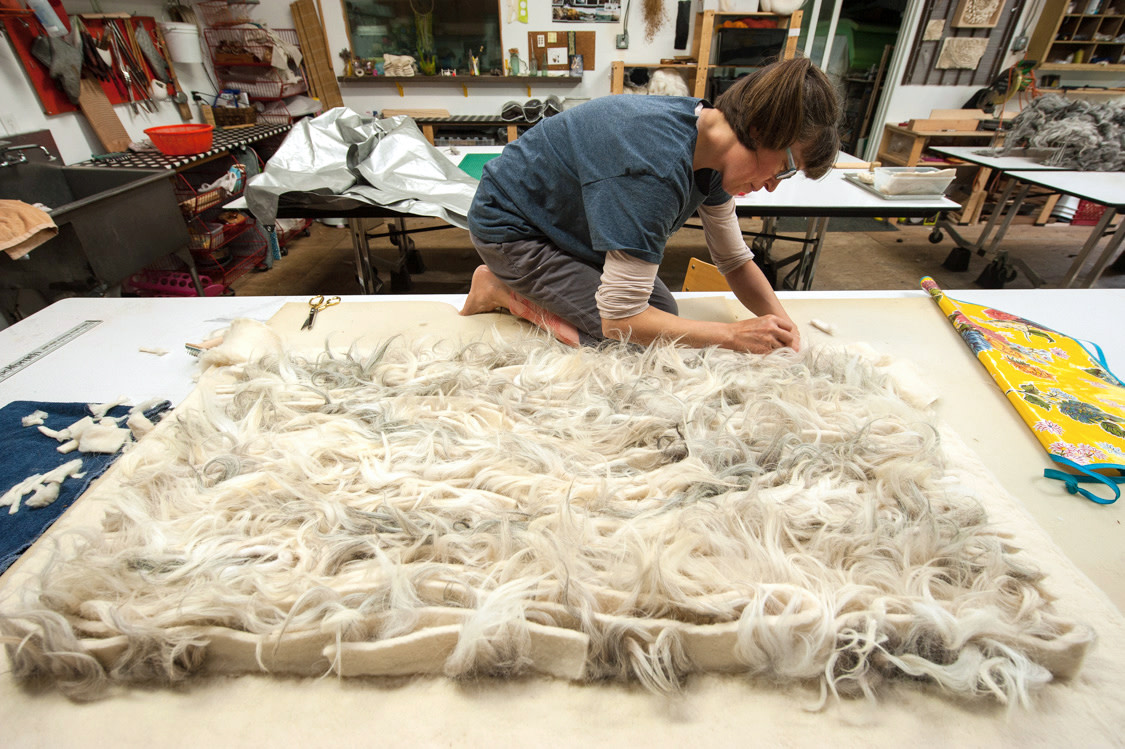 Kristy Kún forged her artistic mettle apprenticing as a woodworker and upholsterer during her early twenties. Dedicating thirteen years to building mortise and tenon constructed furniture from reclaimed wood, her respect for materials and craftsmanship in their reverential structure, is planted deep. 
Growing up in the suburban Midwest, opportunities to explore craft and industrial arts were scarce. Kristy became increasingly interested fine craftsmanship in wood during college, and withdrew from university classes in construction engineering to pursue a study with master woodworkers on the West Coast. The apprenticeship she landed shortly after, with furniture craftsman Whit McLeod, would be the foundation of a lifelong passion for Craft in many forms… In learning, sharing, and collaborating with an expanse of mediums and artists.
 "My life as a craftsman began in a woodshop, transforming reclaimed and historic wood into finely crafted furniture. The selection and processing of the wood, joinery, construction and finishing were a fulfilling pursuit for many years. The skills I developed during this period are reflected in obvious ways in my current work, e.g. hand crafted frames, upholstery methods used in mounting felt, and in some less obvious ways… My process for joining wool fibers and making dry connections before felting is uniquely my own technique, developed and inspired by the joinery used in the furniture I built."
Ten years ago Kristy began the transition from wood to wool. The change in materials fostered a change in lifestyle; A quieter environment with materials that require more gentle and personal attention, rather than tools and industrial equipment. This allowed her to work closer to the home while raising her daughter and provided a studio environment that was a safer and friendlier place for visitors. She operated a handful of studios and businesses over these years, each becoming a treasured place to foster ideas, share materials and techniques, and host local and international instructors in a variety of industrial and textile arts. "I've taken this time to work slowly through my own ideas, learn from others, and develop a sustainable practice of my own in felt making."
Through a calculated, rising tangle of wool and plant fibers, Kristy Kún's experimental textiles advance the sculptural capabilities of hand-made felt. Her richly textured surfaces, formed through a water and energy intense process of rubbing and kneading wool fibers until they tangle, are a contemporary adaptation of ancient methods in felt making. Compositions of disparate materials reveal artistic visions inspired by relationships and evolution in nature, and the fluidity of the materials themselves.
"I am deeply moved by the transformative qualities of wool and plant fibers, which, when plied correctly, parallel environmental transformations; Birth, fruition, decay. Formations of water, earth and sky, emerge as if breathing and alive. My hands translate this energy and these textures from nature into new form using altered methods of a timeless craft."
Drawing on thirteen years of building mortise and tenon constructed furniture from reclaimed wood, Kún's respect for materials and craftsmanship in their reverential structure, is planted deep. Her engineered layouts of complex joinery in fiber and finely finished surfaces resonate with the craftsmanship of a fine cabinet-maker; While the organic forms that take rise from her hands capture the mysteries of the living world. 
In her most recent series, Amplified, Kún responds to observations of the materials as they are formed and manipulated in her hands. "With the creation of a new material that seamlessly transforms into a third dimension, capturing the rhythmic underwater life of the textiles as they float and undulate within my hands." Thus bringing to life the essence of her experience creating Felt.
"Even the hand has its dreams and assumptions. It helps to understand the innermost essence of matter. That is why it also helps us imagine (forms of) matter"
  -Gaston Bachelard, Water and Dreams: An Essay on the Imagination of Water.