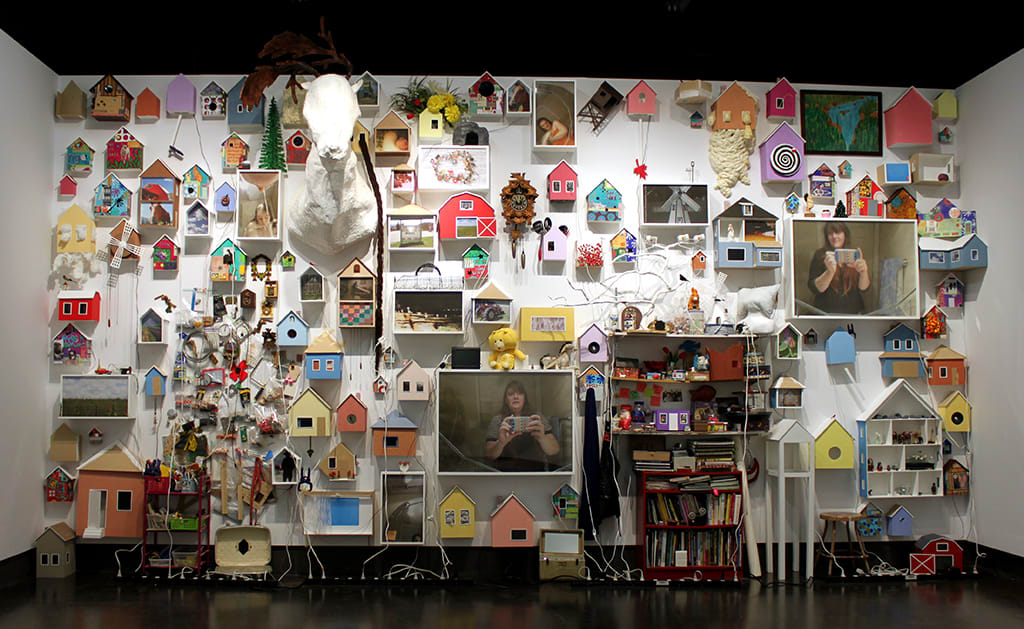 Jennifer Akkermans is a Canadian artist, whose work examines the discomfort and anxieties of not feeling at home. In 2014, she moved from Alberta to Ontario, pursue her MFA at the University of Waterloo. Since then, she has used herself as a case study to examine how one might build a home for oneself somewhere new. 
Jennifer holds an MFA at the University of Waterloo, and a BFA (with distinction) from the Alberta College of Art + Design. She was the Founder and Chief Researcher of the Institute of Morphoid Research (IMR), an organization dedicated to the study and preservation of organisms falling within the phylum of Morphopodia.  She has exhibited recently at Pier 21, the Living Arts Centre, and Inter/Access, and was invited to exhibit work in the Installation Zone at the Artist Project.  Akkermans has had solo exhibitions at the University of Waterloo Art Gallery, the Art Gallery of Calgary, and Visual Arts Alberta.  She exhibited in Caterina Pizanias' New Alberta Contemporaries, the inaugural exhibition at the Esker Foundation. She has done multiple performances and has produced a documentary on the IMR through Emmedia's Production Access program. Akkermans has participated in residencies at the Banff Centre, the Gushul studio, and the Fluid Festival and received multiple grants. As a recipient of the Shantz Internship, she spent two months in Cologne, Germany, as a studio assistant to Alexandra Bircken. She currently lives and works in Waterloo, Ontario.   
You Can Never Go Home reflects the idea of irreconcilable, parallel homes, one that's here and one that's there. Themes such as longing and belonging, lost-ness, memory, nostalgia, loneliness, time, place, futility, family, and absence are all present. One wall of the gallery is filled with objects that represent my accumulated, obsessive search for belonging and a sense of home. It is crammed full of lightboxes, handmade houses, tools, building materials, jigs, a cuckoo clock, handmade objects, toys, mementos, suitcases, etc. There are windows and peepholes to look inside of, and still images and videos of rural landscapes and of myself attempting to build a home. There are miniatures, trinkets, material experiments and moving parts—an abundance of curious objects that I have both built and collected. The installation is crowded, raw, with works half-finished and cords tucked in haphazardly, yet it is also carefully arranged. Reminiscent of my grad school studio, it conveys a nervous energy, an anxiety, and a case of horror vacui (the fear of empty space).  As a maximalist, I fill every available space with the things I like, enjoy, and find comforting—things I have collected that make me feel happy and calm.  In a way, I am a bowerbird, creating a nest full of attractive objects that I have amassed in order to protect and insulate myself from the outside world.   
In a sense, the works are an accumulation of failures, of my unsuccessful attempts to make myself a new home.  In contrast, one quiet piece, a small, white, rectangular box on the wall allows us access to a very intimate space through a peephole- my studio, where, almost unwittingly, I have made myself a home through the time and effort of all the failed attempts.