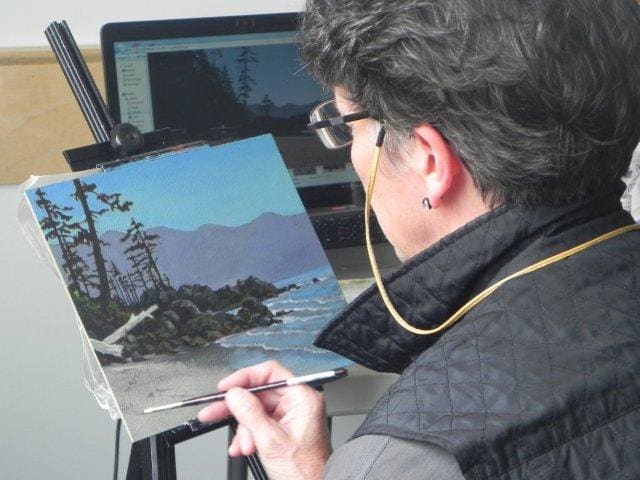 On the Sunshine Coast BC since 1990, Jan is a founding member of the SC Artists Co-op and the CCA. Working in several mediums, her representational landscapes, bold florals and architectural subjects have her trademark style.
Jan's commercial work in traditional illustration have been applied to international branding, book covers, educational lit, home décor & architecture. Her designs have been commissioned for 6 coins by Royal Canadian Mint, and several public art installations.
With a passion for travel & painting Plein Air - Jan offers private instruction & workshops for art groups.
GALLERY visits by appointment only: call 604.886.8918 or email poynterjan@hotmail.com.
WELCOME - to POYNTER Studio Gallery
This online portfolio shows old and new original works - you can search by size, subject etc. There are other works available - and visitors are welcome to my gallery here in Gibsons BC by appointment only. Covid precautions in place - and a mask is required.
ORIGINAL  PLEIN AIR PAINTINGS  
Prices are in Canadian Dollars (CAN)
Prices shown are for UNFRAMED panels and paintings 
(unless otherwise stated)
Pricing DOES NOT include shipping or delivery.
Small-Med Original paintings on panels are a standard PRICE.
ASK about a frame that fits the painting size 
or order a custom style frame for your decor.
CREDIT CARDS: VISA & MasterCard accepted - email receipt provided
e-PAY by bank transfer - email. No GST/PST
Ask about a payment plan for larger works ($1500.00 +)
GICLEE reproductions - shown in BLACK border 
I do not do prints of my smaller paintings - but offer the originals at a reasonable price. Larger paintings that have been scanned can be ordered at a custom size (same proportion) on canvas. Printed here on the Sunshine Coast they are stretched and ready to hang.
Contact me for pricing on various sizes.