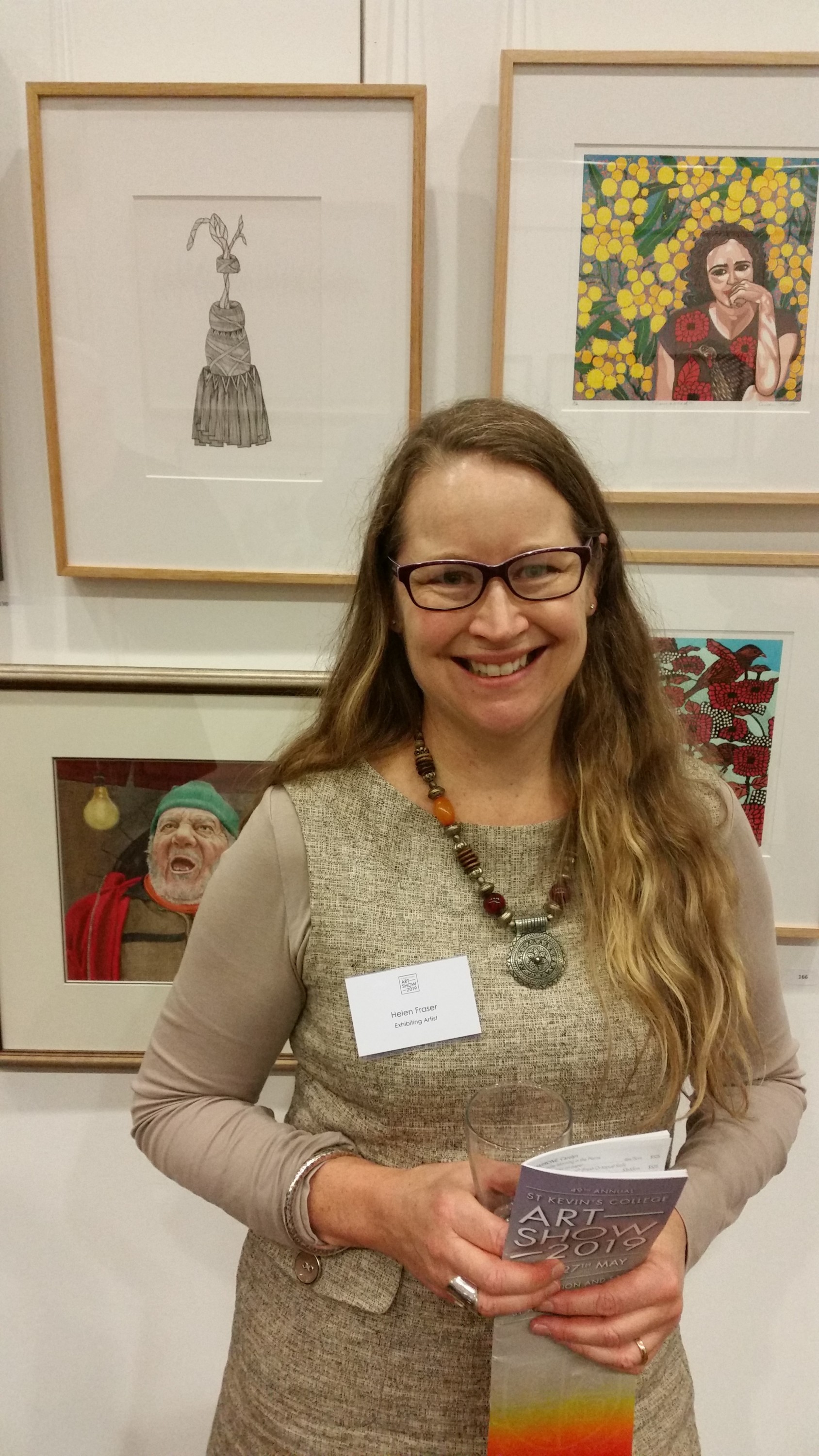 Artist Helen Fraser was born in Kyneton, Victoria, Australia in 1970. After graduating with degrees in Psychology, Helen decided to pursue an artistic path. Throughout the 1990's she explored numerous mediums after initially training with tonal realist painter Barbara McCallum for four years in Melbourne. In her early 40's she found her true creative voice by focusing on her passions of textiles, history, nature and human nature. Her drawings and textiles have been featured in MindFood Magazine and Down Under Textiles and she has been interviewed by ABC Radio Bendigo and Canberra.  
Helen is a participant in the highly successful United Declaration of Human Rights Quilt Project (#UDHR Quilt Project) which is currently on exhibition at the Museum of Australian Democracy at Old Parliament House, Canberra. Her quilt block was projected onto the front of Old Parliament House during Enlighten Canberra Festival 2019. This project has led to ongoing research into Australia's Slave Trade history resulting in an ongoing collaboration with the Australian South Sea Islanders Port Jackson in Sydney and the Museum of Australian Democracy in Canberra. In August 2019 she ran a workshop called Yumi Olgeta: Crafting a More Inclusive Democracy to help the community learn about Australia's history and its impact through the process of creating chain stitch embroidery together. This led to the development of her first craftivism project which is currently underway where participants are creating embroidery for a border of a commemorative quilt that will be donated to the Museum of Australian Democracy.
As her art connects the past to the present, one of her Tassel ink drawings has been used in an awning design for a new Movenpick Hotel to open in May 2020 in Hobart, Tasmania. The interior design will focus on the past use of this historic site. She is also a contributor to the upcoming podcast by USA artist Crista Cloutier, owner of the Working Artist Masterclass on-line training program.
Helen currently lives and works works in the Macedon Ranges and Melbourne, Victoria, Australia.  
As both an artist and psychologist I create art that connects the past to the present using symbols that can heal and transform. I love creating ink and gouache drawings of textiles as well as artworks using hand-stitching and embroidery that I hope offer a sense of comfort, inspiration and hope to the viewer. Over the last eighteen months I have also taken the exciting leap of designing textiles for the first time inspired by a workshop with the UK Textile Designer Kaffe Fassett.
Passionate about textiles, I study vintage and contemporary textiles along with the traditions and culture in which the maker lives, to more deeply understand the work. By looking very closely at embroideries, weavings, knitting, quilting, dyed fabric, tassels and passementerie I build up a knowledge of the specific marks and patterns within a particular type of textile so that it can inform my art practice. By really looking at the textile and then creating a drawing, I hope to 'feel' the essence of it, especially when I develop a series of works that builds upon an idea.
I love the idea that textiles are a metaphor for the human condition. As a psychologist and artist, I often use motifs like knots, frayed threads, fabric fragments, warp and weft, lace knitting and stitching in my work. I believe we are all imperfect and flawed and our psyche is pushing us towards greater consciousness throughout our life cycle. Therefore, the tactile and primal elements of cloth and stitch appeal to my love of psychology, dreams and working with the unconscious to uncover infantile experiences and longings. I like to think that my art helps the viewer accept themselves and others more deeply by seeing how I share my own imperfections, challenges and learnings through these artworks.
Over the last few years I have developed a strong interest in social art and collaboration. My recent art practice has been strongly influenced by my involvement with the United Declaration of Human Rights Quilt Project where I was one of 131 artists from 45 countries that contributed to four quilts that are currently being exhibited in Canberra before heading on a world tour. Research for this has inspired an ongoing project called Yumi Olgeta: Crafting a More Inclusive Democracy about Australia's hidden slave history and frontier wars. This project has already led to many rewarding experiences and connections and will inform future exhibitions.
Over the last few years I have started to offer commission drawings of vintage and/or loved textiles such as heirloom quilts, favourite embroideries or stitched pieces and this process is very rewarding. Many of my collectors send photos of my work framed in their homes, which is deeply gratifying and enjoyable. It is really wonderful to see that my art is making a difference. It is a real dream come true! 
Thank you to all of my wonderful followers and collectors; you make this art making journey matter in a deeply personal way.