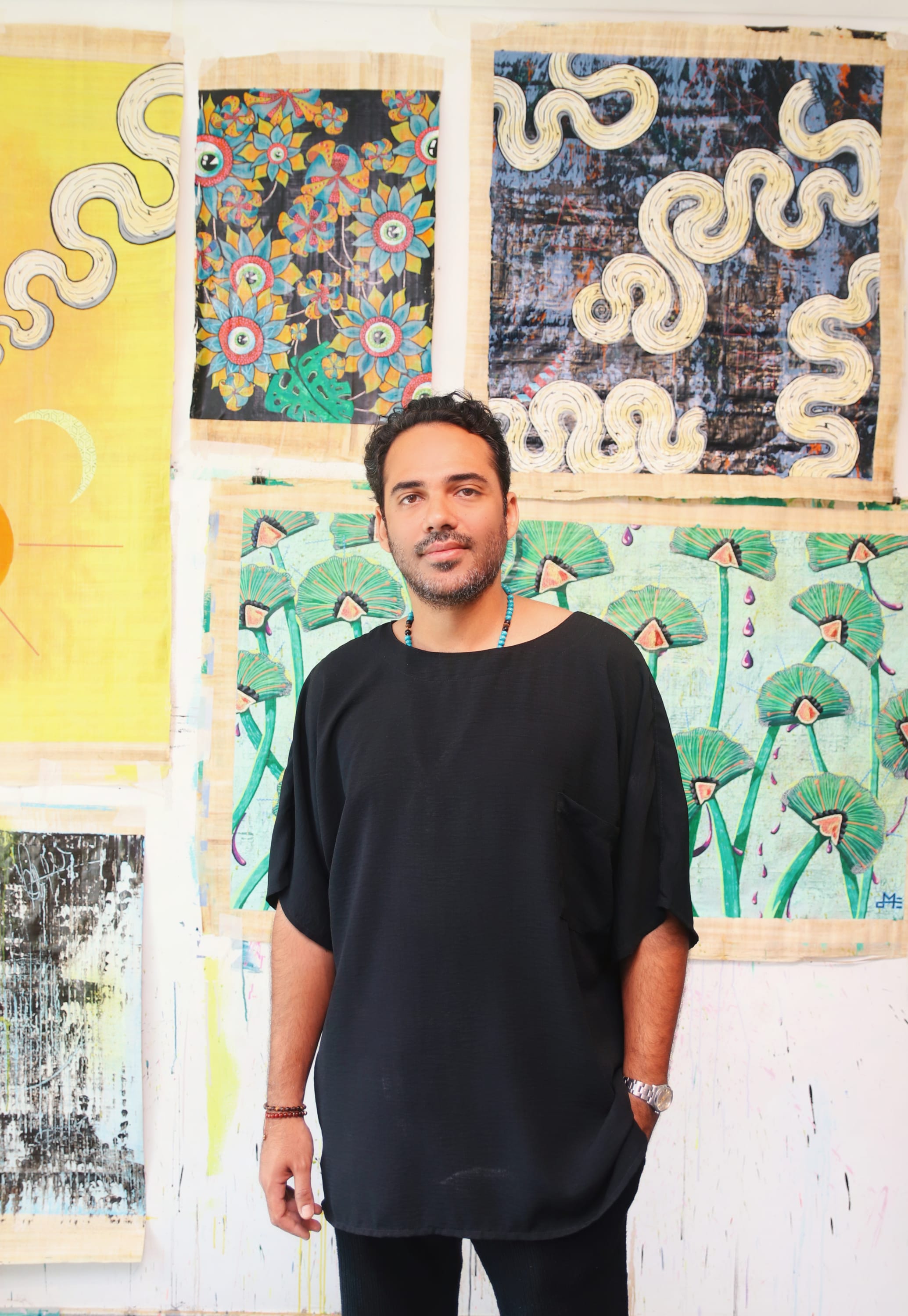 M. Essawy (b. 1989) is an artist born in Cairo, Egypt, based in Dubai. His eclectic and modern style combines disparate and even interdisciplinary elements with experimental mixed media. His creativity has no limits, which is why it is very difficult to label his work. His pieces are inspired by ancient Egyptian culture, pop art, abstraction, and urban art. The goal of his art is to reach people through the feelings or reflections that his works arouse.
From a very young age, Mohamed has been representing his vision of the world through drawing, inspired by his dreams and the beauty that surrounded him. But the artist temporarily hung up the paintbrush after being consumed by a world of social and cultural acceptance, until 2019 when he embraced his first passion.
His recent collections are composed of paintings made with acrylic on handmade Egyptian papyrus that bring abstraction, ancient Egyptian culture and pop art together (Ancient Pop). The artist creates pieces brimming with energy that integrate the viewer into the scene through the use of bright, saturated colors. They are also imbued with a certain naivety through the cartoonish style of his drawing, accompanied by undulating brushstrokes that set the rhythm.
It could be said that this collections are built by the balance of different binomials, which demonstrate Essawy's versatility. This is how we can appreciate that in the same piece, the interaction between a free and introspective technique such as abstract expressionism is combined with 1930s Rubber Hose style. It is also evident the tension between tradition and modernity, where an ancient traditional technique coexists with modern ones. It is not only about techniques, it is a space where two different worlds collide, two cultures separated by years of history.
And it is there, in that contradiction where Mohamed finds the creation, it is in that tension where Mohamed imposes himself in front of the global scenario of contemporary art from a re-reading of his cultural heritage and identity.