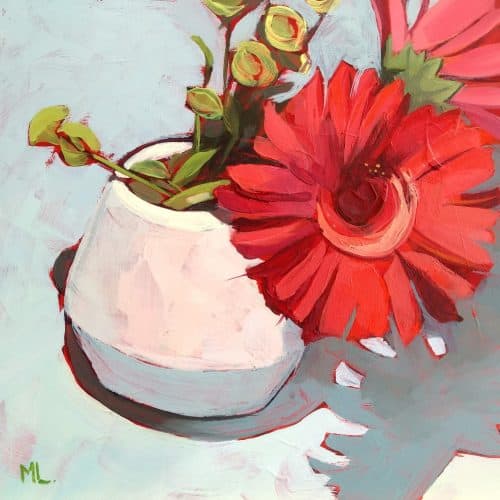 Artist: Monica Linares (American / Venezuelan, b. 1972) x
Born and raised in Venezuela, Mónica was always surrounded by paint and brushes thanks to an artist father. With a background in advertising she was permanently in contact with design, color and style, but it was not until 1999 when she formally started her formation as a painter at the Pittsburgh Center for the Arts. Her painting growth never stops as she continues learning and being inspired by wonderful artists. Mónica has a graphic style and many have called her a colorist. She aims for simplicity, interesting design and strong brushwork.
Mónica currently shows her work at the Mattie King Davies Art Gallery in Beaufort, NC, and most of her 6×6″ floral paintings are sold at the North Carolina Museum of Art Store. You can also find her newest work on her Instagram account @monicalinaresart or on her website.
She also loves to help other artists wanting to become daily painters through her class The Happy Habit of Painting Every Day.
She lives with her husband and her kids in Apex, NC.
Cookies help us deliver our services. By using our services, you agree to our use of cookies.
Learn more