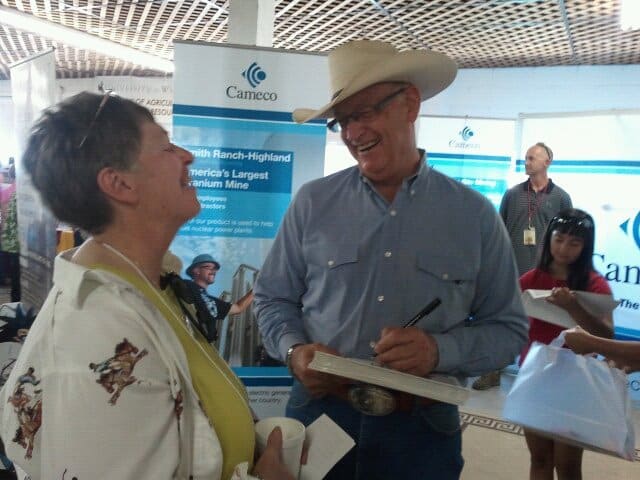 Jerry Palen says he likes what he does, and it shows. His Stampede cartoon series featuring the lovable ranching couple, Flo and Elmo, is the largest weekly syndicated cartoon feature in the agricultural sector of both this country and Canada. The humorous antics of Flo and Elmo reach over two million readers every week.

When he's not drawing the antics of Elmo and Flo, he is devoted to his passion for his art whether it be cartoons, pen and ink drawings, watercolor painting, oil painting or sculpting. Only a few pieces of his art are available each year because as he puts it, "if they don't meet my standards of excellence, then they shouldn't be shoved off on someone else." This scarcity has established a large following of collectors who vie for his work each year.

Every President since Jimmy Carter has used his bronze sculptures for presentations and official gifts. Jerry has done several monumental bronzes around the state, and the latest one is a seven-foot monument of the Wyoming artist Bill Gollings.

A graduate of the University of Wyoming with a degree in political science and economics, Palen was honored as a distinguished alumnus in 1998. In 1999, he was honored as one of Wyoming's candidates for Citizen of the Century. He received the 2009 Governor's Arts Award for his contributions to the arts.
Cookies help us deliver our services. By using our services, you agree to our use of cookies.
Learn more