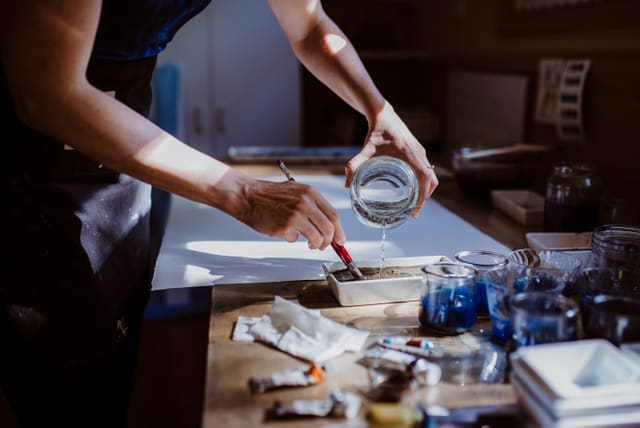 The spontaneous and gestural activity of mark-making in Ana Zanic's paintings is closely tied to calligraphy, language, and symbolic communication. Her work reflects the beauty of organic, natural form.
Zanic'c abstract watercolors bring to mind abandoned landscapes, ancient scribblings, notions of the undersea life, amoebic flows and distant constellations.
Zanic exhibited widely, in twenty solo and over a hundred group exhibitions. Her work is in notable private and public collections around the globe, spanning USA, Europe, Australia, and China.
Ana Zanic holds an MFA from the Academy of Fine Arts, University of Zagreb, Croatia. She lives and works in the United States.
My art practice is an exploration of the formal visual elements, as well as my personal feelings, through an intuitive, spontaneous process. 
 Often reminiscent of imaginary landscapes, my watercolor paintings evolve through layers of washes, with an emphasis on the mark making. There is a quiet tension between the watercolor's fluidity, softness and calm, versus the dynamic, rhythm and energy of drawing.
 Watercolor as a medium holds inherent qualities of intimacy, lightness, and spontaneity. Unlike most other mediums, its mistakes can't be covered up with another layer. Its transparency shows the whole process. 
I love that aspect of its vulnerability - it resembles life itself.